MLB rumors, injuries and news roundup for March 19
Wednesday's full spring training recap -- transactions, rumors and injury updates -- can be found within.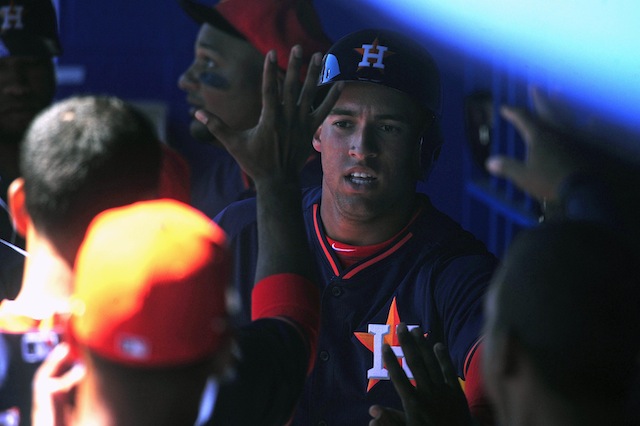 MORE: Spring Training | Scoreboard | Team previews
On the MLB spring training front, here's all that's worth knowing for Thursday, March 9 ... 
JON HEYMAN
- Our own Mr. Heyman writes that the Mets have been talking to the Diamondbacks and Mariners about acquiring a shortstop but that the Mets aren't willing to include top pitching prospect Noah Syndergaard in any such deal. Elsewhere, Heyman takes a broader look at the current shortstop market, including the Tigers' options. 
RUMORS, SPECULATION, NEWS, ETC.
- Astros: Ken Rosenthal of FoxSports.com reports that the Astros in September offered OF George Springer, one of the top prospects, a seven-year, $23-million contract, which Springer understandably turned down. Now it seems Springer won't be on the opening day roster. This is almost certainly being done to delay Springer's arbitration-eligibility and eventual free agency by another year. That's to say, Springer, who's already 24, has absolutely nothing left to prove in the minors. As such, Rosenthal cuts to the heart of the matter when he writes: "If Springer was good enough to be offered $23 million, why isn't he good enough to crack the 25-man roster of a team that has finished with the worst record in the majors in each of the past three seasons?" The Astros aren't exactly covering themselves in glory on this one. 
- Cardinals: The Cards are reportedly looking to trade SS Pete Kozma. (Adam Rubin, ESPN New York)
- Cubs, Tigers: Detroit is reportedly scouting Cubs OF Nate Schierholtz and INF Darwin Barney. Spring injuries mean the Tigers could use one or both. 
- Dodgers: Reliever Javy Guerra, who was recently designated for assignment, is generating plenty of trade interest. (Chris Cotillo via Twitter)
- Giants: Have released INF/OF Mark Teahen. 
- Nationals: Have released reliever Luis Ayala. 
- Phillies: Regarding those trade rumors, SS Jimmy Rollins would like to remind everyone that he has the right to veto any deal. 
- Rangers: Even with all the pitching injuries, struggling RHP Alexi Ogando may not crack the Texas rotation coming out of spring training. 
- Royals: MGR Ned Yost says RHP Yordano Ventura, who was recently named to the rotation, should pitch 180 to 200 innings this season. (Andy McCullough via Twitter)
INJURY UPDATES
- Astros: Top prospect Carlos Correa will have X-rays on Thursday after being struck on the hand by a pitch on Wednesday night. 
- Athletics: Reliever Ryan Cook (shoulder) reported no problems after throwing a 21-pitch simulated game and now says he's ready for game action. (John Hickey, San Jose Mercury News)
- Braves: RHP Kris Medlen underwent successful Tommy John surgery on Tuesday.
- Nationals: RHP Doug Fister (elbow) is slated to start Saturday against the Marlins.
- Reds: CL Aroldis Chapman was struck in the face by a line drive on Wednesday night and had to be carted off the field on a stretcher. The good news is that he never lost consciousness and was communicative. He suffered facial fractures and is being hospitalized overnight for further testing and observation ... RHP Mat Latos (knee surgery) on Wednesday threw two innings against minor leaguers. He's aiming to be able to rejoin the rotation by April 6. (C. Trent Rosecrans, Cincinnati Enquirer)
Granderson, Verlander, Beltran and more are looking to reach the top of the MLB world

Houston's top relievers have been shaky this postseason

Our experts have a unanimous World Series pick
Otani's rare ability to hit and pitch will need to be accounted for in realms beyond real...

Kenny White has won 8 of his last 10 MLB Over-Under picks and has a strong play for Game 1

OOTP's team ran some simulations for us on the 2017 World Series