MLB rumors, injuries and news roundup for March 22
The 2014 regular season kicked off on Saturday with the Dodgers and Diamondbacks in Australia. Here's a recap of the day's baseball news.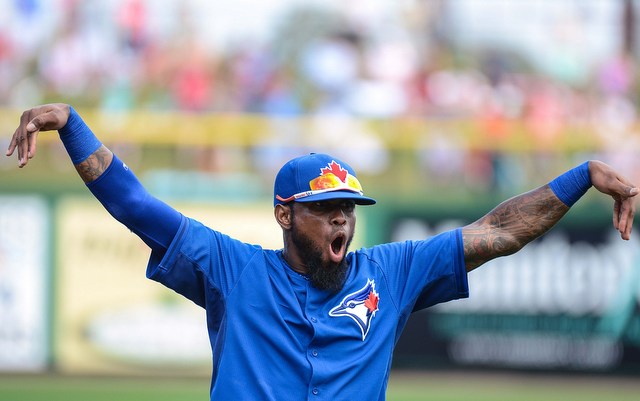 MORE: Spring Training | Scoreboard | Team previews
The 2014 regular season started halfway around the world on Saturday. Clayton Kershaw and Scott Van Slyke led the Dodgers to a 3-1 win over the Diamondbacks at the historic Sydney Cricket Ground in Australia. The two clubs wrap up the two-game series on Sunday afternoon, local time.
While the Dodgers and D-Backs were playing meaningful games, the other 28 teams were going about their spring training business as usual on Saturday. Rosters are starting to be set and players are beginning to get cut, just so they enough time to find a new job before opening day. Here is a recap of Saturday's baseball news, but first make sure you check out Jon Heyman's blog for some stories from Braves' camp.
SIGNINGS & AGREEMENTS
Brewers: Exercised their 2015 option for manager Ron Roenicke. An option for 2016 was added to the contract as well.
WAIVER CLAIMS
Orioles: Claimed IF David Adams off waivers from the Indians, the team announced.
ROSTER CUTS & OPT-OUTS
Astros: Released OF J.D. Martinez to clear roster space in Triple-A.
Giants: RHP Kameron Loe opted out of his minor league contract and is now a free agent. (MLB Daily Dish)
Indians: Released OF Jeff Francoeur, who was signed to a minor league deal. (MLB.com)
Orioles: Designated RHP Kelvin De La Cruz for assignment, the team announced. The move clears room on the roster for Adams.
RUMORS & SPECULATION
MLBPA: May seek recourse against the Astros for manipulating OF George Springer's service time.
SS Stephen Drew: A GM said agent Scott Boras insists Drew has a three-year, $39 million offer on the table. (Peter Gammons)
Diamondbacks: Not pursuing a starting pitcher even though LHP Patrick Corbin (Tommy John surgery) is out for the season and RHP Bronson Arroyo (back) has been slowed in camp. (MLB.com)
Dodgers: Receiving interest in RHP Javy Guerra and are expected to trade him soon. He was designated for assignment a few days ago. (MLB Daily Dish)
Phillies: Would like to add a starting pitcher, but few are available and they don't have much money to spend. (Fox Sports)
Rays: LHP Erik Bedard will opt-out of his minor league contract after failing to make the team's rotation. (MLB Daily Dish)
Tigers: Manager Brad Ausmus admitted the team has "talked about" a comeback with 46-year-old Omar Vizquel to solve their shortstop problem. Vizquel is the team's first base coach.
INJURY UPDATES
Astros: C Jason Castro (flu) is expected to be ready to go by Monday. (Houston Chronicle)
Blue Jays: SS Jose Reyes was removed from Saturday's game with hamstring tightness as a precaution. He has a history of hamstring problems. (MLB.com)
Braves: C Evan Gattis (quad) ran on Saturday and hopes to play on Monday. (MLB.com)
Cardinals: RHP Jason Motte (Tommy John surgery) threw a simulated game on Friday. (St. Louis Post-Dispatch)
Cubs: SS Starlin Castro (hamstring) took six at-bats in a minor league game (ESPN Chicago) ... RHP Jake Arrieta (shoulder) will throw a bullpen session on Sunday. (MLB.com)
Indians: OF Michael Bourn (hamstring) took part in hitting drills. He has been playing catch as well. (MLB.com)
Mariners: RHP Taijuan Walker (shoulder) threw one inning in his first start of the spring. He threw an additional 15 pitches in the bullpen afterwards. (Seattle Times)
Mets: 2B Daniel Murphy (shin) is expected to return to the lineup on Sunday. (Bergen Record)
Orioles: 3B Manny Machado (knee) still is not yet ready to play in games (MASN Sports) ... LHP Johan Santana (shoulder) threw a bullpen session from a half-mound. (MASN Sports)
Padres: RHP Josh Johnson will miss 4-5 with a strained flexor muscle ... RHP Joe Wieland (elbow) will have arthroscopic surgery to deal with some irritation. He will be out until the All-Star break. (MLB.com)
Phillies: LHP Cole Hamels (shoulder) threw two innings in a simulated game. (Philadelphia Inquirer)
Reds: 2B/OF Skip Schumaker will miss about a month with a separated shoulder, the team announced. He hurt himself diving for a ball earlier this week.
Rockies: 3B Nolan Arenado left Saturday's game after being hit by a pitch in the hand. He has a bone contusion and x-rays came back negative, the team announced.
White Sox: 1B Jose Abreu (sore ankle) will sit out until Monday as a precaution. (CSN Chicago)
MISCELLANY
Braves: RHP Julio Teheran was officially named the club's opening day starter.
Brewers: Roenicke announced that OF Carlos Gomez will be the team's leadoff hitter.
Rangers: RHP Joakim Soria was named the team's closer. Also, RHP Tanner Schepper won a rotation spot and RHP Alexi Ogando is moving to the bullpen.
Rays: RHP Jake Odorizzi has won the team's fifth starter job.
The run on relievers continues with two more signings

The Yankees added Giancarlo Stanton in a blockbuster trade, though they now have openings at...

Smyly is currently on the mend from Tommy John surgery
Could Greinke really wind up in Texas?

The Orioles, Blue Jays and Rays have star players they should use toward rebuilding for the...

The Yankees may not be done collecting stars