MLB rumors, injuries and news roundup for March 23
Sunday's full spring training recap -- transactions, rumors and injury updates -- can be found within.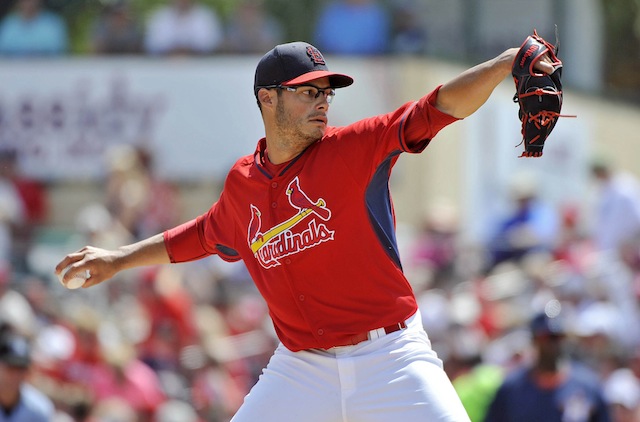 MORE: Spring Training | Scoreboard | Team previews
On the MLB spring training front, here's all that's worth knowing for Sunday, March 23 ... 
JON HEYMAN
Here's the latest from our man in the chopper ...
- Nationals: SS Ian Desmond this winter turned down a long-term contract extension worth perhaps as much as $90 million, reports Heyman. 
- Yankees: Heyman has learned that the Yanks may be willing to eat part of Ichiro Suzuki's $6.5-million salary in order to trade the veteran outfielder. 
SIGNINGS & AGREEMENTS
- Orioles: Have agreed to terms with 1B Brett Wallace on a minor-league contract. 
- Red Sox: Have signed DH David Ortiz to a one-year, $16-million contract for the 2015 season. 
RUMORS, SPECULATION, NEWS, ETC.
- Angels: Have released 1B Carlos Pena. 
- Athletics: Have announced that RHP Sonny Gray will be the team's opening day starter.
- Cardinals: MGR Mike Mathney announced that Joe Kelly will be the team's fifth starter and that Carlos Martinez will be in the bullpen "for now." Kelly, 25, is coming off a 2013 season in which he pitched to a 2.69 ERA (135 ERA+) and 1.80 K/BB ratio in 37 games, 15 of which were starts. (Tom Ackerman via Twitter)
- Giants: 3B Pablo Sandoval wants a contract extension in the neighborhood of $90 million over five years, but the team isn't going to do that, at least right now. 
- Mets: Nick Cafardo of the Boston Globe writes that the Mets don't expect to trade 1B Ike Davis but that the Orioles remain interested. 
- Tigers: The Tigers and RHP Max Scherzer have cut off contract negotiations until the end of the season. Scherzer is eligible for free agency next winter ... Jon Morosi tweets that the Tigers and 1B Miguel Cabrera have are in the very preliminary stages of talking contract extension. 
- White Sox: Have released RHP Mitchell Boggs.
INJURY UPDATES
- Athletics: RHP Ryan Cook (shoulder) and OF Craig Gentry (back) will open the regular season on the 15-day disabled list. 
- Rangers: 2B Jurickson Profar will miss up to the next three months because of a torn muscle in his throwing shoulder. 
- Rays: LHP Matt Moore was OK after being struck in the face by a liner on Sunday.
Here are the bullet-points of what went down Tuesday regarding MLB and the Braves' punishm...

The owners need to ratify on the new system in place, but the takeaway here is Ohtani is coming...

A preliminary report National Transportation Safety Board has shined some light on details...
John Coppolella was placed on the permanently ineligible list by MLB on Tuesday

Among other sanctions, Atlanta lost the player who was deemed the No. 1 international signing...

Among other penalties, No. 1 international prospect Kevin Maitan is now a free agent