MLB rumors, injuries and news roundup for March 24
Monday's full spring training recap -- transactions, rumors and injury updates -- can be found within.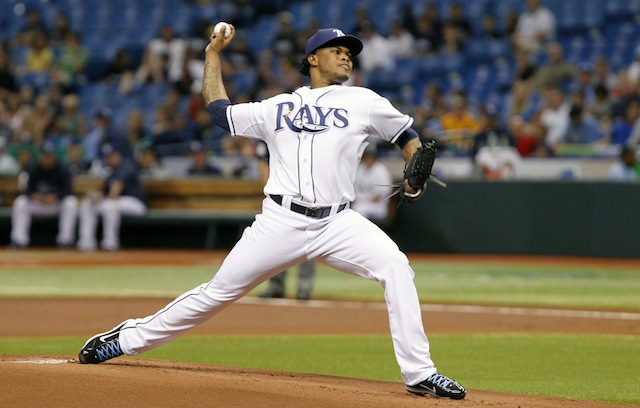 MORE: Spring Training | Scoreboard | Team previews
On the MLB spring training front, here's all that's worth knowing for Thursday, March 24 ...
JON HEYMAN
Here's the latest from our man in the chopper ... 
- Pirates: Heyman has learned that the Pirates have made a six-year offer to OF Starling Marte . 
- Tigers: Heyman writes that the Tigers have some optimism that they'll be able to sign 1B Miguel Cabrera to a contract extension. Cabrera is eligible for free agency after the 2015 season. 
- Yankees: While the Yanks need infield help, Heyman writes that they're not likely to spring for free agent INF Stephen Drew , at least right now. 
SIGNINGS & AGREEMENTS
- Braves: Have signed veteran RHP Aaron Harang , who will provide rotation depth. 
- Mets: Have re-signed RHP Kyle Farnsworth to a minor-league deal not long after releasing him. 
- Tigers: Have signed OF J.D. Martinez to a minor-league contract. 
- White Sox: Signed LHP Jose Quintana to a five-year, $26.5-million contract extension. 
TRADES
- Orioles, Tigers: The O's have sent SS Alex Gonzalez to the Tigers in exchange for INF Steve Lombardozzi. 
RUMORS, SPECULATION, NEWS, ETC.
- Braves: Have released RHP Freddy Garcia . 
- Brewers: Have requested waivers on corner infielder  Juan Francisco  for the purpose of his unconditional release. 
- Indians: OF Nyjer Morgan will reportedly make the Tribe's opening day roster. (Jordan Bastian via Twitter)
- Mariners: Have released RHP Scott Baker . 
- Nationals: Have released C Chris Snyder . 
- Rays: RHP Alex Colome has been suspended for 50 games after testing positive for the steroid Boldenone. Colome, 25, was ranked as a top-50 prospect by Baseball Prospectus prior to the 2010 season. In 2013, he worked 16 innings (2.25 ERA) for the Rays and had been in the mix for a rotation spot earlier in the spring. (Bill Chastain, MLB.com)
- Red Sox: GM Ben Cherington says extension talks with LHP Jon Lester are ongoing and that the matter should be resolved, one way or the other, by opening day. Lester is eligible for free agency after this season. (Sean McAdam, CSN New England)
INJURY UPDATES
- Blue Jays: SS Jose Reyes is day-to-day with a mild hamstring strain. Reyes, of course, has a history of hamstring injuries, so this one bears monitoring. 
- Indians: OF Michael Bourn will open the season on the DL with a lingering hamstring injury. 
- Rangers: C Geovany Soto will be out for the next 10 to 12 weeks with a torn meniscus in his right knee ... RHP Yu Darvish (stiff neck) could be pushed back from his scheduled opening day start. (T.R. Sullivan, MLB.com)
- Tigers: RHP Anibal Sanchez (shoulder inflammation) threw 71 pitches in minor-league camp on Monday and is on target to be in the rotation to start the regular season. (Jason Beck, MLB.com)