MLB rumors, injuries and news roundup for May 31
Updates on the injured Mike Trout, Jose Abreu, Henderson Alvarez, A.J. Pollock, Ryan Zimmerman and several Yankees headline Saturday's daily recap.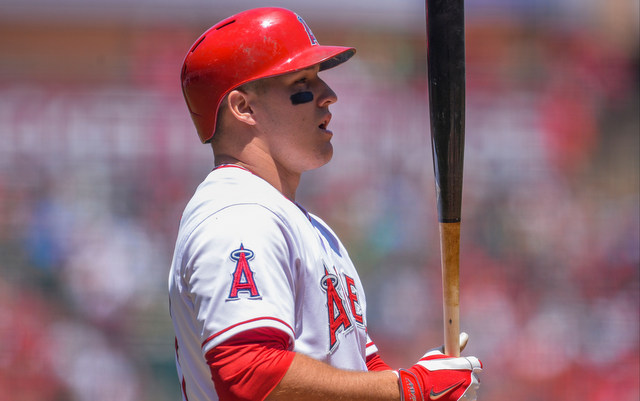 More MLB: Power Rankings | Expert Picks | Latest news & notes | Fantasy news
The second month of the 2014 season is now complete. Let's recap the major and not-so-major news from the final day of May as we prepare to head into June.
RUMORS & TRANSACTIONS
Angels: Designated LHP Wade LeBlanc for assignment, the team announced. The move creates room on the roster for RHP Jarrett Grube.
Braves: Designated RHP Wirfin Obispo for assignment, the club announced. The move clears a roster spot RHP Shae Simmons.
Mets: Planning to call up LHP Dana Eveland to bolster the bullpen on Sunday after playing back-to-back 14-inning games. (ESPN New York)
Orioles: RHP Heath Bell plans to opt out of his minor league contract next weekend if he is not called up to the MLB team (Virginia Pilot) ... RHP Luis Ayala will opt-out of his minor league deal soon (MLB Daily Dish) ... signed RHP Ramon Ramirez to a minor league contract. (MASN Sports)
Red Sox: Demoted OF Daniel Nava to Triple-A, the team announced. 1B/OF Alex Hassan was called up in a corresponding move ... planning to call up top prospect 3B Garin Cecchini on Sunday. He might only be up for a day with SS Stephen Drew scheduled to be activated on Monday. (WEEI.com)
INJURY UPDATES
Angels: OF Mike Trout was scratched from Saturday's game with upper back stiffness and a nagging hamstring issue. He is day-to-day (Los Angeles Times) ... 3B Ian Stewart (hand) left his minor league rehab game with continued discomfort (Orange County Register) ... OF Josh Hamilton (thumb) played in a minor league rehab game.
Diamondbacks: OF A.J. Pollock suffered a fractured right hand when he was hit by a pitch on Saturday, the team announced. The timetable for his return is unknown because he still needs to undergo tests to determine if surgery is necessary.
Mariners: 2B Robinson Cano (hand) was out of the lineup for a third straight game with a bruise. He remains day-to-day. (MLB.com)
Marlins: RHP Henderson Alvarez (elbow) threw a pain-free 20-pitch bullpen session and has been cleared to make his next start ... RHP Carter Capps (elbow) will soon see Dr. James Andrews. (MLB.com)
Nationals: 3B Ryan Zimmerman played five innings in left field during a minor league rehab game.
Orioles: RHP Tommy Hunter (groin) will throw a bullpen session on Sunday. (MASN Sports)
Padres: OF Cameron Maybin left Saturday's game with a tight calf. He is day-to-day. (ESPN Chicago)
Rangers: LHP Derek Holland (knee) threw a 70-pitch bullpen session on Friday. He still needs some more time before beginning a minor league rehab assignment. (Fort Worth Star Telegram)
Rays: OF Wil Myers has a sore wrist after colliding with OF Desmond Jennings on Friday night. He is scheduled to see a doctor soon ... SS Yunel Escobar was held out of Saturday's lineup with lingering tightness in his quad. (Tampa Tribune)
Red Sox: 2B Dustin Pedroia underwent both x-rays and an MRI on his right hand. Neither test showed any structural damage and he is day-to-day. (Providence Journal)
White Sox: 1B Jose Abreu (ankle) played in a simulated game on Saturday and is on track to be activated early next week, the team announced.
Yankees: 1B Mark Teixeira (wrist) left Saturday's game with soreness in his surgically repaired right wrist. He received a cortisone shot and is day-to-day ... RHP Michael Pineda (shoulder) has inflammation and has been shut down ... OF Carlos Beltran (elbow) took full batting practice and had no discomfort. He will do the same on Sunday (Wall Street Journal) ... RHP Shawn Kelley (back) threw a 20-pitch bullpen session and reported no problems. (MLB.com)
MISCELLANY
NCAA Division I: The Florida Gators pulled off the hidden ball trick in their regionals game against the College of Charleston.
Cardinals: OF Oscar Taveras hit a towering home run in his first MLB game.
Cubs: Several players, including 1B Anthony Rizzo, are frustated by the team's on again, off again renovation plans for Wrigley Field.
Marcell Ozuna figures to be the next Marlins star on the move

Several relievers have signed in the last two days

Several teams are interested in the switch-hitting first baseman
Neshek and the Phillies are closing on a two-year contract

And the team that first drafted Cole is interested

This scout was SUPER into Jeter