MLB Stock Watch: A great shortstop tops Bulls, another the Bears
Derek Jeter is one of baseball's immortals, but he's looking all too human in his final season. Elsewhere, a healthy Troy Tulowitzki couldn't be hotter.
More MLB: Power Rankings | Expert Picks | Latest news & notes | Fantasy news
Troy Tulowitzki and Derek Jeter are at opposite ends right now.
Two great shortstops lead the respective Stock Watch categories, one a Bull, the other a Bear.
One is an all-time great, the other may become one.
Troy Tulowitzki, smack in the middle of his prime, is doing what he does whenever he's healthy, which is hit and field with the best of them. If he keeps this up, he surely is on the road to baseball immortality.
Derek Jeter, finishing out a brilliant career as one of the greatest ever to play the position, already is an immortal of the game. But perhaps at 39 he is finally showing signs of age that he can't reverse.
Tulowitzki's superior play can be no surprise, as he's long been considered among the best players in the game, with the only real question being his ability to stay off the disabled list. To this point, he has inarguably been the very best player in baseball; he has a 3.3 WAR (which is a full win better than second-best Mike Trout and teammate Charlie Blackmon).
Jeter's place in history is undeniable, and he may yet find a way to turn this season into another boffo success story because that is what he does, but doubts were heard in spring training about whether that would even be possible in the year he turns 40.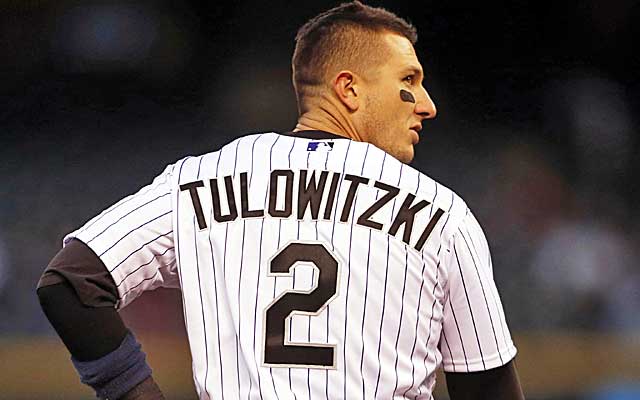 And thus far, by any measure, Jeter has played to the vastly lowered expectation, as he's been rather ordinary, and lately, even a bit less than that. We shouldn't forget that Jeter a decade ago had an early 0-for-32 stretch, and yet still managed to turn that 2004 season into a grand success, as per usual. But this year, after basically missing an entire season, and playing on a repaired ankle, it might take a miracle for Jeter to put together any semblance of a Jeter-like year.
He's had moments this year, like when he turned on a David Price pitch, and by all appearances seemed to think it would go out to left field, only to see the ball fall short for a double. To this point, that was only one of three extra-base hits by Jeter, all doubles, as he totes a worrying .479 OPS.
    Here are all the Bulls and Bears, including the two great shortstops, in this week's Stock Watch.
1. Troy Tulowitzki, SS, Rockies: Even by Tulo's lofty standards, this was some kind of week, as Colorado's biggest star went 13 for 21 (.619) and posted a 1.740 OPS before symbolically resting on Sunday. As a bonus, he also recorded his 1,000th career hit Saturday night against Daisuke Matsuzaka. With infield running mate Nolan Arenado, who smashed a grand slam two innings before Tulo's historic hit, developing into a star on both sides of the ball as well, the Rockies boast a superb left side.
2. Johnny Cueto, SP, Reds: Cueto, who was memorably serenaded for the one-game playoff in Pittsburgh last year, is pitching to his vast talent this year. He's been good from the start of the year, but this week was especially impressive: 16 innings, a 1.13 ERA and 21 strikeouts.
3a. Mark Teixeira, 1B, Yankees: The notoriously slow starter has been on fire since returning from an adductor injury he thinks may actually have helped him. The 15-day stay on the DL gave him a chance to rest his wrist, and it must be feeling fine because Teixeira has been carrying the Yankees lately. He is famed for awful starts, but he is avoiding the dreaded bad beginning, which is a major plus for the Yankees. Over his last seven games, Teixeira has a 1.375 OPS, belying his career norm (his .772 lifetime April OPS is by far the lowest of any month.)
3b. Dillon Gee, SP, Mets: The pitcher that Mets captain David Wright recently described as not "sexy" has been no less than the Mets' best player this season, and for the third time in four outings he allowed no runs. Gee never is mentioned among all the great young Mets arms, but he has been steady or better for a while now. But the signature changeup has helped move him from steady to much better than that. He is 3-1 with a 2.51 ERA overall.
Honorable Mention: Jarrod Saltalamacchia, C, Marlins; Starlin Castro SS, Cubs; Yasiel Puig, OF, Dodgers, Dee Gordon, 2B, Dodgers; Nolan Arenado, 3B, Rockies; Jhonny Peralta, SP, Brewers; Brandon Hicks, 2B, Giants; Carlos Santana, 3B, Indians; Michael Morse, OF, Giants; Jonathan Villar,  SS, Astros; Anthony Rizzo, 1B, Cubs; Desmond Jennings, OF, Rays; Zack Greinke, SP, Dodgers; Corey Kluber, SP, Indians; George Kottaras, C, Indians; A.J. Burnett, SP, Phillies; Scott Carroll, SP, White Sox; Brandon McCarthy, SP, Diamondbacks; Cliff Lee, SP, Phillies; Jon Niese, SP, Mets; Roemis Elias, SP; Mariners; Jon Lester, SP, Red Sox; Wily Peralta, SP, Brewers; Collin McHugh, SP, Aastros; Francisco Rodriguez, RP, Brewers; Sergio Romo, RP, Giants; Victor Martinez, DH, Tigers; Buster Posey, C, Giants; Brett Lawrie, 3B, Jays; Shin-Soo Choo, Rangers; Brayan Pena, C, Reds.
1. Derek Jeter, SS, Yankees: Some scouts assigned to the Yankees in spring suggested they believed Jeter would be in for a long final year, with two scouts notably suggesting that lost power and speed would make his sendoff unmemorable for performance. One said he didn't see any way Jeter, allowing that he is a magician, could hit even .270. It's way too early for any pronouncements, and Jeter could easily turn a .240 batting average after a month into .270 or better in no time. But the lack of power could be a concern. Anyway, for the week, he was a very un-Jeter-like 2 for 24, including an 0-for-7 Saturday.
2. Mike Moustakas, 3B, Royals: There was hope, based on a very strong spring, that Moustakas might have figured out what impeded him last year. But if anything, to this point he appears to have regressed. He's three for his last 24, dropping him to .151 for the year, good for 190th out of 191 players. The only player below him is Raul Ibanez, who is 42.
3. Elvis Andrus, SS, Rangers: Andrus was in a 1-for-29 skid when he was dropped to No. 9 in the Rangers' batting order Sunday. He responded with a hit in three at-bats in a 14-3 victory over the Angels, bringing him up to .220. Andrus had a poor first half last year before turning things around. Texas has to hope he isn't repeating that weak start, but if he does, that he can similarly turn in another strong second half.
Dishonorable Mention: Andrelton Simmons, SS, Braves; Jay Bruce, OF, Reds; Cody Ross, OF, Diamondbacks; Chris Colabello, OF/1B, Twins; Nick Swisher, 1B, Indians; Josmil Pinto, C, Twins: Ibanez, OF, Angels; Freddie Freeman, 1B, Braves; Carlos Marmol, RP, Marlins; Sergio Santos, RP, Jays; Tommy Milone, SP, A's.
The Nats will host the All-Star Game in 2018

The Orioles are looking to trade Machado heading into his walk year

The Cardinals have been linked for a while to the Baltimore star
Gallardo spent the first eight years of his career in Milwaukee

MLB revenues are at a record high right now, but teams aren't spending it on players

Chicago added Tyler Chatwood earlier this offseason but might not be done adding to the ro...