MLB Stock Watch: No appeal needed, Ortiz leads the Bulls
David Ortiz gains an extra hit by appeal, but it's his four HRs that make him the clear choice to lead the Bulls. Elsewhere, the game's best pitcher is a rare Bear.
More MLB: Power Rankings | Expert Picks | Latest news & notes | Fantasy news
The great David Ortiz had such a strong week that he even gained a hit for the previous week.
So, counting the extra single he picked up in protest, his 10-for-23 week was really tantamount to an 11-for-23 week. Which, with his continuing consistent power, qualifies him to lead the Stock Watch yet again.
No appeal is needed here. Ortiz's four homers were an MLB best for the week.
Ortiz, who seems to defy logic at age 38, apparently also has sway over the league, which awarded him a hit after he appealed on his pop fly he hit that could have broken up Yu Darvish's no-hit bid but was originally ruled an error in the Rangers' 8-0 victory back on May 9.
Ortiz broke up the bid for sure anyway with a hit in the ninth inning, but while his appeal had no effect on the no-hit history it seemed from here wholly unnecessary to challenge the initial ruling. Ortiz is one of the best clutch hitters -- and one of the best hitters period -- of this generation, whether he gets credited with a hit for that pop fly or not.
It's true that very ball is called a hit the vast majority of the time (say 98 percent) but it really shouldn't be. It was a pop fly that could have easily been caught by right fielder Alex Rios (who was originally charged with the error) or rookie second baseman Rougned Odor -- though to be fair, it's true the drastic shifts can make things a bit more confusing considering Odor started out in right field on the play, too.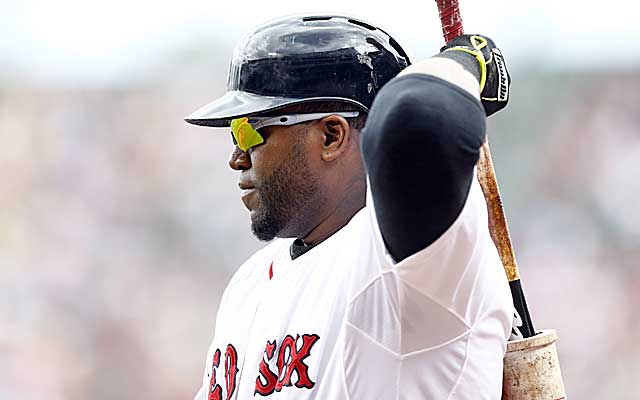 While most scorers call a pop fly that falls between two confused would-be fielders a hit, there was said to be a movement from league higher-ups going into this season to understand that it doesn't necessarily have to be a hit. That would-be change makes great sense, in that the pitcher doesn't deserve a hit on his ledger for such a popup, the hitter doesn't deserve a hit, and at least one of the fielders deserves an error, if not both of them.
Anyway, it was a great week either way for Ortiz, whose winning personality doesn't hurt when appealing to sportswriters, the league, whomever. Anyway, his hitting skills remain overwhelming either way.
Here are all the members of the Bull and Bear markets for this week's Stock Watch.
1. David Ortiz, DH, Red Sox: Not only did he add that cheap single, for the week his four home runs gave him a neat .500 on-base percentage, 1.000 slugging percentage and 1.500 OPS. Not sure when he's going to slow down, but no sign it's anytime soon for the 38-year-old. Ortiz's batting average went from .267 to .299 for the year (thanks to the extra hit), and his OPS is now .939, fourth best in the American League and the very same figure Ortiz had last season.
Tigers manager Brad Ausmus knows the score, intentionally walking Big Papi as the potential tying runner (with only one out, no less) Sunday night. Ausmus perhaps went to school during the ALCS when the legendary Jim Leyland, Ausmus' predecessor, made the mistake of letting Ortiz hit the grand slam that turned the series. Maybe Leyland temporarily forgot that things always seem to work out for Ortiz.
2. Johnny Cueto, SP, Reds: If it seems like opposing batters are hitting nothing against him, that's close to the truth. In 72 innings, he has allowed 33 hits, which adds up to an MLB-best .135 opponents' batting average. He used to be a hard thrower with a nice slider, but now he's a terrific pitcher -- one of the best and most underrated in baseball. For the month, he has a 0.60 WHIP after his 5-0 complete-game shutout of the Padres, and for the year he leads all pitchers in ERA (1.25), WAR (3.5) and everything else that's important.
Of course the Reds pick up the $10 million option for 2015 (as opposed to buying him out for $800,000), but after that it gets interesting. They spent $105 million on the less-accomplished (but slightly younger) Homer Bailey, which may leave little room in the budget of the small-market team for the fellow who's pitching better than anyone in the game. Little chance a chant of "Cue-to" could derail him now.
3. Yasiel Puig, OF, Dodgers: His new discipline at the plate makes him even tougher. For the week, he had three more home runs and a 1.334 OPS. He also isn't making the previous mistakes on the base paths. For all the ridicule he has taken, he seems like he might be a very fast learner.
Honorable Mention:Rickie Weeks, 2B, Brewers; Miguel Cabrera, 1B, Tigers; Victor Martinez, DH, Tigers; Jose Altuve, 2B, Astros; Brandon Moss, 1B, A's; Pablo Sandoval, 3B, Giants; Yadier Molina, C, Cardinals; A.J. Pollock, OF, Diamondbacks; Daniel Murphy, 2B, Mets; Seth Smith, OF, Padres; Brian Dozier, 2B, Twins; Josh Donaldson, 3B, A's; Freddie Freeman, 1B, Braves; David Murphy, OF, Indians; Brett Gardner, OF, Yankees; Hunter Pence, OF, Giants;Juan Francisco, 3B, Jays; Brandon League, RP, Dodgers; Ubaldo Jimenez, SP, Orioles; Sean Doolittle, RP, A's; Drew Pomeranz, SP, A's; Bronson Arroyo, SP, Diamondbacks; Joe Nathan, RP, Tigers; Jeff Samardzija, SP, Cubs; Danny Duffy, SP, Royals; Tyson Ross, SP, Padres; Max Scherzer, SP, Tigers; Phil Hughes, SP, Twins; Tom Koehler, SP, Marlins; Hisashi Iwakuma, SP, Mariners; Jered Weaver, SP, Angels; Edwin Jackson, SP, Cubs; Jon Lester, SP, Red Sox; Zack Greinke, SP, Dodgers; Masahiro Tanaka, SP, Yankees; Mark Buehrle, SP, jays; Shelby Miller, SP, Cardinals; Corey Kluber, SP, Indians; Garret Richards, SP, Angels; Jorge de la Rosa, SP, Rockies; Dallas Keuchel, SP, Astros; Drew Pomeranz, SP, A's; Robbie Erlin, SP, Padres; Rick Porcello, SP, Tigers.
1. Justin Masterson, SP, Indians: For the week, he had an 11.17 ERA. Neither start was great but the last one, Sunday's 13-3 defeat to the A's in which he allowed seven hits, five walks and seven earned runs in 4 1/3 innings, was especially bad (though to be fair, the A's have tormented a lot of pitchers lately). It was written here that it was hard to believe the Indians turned down some seemingly reasonable short-term offers to stay with Masterson, but based on the way he has started, the team doesn't look quite so foolish, at least not at the time. Though for the record, I would still consider this an aberration and try to keep him.
2. Clayton Kershaw, SP, Dodgers: One off game doesn't normally qualify one for the Bear Market. But when the best pitcher in the game allows three run-scoring triples in the same inning to anyone, much less the last-place Diamondbacks, he makes it based on the grading curve. Kershaw lasted just 1 2/3 innings in the 18-7 Dodgers defeat; his second game back turned out to be the second-shortest outing of his career.
3. Ruben Tejada, SS, Mets: The callup of Wilmer Flores seemed to spur Tejada to better play for a couple days, but it's still a 3-for-21 (.143) week and 5-for-40 (.125) month. For the year, he has a .185 batting average and .524 OPS.
Dishonorable Mention: Kyle Seager, 3B, Mariners; Mark Reynolds, 3B, Brewers; Evan Longoria, 3B, Rays; Matt Carpenter, 3B, Cardinals; Eric Hosmer, 1B, Royals; A.J. Pierzynski, C, Red Sox; Justin Upton, OF, Braves; Desmond Jennings, OF, Rays; Danny Espinosa, 2B, Nationals; Jedd Gyorko, 3B, Padres;  Jackie Bradley Jr., OF, Red Sox; Brad Miller, SS, Mariners; Mike Moustakas, 3B, Royals; Jake Peavy, SP, Red Sox;  Zack Wheeler, SP, Mets; Scott Carroll, SP, White Sox; Brian Wilson, RP, Dodgers; Edinson Volquez, SP, Pirates; Gio Gionzalez, SP, Nats; Zach McAllister, SP, Indians; Henry Rodriguez, RP, Marlins; Jim Henderson, RP, Brewers; Nick Maronde, RP, Angels.
Venters threw a scoreless inning for the Rays on Sunday

The contract includes a second year vesting option

Keep tabs on the top 50 free agents on the market right here
New York has been looking for rotation depth all offseason

A closer look at the teams in the Cactus League and Grapefruit League

For the time being Tebow is limited to taking batting practice and is listed as day-to-day