MLB Stock Watch: Polanco call-up boosts McCutchen in his MVP quest
Andrew McCutchen is on a tear -- and putting together a case for a second straight NL MVP. Elsewhere, AL MVP front-runner Josh Donaldson of the A's is in a serious funk.
More MLB: Power Rankings | Expert Picks | Latest news & notes | Fantasy news
The Pirates finally call up outfield wunderkind Gregory Polanco, and he doesn't disappoint, with hits in six straight games, including a game-winning home run. Polanco, in fact, became the first Pirate to have hits in all of his first six games since the great Roberto Clemente in 1955.
But it is the veteran of that terrific young Pirates' outfield trio, Andrew McCutchen, who takes top honors in this week's Stock Watch for his own improbable eight-game multi-hit streak.
Of course, an eight-game hitting streak is hard enough without making it an eight-game multi-hit streak. And it isn't like he's getting cheap hits. In his 11-game hit streak overall, he has 12 extra-base hits (six homers, six doubles) to go along with 16 RBI.
McCutchen's hot streak has enhanced his numbers to the point where they are better, virtually across the board, than during his MVP season of 2013 and has raised the possibility that he could make it two straight MVP honors.
It's a little early to seriously be considering the MVP award, but if McCutchen can make it two straight MVPs, he'd put himself in rarefied air, as only Albert Pujols, Barry Bonds (multiple times), Mike Schmidt, Dale Murphy, Joe Morgan and Ernie Banks have won consecutive MVP awards in the National League.
McCutchen received extra credit last year for carrying the Pirates offensively, and perhaps he has received a psychological boost by the long-awaited ascension of the five-tool Polanco, giving the Pirates maybe the best trio of youthful outfielders in baseball, rounded out by Starlin Marte. Better yet, it is a trio that can stay together, with McCutchen likely the first to become a free agent following the 2018 season, when the Pirates have an option they'll surely exercise.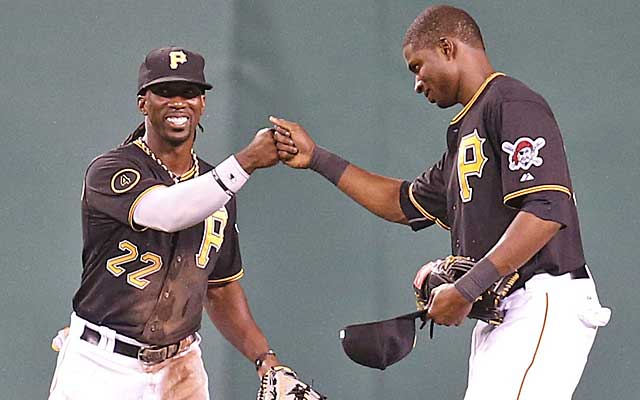 The whole team may be feeling the lift, and the slow-starting Pirates reached .500 Saturday for the first time since April 17 before falling back with a defeat at Miami Sunday.
Troy Tulowitzki and Giancarlo Stanton are having the best statistical seasons to date in the NL. But McCutchen is making folks take notice with a hot streak that enabled him to jump into second place in a spirited race among outfielders in NL All-Star voting. In votes announced over the weekend he joined Yasiel Puig and Stanton as outfield starters, with Carlos Gomez now on the outside in fourth place. The NL outfield is superb, but the Pirates' outfield triumvirate could become one for the ages.
As for the competition here, it isn't nearly as close as the NL All-Star voting; McCutchen wins easily.
Here are all the Bulls and Bears in this week's Stock Watch.
1. Andrew McCutchen, OF, Pirates: So far this month McCutchen has a .415 batting average and 1.464 OPS, and the numbers were much better than that for the week. No contest.
2. Evan Gattis, C, Braves: Gattis' own 14-game hitting streak includes 23 hits, five homers and 14 RBI, helping the Braves forge a one-game lead over the Nationals and Marlins in the tightest of divisions. Gattis' .589 slugging percentage for the year would be good for second place in the NL to Tulowitzki if he had enough at-bats to qualify (he's 10 plate appearances short).
3. Lonnie Chisenhall, 1B-3B, Indians: Chisenhall is emerging as a star after some rough patches earlier, and his 10 hitless at-bats in his last three games dropped his batting average to .371, which would be good enough to lead the league by 38 points (over Victor Martinez's .33) if he had enough plate appearances. By month, Chisenhall hit .362 in April and .373 in May before his .375 June, so he's been remarkably consistent.
Within that even performance have been some amazing feats, none better than on June 9 when he went 5-for-5 with three homers and nine RBI in a 17-7 win at Texas.
The Indians probably got a bargain when they picked him No. 29 overall in the 2008 draft out of Putt Community College in Winterville, N.C., but it wasn't because of an issue of his talent but rather an early incident that raised questions about his character. Cleveland's faith in him clearly is paying off.
Honorable Mention: Eugenio Suarez, SS, Tigers; Brock Holt, UTIL, Red Sox; Michael Brantley, OF, Indians; Adam Jones, OF, Orioles; Curtis Granderson, OF, Mets; Paul Goldschmidt, 1B, Diamondbacks; Troy Tulowitzki, SS, Rockies; Brian Dozier, 2B, Twins; Todd Frazier, 1B-3B, Reds; Miguel Montero, C, Diamondbacks; Joel Peralta, RP, Rays; Joakim Soria, RP, Rangers; Antonio Bastardo, RP, Phillies; Aroldis Chapman, RP, Reds; Garrett Richards, SP, Angels; Jordan Zimmermann, SP, Nats; Greg Holland, RP, Royals' Koji Uehara, RP, Red Sox; Cole Hamels, RP, Phillies; Henderson Alvarez, SP, Marlins; Scott Kazmir, SP, A's; Tanner Roark, SP, Nats; Tim Hudson, SP, Giants; Chris Sale, SP, White Sox; Masahiro Tanaka, SP, Yankees; Wei-Yin Chen, SP, Orioles; Danny Duffy, SP, Royals; Yu Darvish, SP, Rangers; Stephen Strasburg, SP, Nats; Felix Hernandez, SP, Mariners; Jake Arrieta, SP, Cubs; Clayton Kershaw, SP, Dodgers; Charlie Morton, SP, Pirates.
1. Josh Donaldson, 3B, Athletics: The AL MVP candidate (yes, I know, it's early) went into a funk, going zero for 33 before a single off Yankees youngster Jose Ramirez helped return him to a .250 batting average. Donaldson went seven straight games without a hit and had four errors within a four-game span, but he remains one of the leaders of the very fine A's team that has outplayed everyone in the league by far so far.
2. Padres hitters: San Diego hitters may be looking at historic numbers if their June swoon keeps up. They have a league-low 24 runs, a .157 batting average, .232 on-base percentage, .253 slugging percentage and .485 OPS for the month, and they are last among all 30 teams in all those categories for the year except slugging percentage, where their .344 mark is infinitesimally better than the Mets' .344 mark.
3. Tyler Flowers, C, White Sox: Overall, he has showing marked improvement for the year, and like Donaldson is at .250. However a recent slide that includes seven straight multi-strikeout games is almost mythic. Overall, he has 18 whiffs (and no hits) in 21 at-bats in those seven games, a hard-to-believe .833 strikeout rate for the seven games.
Dishonorable Mention: Grady Sizemore, OF, Red Sox; Yadier Molina, C, Cardinals; Anthony Gose, OF, Blue Jays; Michael Choice, OF, Rangers; Juan Francisco,1B-3B, Blue Jays; Alfonso Soriano, DH-OF, Yankees; Carlos Beltran, OF, Yankees; Raul Ibanez, DH, Angels; Jeff Mathis, C, Marlins; Dayan Viciedo, OF, White Sox; Jason Giambi, DH, Indians; Carlos Quentin, OF, Padres; Nick Martinez, SP, Rangers, Juan Nuicasio, SP, Rockies; Eric Stults, SP, Padres; Justin Verlander, SP, Tigers; Marco Estrada, SP, Brewers.
Get 15 percent off any order of more than $75 at CBS Sports Shop

Get your sports fans something that they'll wear all year

No, you're not imagining things. This MLB offseason has been very slow compared to the last...
Francesa will retire from radio next month, so he'll have plenty of free time next summer

The Twins need help in the rotation, and they may look to the trade market to find arms

Here are the bullet-points of what went down Tuesday regarding MLB and the Braves' punishm...