MLB Stock Watch: Powerful, polite rookie Jose Abreu is a steal so far
Call it a tale of two rookies: Cuban import Jose Abreu has rewarded the White Sox with a torrid start, while the Astros' George Springer is taking his lumps.
More MLB: Power Rankings | Expert Picks | Latest news & notes | Fantasy news
Jose Abreu , who leads the majors in homers and RBI, may turn out to be the bargain of the winter. He's also a Yasiel Puig opposite, at least in terms of his polite manner.
Who says there are no more bargains on the free-agent market?
Jose Abreu could turn out to be one of the best buys in free-agent history. Superstars don't go for barely more than $11 million a year, as Abreu did when he signed with the Chicago White Sox for $68 million over six years.
The successes of Yoenis Cespedes and Yasiel Puig provided extra belief that Abreu's excellent stats meant something. But as it turns out, the White Sox may have underpaid by half.
Shin-Soo Choo and Jacoby Ellsbury are extremely good players, but they received about twice as much as Abreu (actually more in Ellsbury's case). And who would you rather have, either of them or a 27-year-old slugger who looks like he's going to be a sensation in the Second City? Plus, as an extra, the White Sox didn't have to surrender a draft choice to sign the Cuban star.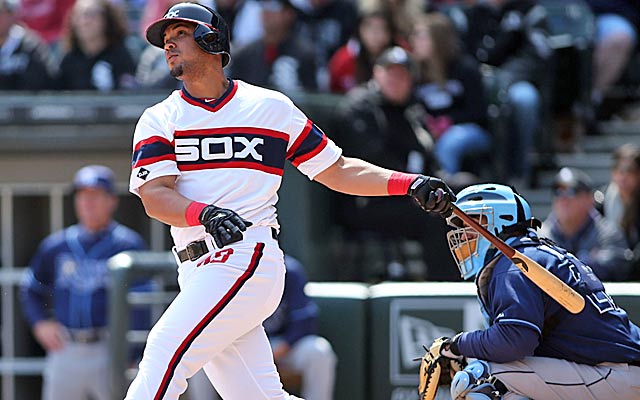 Abreu is an unusual person, both for his incredible power, and his polite manner. So he's no Puig in terms of personality. When I arrived in White Sox camp at Camelback Ranch I was warned that Abreu would come over to shake my hand. And that he did, unsolicited.
That makes an impression.
An even bigger impression is his hitting so far early this season. He leads the majors with his 10 home runs and 31 RBI. He is showing amazing strength with the ability to drive the ball out the opposite way, and is reason No. 1 the White Sox have gone from the worst offense in the American League last year to one of the best, at least so far.
Here are all the Bulls and Bears from the week of the Stock Watch. (Note: The Stock Watch rule disallows repeat appearances in the Bull and Bear Markets, thus Adam Wainwright and Albert Pujols , who both followed great weeks last week with yet another great week, were ineligible.)
1. Jose Abreu, 1B, White Sox: He has 17 RBI and six home runs over his last eight games, making him the obvious choice. The walk-off grand slam off Grant Balfour was the top highlight in a fast start full of them. The Houston Astros , Boston Red Sox and Rockies weren't outbid by much (reportedly, they also all bid over $60 million) and may be kicking themselves for not kicking in a few more bucks. The 10 homers and 31 RBI set rookie records through April, by the way.
2. Tanner Roark , SP, Washington Nationals : He's gotten a chance in Washington's vaunted rotation thanks to the injury to Doug Fister , and he's made the most of it. The 27-year-old late bloomer out of the University of Illinois took a perfect game into the sixth inning against the San Diego Padres and finished with a complete-game shutout. For the week, he had 15 2/3 scoreless innings. Even with Fister due to come back, they have to find a spot for Roark.
3. Francisco Rodriguez , RP, Milwaukee Brewers : The veteran posted another scoreless five innings to add five more saves and pass Goose Gossage on the all-time save list. K-Rod has reinvented himself with a revamped devastating changeup but the real key has been unreal control. Though 14 games (and 14 innings), he has allowed no runs, walked three and struck out 21. The WHIP is 0.57 to go with the 0.00 ERA, and he leads with 11 saves despite not starting the year as the team's closer (he was quickly inserted into the role). One thing to watch may be a need for a day off here or there; he's appeared in 14 of Milwaukee's 25 games.
Honorable Mention: Josh Donaldson , 3B, A's; Adam Wainwright, SP, St. Louis Cardinals ; Andrew McCutchen , OF, Pittsburgh Pirates ; Dayan Viciedo , OF, White Sox; Nelson Cruz , OF, Baltimore Orioles ; Charlie Blackmon , OF, Rockies; Corey Kluber , SP, Cleveland Indians ; Shelby Miller , SP, Cardinals; Martin Perez , SP, Texas Rangers : Michael Mariot , RP, Kansas City Royals ; Stephen Strasburg , SP, Nationals; Cliff Lee , SP, Philadelphia Phillies ; A.J. Burnett , SP, Phillies; Aaron Harang , SP, Atlanta Braves ; Zack Greinke , SP, Los Angeles Dodgers ; Alex Wood , SP, Braves; Troy Tulowitzki , SS, Rockies; Carlos Ruiz , C, Phillies; Erick Aybar , SS, Los Angeles Angels ; Ben Revere , OF, Phillies; Hunter Pence , OF, San Francisco Giants ; Nelson Cruz, OF/DH, Orioles; Adrian Gonzalez , 1B, Dodgers.
1. Carlos Santana , 3B, Indians: He is one for 27 since April 19. Perhaps a groin injury or toothache may explain his rough stretch, but it's been quite a slide, as he is now hitting .122 for the season. One plus: he walks a lot, leading to a .301 on-base percentage, not good but better than that batting average. Another possible explanation might be the adjustment in the move to third base. The way he's hitting, though, he may have to adjust to a lower spot in the batting order. Tough to have a cleanup man who hits this little.
2. George Springer, OF, Astros: Give Houston credit for throwing caution to the wind on service time and calling up Springer early enough for him to perhaps win an extra year or arbitration. Of course he's going to have to hit better than this to stay up. Springer, almost a sure bet to become a major star eventually, is one for his last 25 with eight strikeouts after getting off to a decent start in his first few games.
3. Grant Balfour, RP, Tampa Bay Rays : The new Ray had a rough few days in Chicago. He allowed Abreu's walk-off slam, and he also got into a verbal tussle with mild-mannered White Sox great Paul Konerko after Balfour was seen shouting at someone. Balfour later claimed he was talking to himself, understandable the way he's pitching.
Dishonorable mention: Roberto Hernandez , SP, Phillies; Starling Marte , OF, Pirates; Colby Rasmus , OF, Jays; Jordan Danks , OF, White Sox; Dan Uggla , 2B, Braves; Tony Campana , OF, Arizona Diamondbacks ; Freddy Galvis , INF, Phillies; Brad Miller , SS, Seattle Mariners ; Ernesto Frieri , RP, Angels; Carlos Gonzalez , OF, Rockies; Sean Doolittle , RP, A's; Kevin Correia , SP, Minnesota Twins ; Josh Fields , RP, Astros; Brian Wilson , RP, Dodgers; Ryan Vogelsong , RP, Giants, Robbie Erlin , SP, Padres; J.B. Shuck , OF, Angels;   Curtis Granderson , OF, New York Mets ; Jordan Danks, OF, White Sox.
Sunday's MLB roundup features the D-Backs clinching a postseason spot and the Mariners going...

The 2017 season has been, by far, the worst season of Cabrera's career

The Mariners were eliminated from postseason contention with Sunday's loss
Maxwell became the first MLB player to kneel during the national anthem Saturday

The Blue Jays are not expected to bring Bautista back next season

The Dodgers have already clinched the NL West title, so the D-Backs will be a wild card te...