MLB Stock Watch: Trade stock of Rays' Price, Padres' Benoit rising
Rays ace David Price keeps boosting his trade value while the thin market for help at the plate takes a hit as the Padres' Carlos Quentin continues to struggle.
More MLB: Power Rankings | Expert Picks | Latest news & notes | Fantasy news
There can be no doubt who tops this week's trade-deadline version of Stock Watch. David Price has been dealing and dominating for weeks now, significantly raising his trade value.
It also can't hurt Tampa Bay's cause that the A's removed two top starters -- Jeff Samardzija and Jason Hammel -- from the trade market, leaving Price little company in terms of available frontline starters. There are a few other big-time starters who could potentially hit the market, including Cliff Lee and maybe even Cole Hamels, but that is no certainty. For now anyway, it looks like Price and several second-tier guys.
The bigger question at this point might be whether Price himself will be traded. With the Rays getting hot not long after outside-the-box manager Joe Maddon brought in a witch doctor to solve their early ills, the Rays don't seem quite out of it in a rare AL East race where no one is without issues. So at the moment, at least, there's no guarantee Price is going anywhere.
Say this for Price, he has done a terrific job pitching through all the trade talk. So he's the easy choice to top this week's list of Bulls.
Here are the all the Bulls, and the Bears, of the first trade-deadline Stock Watch of the season.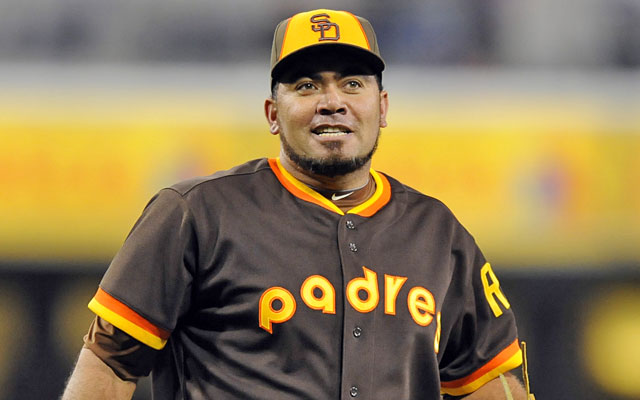 1. David Price, SP, Rays: He missed joining Nolan Ryan, Pedro Martinez and Randy Johnson as the fourth pitcher ever to whiff 10 or more batters in six straight starts, as he posted only nine strikeouts in beating the Yankees 2-1 on July 1. After a rough patch earlier when there was concern about his velocity, he's clearly back and pitching about the best baseball of his career. Since the start of June, he has 63 strikeouts against eight walks and a 0.98 WHIP. He leads the majors with 159 strikeouts, and even more impressive, nearly an 8-to-1 strikeout/walk ratio (he has 20 walks). The Dodgers are one team known to be in -- if he's traded.
2. Joaquin Benoit, RP, Padres: He has pitched brilliantly since going to San Diego, and even better lately. Since the start of June he has a 0.44 WHIP and 0.00 ERA. Many teams have an interest, including his old Tigers.
3. Nate Schierholtz and Justin Ruggiano, OFs, Cubs: Ruggiano had a 1.444 OPS for the week, and Schierholtz 1.267. Schierholtz certainly has slipped from last year, but his big series at Boston should help the cause.
1. Carlos Quentin, OF, Padres: He's open to waiving his no-trade clause for the right American League team since his future, realistically, is likely as a DH. In the meantime, he isn't hitting like he can. He is 7 for 70 since the beginning of June for an even .100, and just one home run. Seems like the others in San Diego may be affecting him because he is a lot better than that. That is not him at all.
2. Jorge De La Rosa, SP, Rockies: He had a nice first start in July after a rough June in which he had a 7.11 ERA. He still could bring the Rockies back a decent prospect, as folks realize a ballpark switch may help. He's a candidate to be traded, then sign back in Colorado.
3. Alexei Ramirez, SS, White Sox: The South Siders are said to have put an understandably high price on Ramirez last year, and that won't change, as Ramirez made the All-Star team this year. However, it has been a little rough lately, with a .564 OPS since the start of June, with just one home run. He's due a very reasonable $16M through the end of next season (including a $1M buyout for '16), so the recent cold spell shouldn't discourage too many folks.
The Marlins got a better return for Ozuna than Stanton or Gordon

The two teams are going about things in very different ways

The Marlins are indeed in teardown mode under new ownership
The Marlins still have more attractive pieces

The A's need outfield help, and the Cardinals have a glut

Minnesota has designs on the best starting pitcher available on the free agent market