MLB supports California bill that would ban tobacco at ballpark
Minor league baseball already bans tobacco use, though it's hit-and-miss as far as enforcement. MLB might do better to act on its own rather than wait for all of the states with MLB parks to make laws.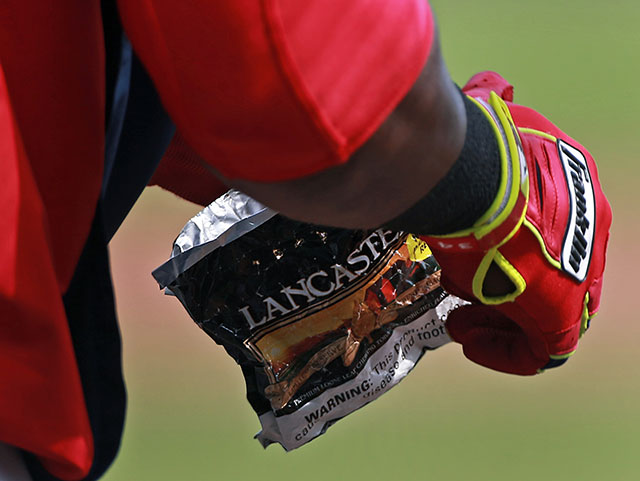 A bill set to be introduced in the California state legislature would ban the use of smokeless tobacco in major league ballparks, an initiative that Major League Baseball says it supports. Chewing tobacco has been a ubiquitous, if unattractive and unhealthy part of life in MLB and other levels of baseball for as long as anyone can remember. Roughly one-third of major leaguers partake in some form of smokeless tobacco, which has been banned in the minor leagues (with dubious success) since 1993.
Chewing tobacco can be addictive, can cause cancer, and its place as a prop in MLB's culture encourages kids to be like big leaguers. And the rate of young people chewing tobacco reportedly is increasing. Those factors led Tony Thurmond, a Democrat who represents Richmond and other communities east of San Francisco, to introduce legislation.
Via Reuters:
Smoking is already banned in Major League Baseball, and the minor leagues have prohibited dipping and chewing, although some say the minor league rules are not strictly enforced. Major League Baseball strongly discourages the use of smokeless tobacco, but has not banned it.

Thurmond's bill would ban use of all tobacco products at baseball stadiums in the state, including dipping, chewing, smoking or using electronic or e-cigarettes. It would also require baseball stadiums to post signs announcing the ban in all dugouts, bullpens, locker rooms, bathrooms and at all entrances.
MLB's response, rather than being annoyed by government intervention, seems welcoming:
"We ardently believe that children should not use or be exposed to smokeless tobacco, and we support the spirit of this initiative in California and any others that would help achieve this important goal."
Still, it's kind of an awkward sell in baseball because tobacco has been so ingrained in its culture and history:
And Mickey Mantle smoked Camels, did you know?
You won't see a ballplayer endorsing tobacco these days, at least. Still, the bill would have a greater chance of passing if the players union were on board. Several notable players, including Stephen Strasburg, have tried to quit chewing tobacco in the wake of Hall of Famer Tony Gwynn developing cancer of his salivary glands. Gwynn, who died in 2014 from complications of his cancer, suspected that chewing tobacco was the genesis of his illness. It should be noted, however, that Gwynn's cancer has not been linked clinically to chewing tobacco, and simply might have been bad genetic luck.
That doesn't mean chewing tobacco isn't disgusting and, possibly, deadly.
Matt Myers, president of the Campaign for Tobacco-Free Kids, said chewing tobacco is not only deadly for adults like Gwynn, but it is increasingly popular with teens and boys seeking to emulate their baseball heroes.

"The use of smokeless tobacco has actually increased among kids," Myers said, "because young fans idolize and imitate Major League Baseball players."
Ideally, ballplayers would vote to ban the use of smokeless tobacco among themselves, without it getting to a government level. Their bodies are on the front lines, after all. It's also reasonable for MLB owners to want to ban smokeless tobacco because it looks bad, and because it's unhealthy for their players. Self-policing also would settle the matter once and for all. California is a starting point, but the other states with MLB stadiums would need similar legislation to blanket the entire league. And then there's Toronto and the Blue Jays in Canada.
If all of MLB really wanted to ban chewing tobacco on their own they would have done it already.
Keep tabs on the top 50 free agents right here

Your one-stop shop for all things MLB Winter Meetings-related

The Angels knew about the first-degree sprain and still wanted to sign the potential ace, of...
The run on relievers continues with two more signings

The Yankees added Giancarlo Stanton in a blockbuster trade, though they now have openings at...

Smyly is currently on the mend from Tommy John surgery