MLB tells union that A-Rod, eight others will be suspended
While the endgame of the Biogenesis scandal isn't in the offing, the beginning of the endgame may be.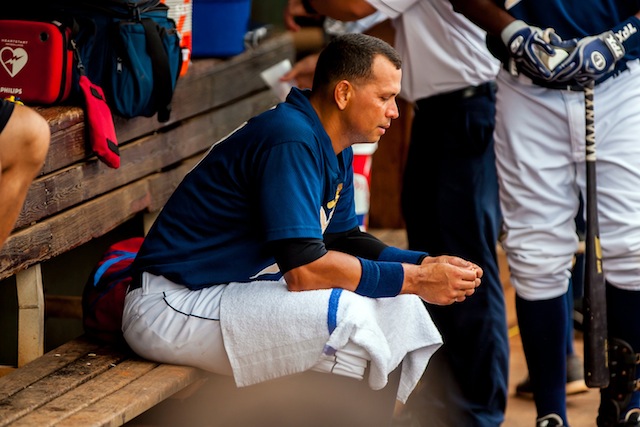 More: Heyman -- A-Rod, MLB headed for showdown
Major League Baseball has met with the MLBPA regarding the Biogenesis scandal and told union officials that the suspensions of Alex Rodriguez of the Yankees and eight other players will be announced this week, reports the New York Daily News. CBSSports.com's Jon Heyman confirms the initial report and adds that the players in question are presently deciding whether to accept the suspensions or appeal. Some, Heyman notes, are expected to accept their suspensions without a fight.
Rodriguez and the others are, of course, accused of obtaining banned performance-enhancing drugs from the now-shuttered Biogenesis anti-aging clinic in South Florida. Clinic founder Anthony Bosch has been cooperating with MLB's investigation, and his cooperation aided MLB's successful efforts to suspend Brewers outfielder Ryan Braun earlier this month.
Heyman recently reported that a lengthy suspension for Rodriguez was all but inevitable and that the suspension will likely be longer than even Braun's 65-game ban, given the reported strength of MLB's case against A-Rod.
A-Rod's attorney has previously indicated that he and his client are prepared to appeal. If that comes to pass, then MLB commissioner Bud Selig may make an end run around the Joint Drug Agreement and suspend A-Rod immediately, possibly for life, via powers granted to him in the collective bargaining agreement (CBA). By taking such a drastic step, however, Selig could, as the Daily News notes, make MLB vulnerable to legal action and or possible nullification of the current CBA. Needless to say, those are serious consequences.
As for the others, Heyman has already reported that Athletics pitcher Bartolo Colon, Blue Jays outfielder Melky Cabrera and Padres catcher Yasmani Grandal are likely to be spared any disciplinary action. Possibly in MLB's cross-hairs, then, are Nelson Cruz of the Rangers and Jhonny Peralta of the Tigers, among others. The Tigers' recent acquisition of infielder Jose Iglesias may suggest that organization anticipates a suspension for Peralta. 
More to come, obviously.
Marcell Ozuna figures to be the next Marlins star on the move

Several relievers have signed in the last two days

Several teams are interested in the switch-hitting first baseman
Neshek and the Phillies are closing on a two-year contract

And the team that first drafted Cole is interested

This scout was SUPER into Jeter