MLB trade buzz: Price, Gallardo, Padres trio shift market, more notes
The starting pitching market looked a bit thin a week ago, but as we approach the July 31, sellers market could convert to a buyers market before the MLB trade deadline.
This supposed sellers market could turn neutral or even become a buyers market as we get closer to the July 31 trade deadline, with more teams starting to realize that maybe this isn't their year, after all.
The starting pitching market, in particular, which looked quite a bit thin only a week ago, is getting very interesting indeed, with several surprise entrants potentially roiling the marketplace. Pretty soon, Cole Hamels, Johnny Cueto, Mike Leake, Scott Kazmir and the Marlins' trio of Dan Haren, Mat Latos and Tom Koehler won't be the only games in town.
Up to a half dozen or more starting pitchers, from superstar David Price to stars Jeff Samardzija and Yovani Gallardo to the majority of the Padres' rotation are at least being contemplated or discussed, which could greatly benefit the main pitching pursuers -- the Dodgers, Blue Jays, Astros, Royals and Yankees -- as we get closer to the deadline.
"There's a lot of moving parts," one executive from one of the pitching interested teams said to explain why things are going slowly.
So it remains anyone's guess is when and who will be moved.
The word is, the prices have been high so far, with an emphasis on quality over quantity (huge prospects are all the rage). But with more starting pitchers about to hit the market, maybe the prices will have to come down some as we get closer to July 31.
For all the belief that it's an abject sellers' market, the reality is that only four teams probably see a starter as a must-have at this point, with those being all the above mentioned teams except the Yankees, who may continue to hope that ex-ace CC Sabathia will regain some semblance of his former form. The Pirates and Giants also are looking at starters, but those teams may ultimately decide their positional needs are greater, with Pittsburgh needing to shore up the left side of its infield following injuries to Jordy Mercer and Josh Harrison and San Francisco hoping to improve its thin bench.
The Dodgers, Blue Jays, Astros and Royals, though, have rotational needs that range from vital to near-desperation, in a couple cases. Toronto and Houston have been eyeing the market for weeks, while Los Angeles and Kansas City, already interested, each suffered a pitching injury Tuesday night, with Brett Anderson (Achilles) and Jason Vargas (elbow) suffering physical issues, exacerbating an existing need. The Royals sent down Yordano Ventura amid his struggles, but called him up the next day because of the injury to Vargas. 
No need to worry too much, though. Some very good-to-excellent starters may be about to hit the market.
Unusual parity plus the presence of the second wild card have made some extra teams early believers, but realism may be starting to set to take hold in some key cases. Price would shoot to the top of the market if he's really available (though some doubt Detroit ultimately will sell), but even so, a half-dozen others could mean there will actually be twice as many viable rotation options as teams looking (though at least LA could easily import multiple starters).
Here's a look at just the possible surprise entrants into the market of starters ...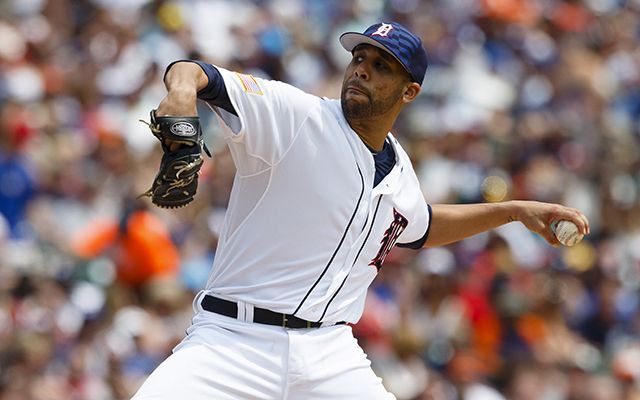 1. David Price, Tigers
The Tigers do appear to be preparing to sell as well as buy in the event of a rough finish to July, though Tigers GM Dave Dombrowski recently told someone, "We're not looking to give up. This team is too good not to be winning." And indeed, there are several skeptics as to whether this could become a reality. "How can a .500 club with their track record think about dismantling?" one NL GM wondered. Anyway, if Price should become available available, there's little doubt he'd join Cueto and Hamels as the Dodgers' main pitchers of interest (consider that Dodgers honcho Andrew Friedman surely loves Price from their Tampa days, though ultimately he was the one who dealt him away last July 31 after attempts by him to pry Joc Pederson, Corey Seager and Julio Urias from LA failed). Astros GM Jeff Luhnow already joked that the name of Price's beloved dog being "Astro," in his words, "could be a sign" (if a joke is amusing, it's not really tampering, apparently). And anyone else would have to check into one of the best pitchers in the game. But of course, the AL wild-card derby isn't as competitive as the NL race, and the Tigers finish the month with the Mariners, Red Sox and Rays (potentially, Price's last start for Detroit could be in his old stomping ground in St. Pete), three marginal teams.
Best guesses: Tigers (stays), Dodgers, Astros.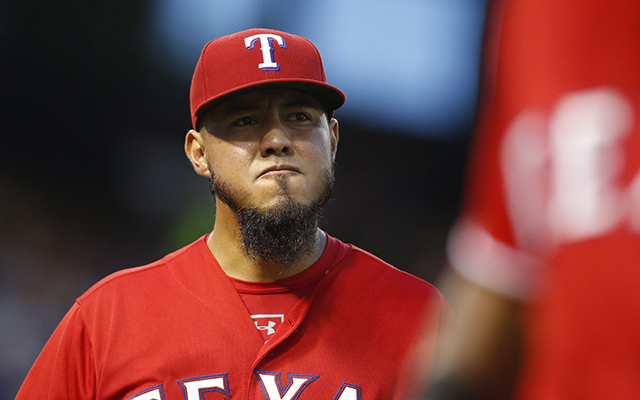 2. Yovani Gallardo, Rangers
Gallardo has turned in an excellent season in his initial year in his hometown, but the Rangers, while pursuing a long-term answer in Hamels, seem realistic enough about their 2015 chances to simultaneously consider a deal for Gallardo. At this point, in fact, it's probably a likelihood. An NL team would be a plus, as he's the active leader for homers among pitchers, with 13. Texas could also part with veteran righty Colby Lewis, who could be a back-of-the-rotation option for someone.
Best guesses: Astros, Royals, Jays, Dodgers.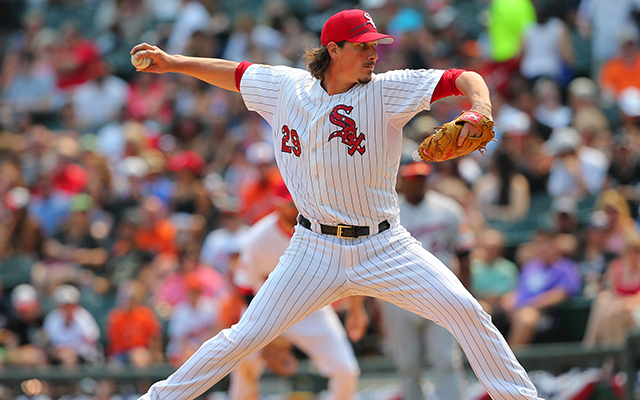 3. Jeff Samardzija, White Sox
Everything heard from rivals suggests that the White Sox probably won't do a major overhaul following their disappointing first half (and weak offensive performances limit the value of most of their hitters, anyway), as Ken Rosenthal of FOXSports.com suggested. But Samardzija seems likely to go, barring a quick turnaround on the South Side. There was early talk the ChiSox might give a long-term contract a shot with Samardzija, but once they received the message he sought a market deal (like the other would-be free agent pitching stars), no offer was ever forthcoming for the northern Indiana native. The Royals are the one team that seems to be focusing elsewhere. The connection with Yankees executive Jim Hendry, who originally signed him out of Notre Dame, is well-known but may be a bigger factor come free agency.
Best guesses: Blue Jays, Astros, Dodgers, Yankees.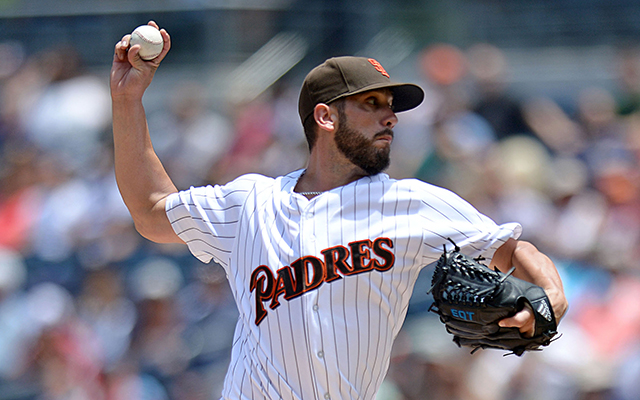 4. James Shields, Padres
While he's produced about as expected, the backloaded deal will limit a potential taker, to the point where one rival said, "They'd probably have to pay some of it down." He's a tough guy, but his stuff isn't as good as Samardzija, Cueto or, of course, Price (his former Rays teammate). Friedman had him in Tampa, too. A return to KC would seem less than likely and a rough outing at Texas may make the Rangers a bit less interested than they were in winter.
Best guesses: Dodgers, Blue Jays, Yankees.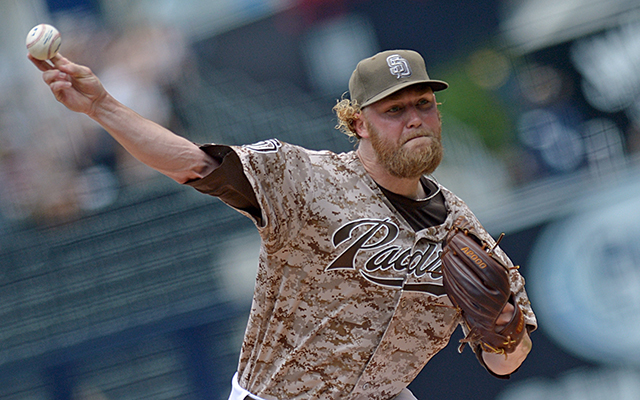 5. Andrew Cashner, Padres
The hard thrower hasn't quite put it together but he has extra value since he isn't a rental, as he isn't free agent-eligible until 2017. Dodgers exec Josh Byrnes acquired him for San Diego. The Houston Chronicle reported the Astros are looking at him and Tyson Ross.
Best guesses: Dodgers, Astros.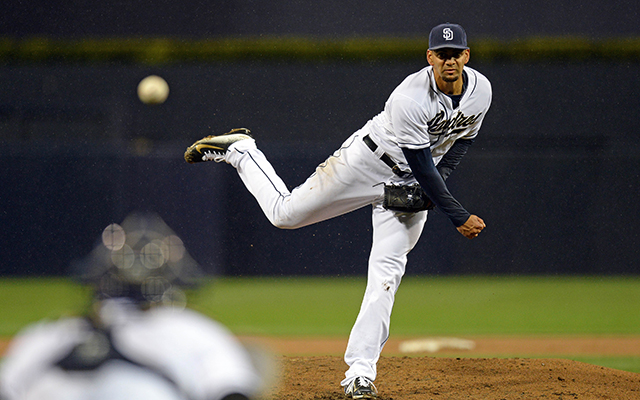 6. Tyson Ross, Padres
New GM A.J. Preller, the "rock star" of the winter, may have a lot of work to do. Ross also is way more than a rental, as he isn't a free agent until 2018. He doesn't hold runners especially well, so perhaps the AL works a little bit better. Ian Kennedy remains the most likely Padres pitcher to go, as he is the one rental starter they possess.
Best guesses: Dodgers, Astros, Blue Jays.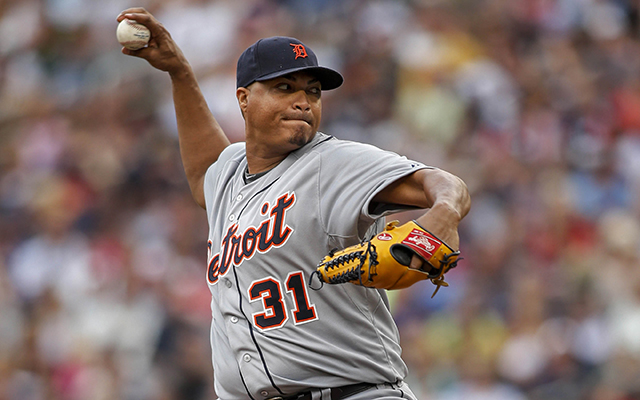 7. Alfredo Simon, Tigers
With Price creating all the interest, Simon is a forgotten man in Detroit. He's had an underwhelming year, so he's more of a back-end rotation piece at this point. But if they sell, as a rental, he'd presumably be a part of it.
No guesses yet.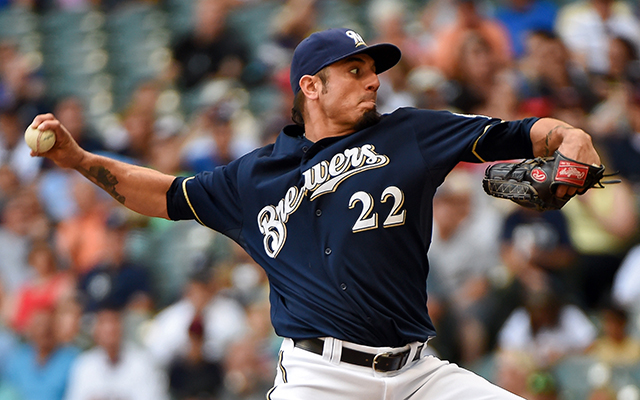 8. Matt Garza, Brewers
He looked all but out of the market when he went on the disabled list, but perhaps his six shutout innings Tuesday will convince someone to take a flyer on him. The value is still extremely limited, thanks mainly to the injury history. Milwaukee also will hope to trade Kyle Lohse, who's been better in the clubhouse than the pitchers mound this year.
No guesses yet.
More news from around MLB ...
Team
News

Arizona Diamondbacks News

The D-Backs started in earnest with a $6.25-million offer to No. 1 overall pick Dansby Swanson, the Vanderbilt shortstop, but eventually held at $6.5 million, the number he eventually took. While it was the third-highest bonus in the new system (behind Kris Bryant and Carlos Rodon), it seemed like a bit of a coup to get him for less than Bryant, who was a No. 2 pick a couple years back ... Cody Ross says he's been having too much fun lately chasing his kids around the house to contemplate a return at the moment.

Atlanta Braves News

Atlanta's pickup of young pitcher Touki Toussaint has been widely praised. It's interesting that the Braves basically paid $10 million for Toussaint (the cost of taking on Bronson Arroyo's contract), which is close to four times more than the $2.7 million Toussaint signed for as the No. 16 overall pick a year ago as a coveted prep pitcher from the Fort Lauderdale area. That points to the very real likelihood that drafted players still aren't getting their true values in the revised system ... Always amusing when a player asks for a trade after the team has been trying desperately to move him. Atlanta has been offering to pay Chris Johnson's deal way down, in fact. Unfortunately, there's nearly $20 million to go through 2017, according to Cot's Baseball Contracts.

Chicago Cubs News

The Cubs showed interest in David Price last trading season, but that was when he had an extra year of control. It's a bit harder to seem them spending in prospects for a rental, but with interest from Theo Epstein/Jed Hoyer and the connection to manager Joe Maddon, expect them to be a big player in the winter ... Kyle Schwarber was seen by some as a reach as pick No. 4 last year, but he looks like a budding star. He's been a dynamo at the plate. Following his MVP at the Futures Game in Cincinnati, the native of adjacent Middletown, Ohio, destroyed the Reds, with a game-tying home run Tuesday in the ninth inning followed by a game-winning home run in the 13th inning of the 5-4 win. According to Christopher Kamka of Comcast SportsNet Chicago, the three most recent Cubs to homer twice in same game in the ninth inning or later were Sammy Sosa, Andre Dawson and Ryne Sandberg (the latter in what is known as the "Sandberg Game," Kamka notes). Cincy picked 19th last year, so no chance to keep the local talent. The only small question is whether he'll ultimately be a catcher, but if he is, this may turn out to be one of the best picks ever. He is known as a good leader who works well with pitchers and a decent blocker of balls, but the worry is an average arm and questionable agility. Even so, based on hitting alone it's an A-plus choice.

Cincinnati Reds News

Mike Leake helped his value with eight very strong innings (four hits, no walks, six strikeouts) in a 9-1 victory over the Cubs Wednesday afternoon before many scouts ... There have been rumors floating around that Barry Larkin could be a candidate to take over as manager of the Reds, but there's been no substantiation to this yet. They also have the well-thought-of Jim Riggleman coaching there ... Word is Cueto and star closer Aroldis Chapman have quite an intense rivalry going. Both are great. One difference is in lifestyle: Word is, Chapman spent $700,000 on cars this winter. Fortunately, he is believed to throw a lot faster than he drives.
The Tigers love Yoenis Cespedes. One thing to keep him in mind is that, unlike most other free agent stars, he can't be given the qualifying offer whether he's traded or not -- a very big plus for him ... A lot will go into their decision of whether to sell. USA Today first reported it was a real possibility. One thing to keep in mind is that their system is not deep. One media outlet, in fact, ranked it 30th -- though those rankings should be taken with a grain of salt; the Angels ranked low in recent years, but produced Mike Trout, Randal Grichuk (who was taken one spot after Trout) and Garrett Richards. Not too shabby.
They wield a big prospect hammer, but they seem determined not to trade outfield prospect Brett Phillips. "An absolute stud," one Astros-connected person said of the former sixth-round pick ... They are in on practically every pitcher, though apparently Mike Leake's metrics don't look as good on their computers, so he will probably go elsewhere.
The Royals owe a thank you to White Sox reliever Zach Duke. Duke and Joe Blanton happened to live across the street from each other in Nashville, Tenn., and when Duke was looking for a throwing partner this winter, he naturally asked Blanton to be the guy. After throwing well with Duke, Blanton said to himself, "You know what, I'll play another year." The other assist goes to Blanton's dietician, as it looks like he's lost 20-30 pounds from his Phillies/Angels days.

Los Angeles Angels News

The Angels are on such a run (they've outscored opponents 39-7 over six straight wins and 10 days) that they don't have to do much but still wouldn't mind a left fielder, particularly a left-handed-hitting one. They've talked about the available Jay Bruce, as FOXSports.com mentioned, but are concerned he may fit the same streaky profile as Josh Hamilton as a player. Still, that isn't a bad fit. They haven't ruled out Ben Revere either. Carlos Gonzalez does not appear to be on their radar, at least not at the moment ... No one should be surprised Jerry Dipoto's top lieutenants, Matt Klentak and Scott Servais, didn't walk out with him, as they have multiyear deals and presumably not the same financial standing as Dipoto, who had a pretty good major-league career as a reliever ... There are still whispers former Angels pitching coach Bud Black could become a GM candidate in LA. It's going to be a hard job to fill, as the owner and manager are viewed as the main power seats there.
Gerardo Parra (1.299 OPS in July) keeps gaining in popularity on the trade market.

New York Mets News

Top outfield prospect Michael Conforto could be promoted, as was mentioned here first, but that's especially the case if Michael Cuddyer (knee) has to go on the disabled list ... Curtis Granderson has very quietly had a productive year ... If anyone wanted Jon Niese, they may have missed the boat. He has eight quality starts in a row and is needed with Steven Matz, the other lefty, currently on the DL with a lat issue ... However they do it, the Mets need to add offense. This great pitching must not be wasted.
New York could still look at a righty bat and a righty reliever. But Carlos Beltran has an .840 OPS since May 1 (he missed some time, of course), and relievers Bryan Mitchell and Nick Rumbelow remain pen options in the minors ... The Yankees would be hard-pressed to give up any of their big three prospects -- Luis Severino, Aaron Judge or Greg Bird. Judge looks like a potential monster, though one scouting skeptic said, "He's a great 5 o'clock hitter," referring to batting practice ... The Yankees aren't currently considering Sabathia as a lefty pen option (they have plenty of lefties in the pen, anyway). But if it comes to that, Sabathia has been surprisingly dominant vs. left-handed hitters (no walks, 31 strikeouts, .439 OPS).

Philadelphia Phillies News

Cole Hamels' bad last two starts are being chalked up to the difficulty of spending nearly a year on the trade block. "He looks fine," one AL scout said. "It was 100 degrees. He's playing for a miserable team. And it may be hard to get motivated." Asked if the Phillies would be able to get a huge prospect back for Hamels, two AL executives nodded that they would indeed ... If it comes down to Houston or staying in Philly, that may be a tough call for Hamels, as was suggested in this space Tuesday. He is said to much prefer Los Angeles (he's from San Diego) or Texas (where he has relatives), two of the nine teams on his pre-approved list ... While they've fielded interest in Jeff Francoeur, he's such a plus around the clubhouse it may not be worth trading him for the very middling prospect he'd bring back.

St. Louis Cardinals News

The Cardinals showed interest in Price last July, but their pitching looks good enough so they don't have to play for a rental this time.
The Giants don't have obvious glaring needs but could use a bolstering of their bench. Juan Uribe didn't love the idea of a utility role last time, which is why he left, so that may not work ... Matt Cain is a key man. He looks like he was "fighting himself" in a recent start, a scout said, and they need him to be a No. 2 or 3. They are looking at starters but wouldn't take just anyone, as they already have Ryan Vogelsong waiting in the wings. The Giants are 7-0 in games he starts in the postseason ... They have been linked to Leake, though. The same youth team in San Diego contained both Leake, Stephen Strasburg and Brett Bochy, the son of the Giants manager who has pitched in recent years for San Francisco on occasion ... The guess here is that Tim Lincecum should regain much of his lost velocity after solving his hip issue, either via shots or possibly surgery, if needed. If he needs the surgery, he's likely thrown his last game as a Giant, as it's a four-to-five month rehab and he's in the last year of a two-year deal.
Not sure about those theories Robinson Cano isn't comfortable in Seattle. But he's hitting .352 with five homers in July.
The Jays had a scout in Philly this week, but that appears to be mostly because the Jays have scouts everywhere. Their interest in Jonathan Papelbon remains fairly limited, as their whole focus is starting pitching.

Washington Nationals News

Ben Zobrist continues to looks like the perfect player for them considering all their injuries. Washington also has a strong history making deals with Oakland ... Drew Storen made it 29 saves in 31 tries by striking out the side in Wednesday's win over the Mets. His brilliance this year should mean they don't need to compete for Aroldis Chapman or Craig Kimbrel. His 14 one-run saves lead the National League.

Major League Baseball News

Instant replay wasn't intended for the "gotcha" tag when a runner momentarily comes off the bag by a quarter-inch. Infielders now hold the tag for several seconds in the hope there's a slip or undetected push. It's silly to hold up the game for four or fives minutes to see if a runner was coaxed into moving a millimeter off the bag.
Boston wants to add two big bats to their lineup, not just one

Even more relievers signed on the final day of the Winter Meetings

Keep tabs on the top 50 free agents right here
The league is not happy Ohtani's medical information leaked

Kansas City and Baltimore were quite busy at the Rule 5 Draft

Piscotty's mother was diagnosed with ALS earlier this year