MLB trade deadline buy, sell or hold: AL Central
Should the teams of the American League Central play it cool at the July 31st non-waiver trade deadline or be among the noisemakers?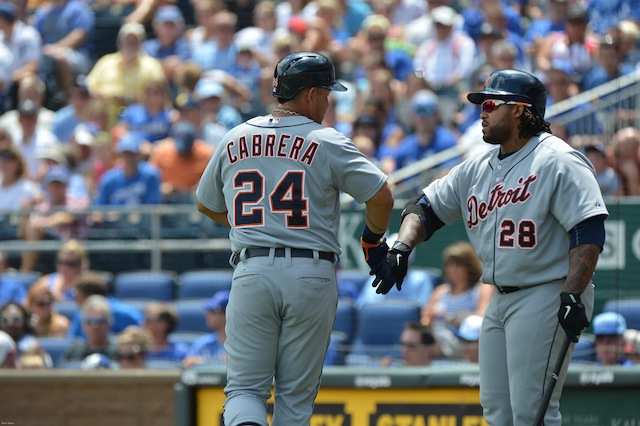 Buy, sell, hold: AL West | NL West | NL Central | AL Central | NL East | AL East
We're in the midst of dipping into each of MLB's six divisions and offering free professional advice on what each team should do leading up to the July 31 non-waiver trade deadline. Specifically, should these teams buy, sell or hold? Again, these are recommendations, not predictions of how teams will play it in actuality.
Now to the American League Central ...

Detroit Tigers

Call it a "soft" buy. While the state of the Detroit bullpen is much better than it has been in recent seasons (Drew Smyly and Joaquin Benoit have been outstanding, and young Bruce Rondon is trending upward), additional depth is needed, especially with Smyly on pace to work almost 100 innings. Relievers are never hard to scare up around the non-waiver deadline, so this is easily achievable. Again, the Tigers don't need a headline-grabbing closer; the Tigers need a quality arm regardless of his career saves totals. 

Cleveland Indians

Buy, with qualifications. The Indians don't have any terribly glaring needs, but they do have room for a very specific upgrade. This would've been a great fit for Matt Garza, as Cleveland needs another frontline-ish starter in the rotation. In the somewhat unlikely event that another one of those hits the market (Cliff Lee would make for nice daydreams), then GM Chris Antonetti should be at the front of the queue. A mid-grade type of starter, however, doesn't really move the needle for this team, as they have five reasonable starters at the moment. Another need is left-handed relief, which is much easier to come by than is a quasi-ace.

Kansas City Royals

Hold. At present, the Royals, despite an offseason that suggested they were hellbent on contending, have, per CoolStandings.com, a measly 3.6-percent chance of making the postseason. Do the Royals have needs in the here and now? Yes, indeed. After all, among AL teams only the White Sox and Astros have scored fewer runs (the middle infield in particular has been a black hole for the Royals). Get to work on contract extension for Ervin Santana and then take another shot in 2014. It's just not going to happen this season. The semi-realistic shot at contention next year means a sell-off is not in order.

Minnesota Twins

Sell. The Twins are cobbling together a pretty bright future. Byron Buxton and Miguel Sano, two of the top prospects in all of baseball, are on the way, and they'll eventually meet up with high-upside Aaron Hicks and franchise cornerstone Joe Mauer. However, the Twins badly need some young pitching to go with Alex Meyer. Names like Justin Morneau (his no-trade clause covers just six teams), Glen Perkins, Brian Duensing, Jared Burton and Casey Fien have been bandied about. Perkins in particular could fetch a nice return package, but the Twins may not be inclined to move him. Whatever it takes to get high-upside, team-controlled starting pitching is what they should be doing.

Chicago White Sox

Sell everything that doesn't have a lien on it. The White Sox are not only a bad team at the major-league level, but they also are burdened with one of the weakest farm systems around. Alex Rios, Jake Peavy, Jesse Crain and Addison Reed should all be shopped. If Paul Konerko gets healthy in advance of the deadline, then he should be dangled, too (not that there's going to be high demand for him). Sentimentality has no place here. The Sox are crying out for a deep rebuild in the mold of the Astros, and it can start now. But keep Chris Sale.
The lefty starter is coming off a terrible season

After acquiring Ian Kinsler and Zack Cozart in recent days, the Angels are trending upward

Cozart's coming off a big season as the Reds' shortstop
The veteran slugger spent the last eight seasons with Cleveland

The Padres may be poised for an active winter

Yes, Bryce Harper is going to make a lot of money next winter