MLB trade deadline buy, sell or hold: National League East
It's time to take a look at whether the Braves, Phillies, Nationals, Mets and Marlins should buy, sell or hold this deadline season.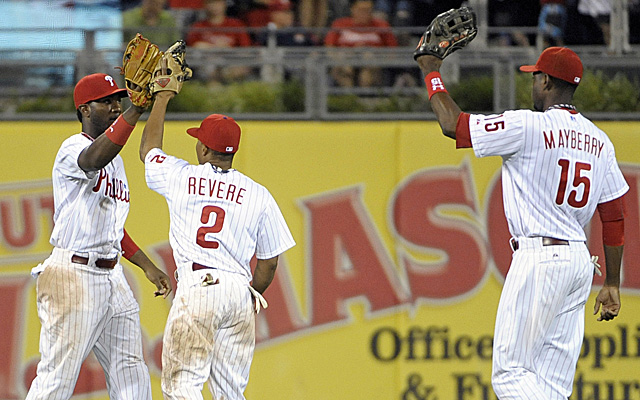 Buy, sell, hold: AL West | NL West | NL Central | AL Central | NL East | AL East
The non-waiver trade deadline in Major League Baseball is now just one week away. Let's finish our series Wednesday on shuffling through every team, by division, and making judgements on whether or not teams should buy, sell or hold.
Onto the NL East! (With AL East coming later)
They have a seven-game lead. Of course they're a buy. The injury-ravaged bullpen could obviously use several arms. They're already in good shape, but some depth to prevent overuse would help -- especially after seeing Jonny Venters and Eric O'Flaherty both go down like they did. The rotation seems fine once Brandon Beachy returns and especially if Alex Wood performs well. As far as the offense, the holes have been at second (Dan Uggla), short (Andrelton Simmons), center (B.J. Upton) and right (Jason Heyward) with some struggles from Justin Upton as well. With the possible exception of Uggla, those aren't guys to be benched. The Uptons and Heyward have enough talent to get hot, so as long as the Braves have a seven-game cushion, they've got to keep running them out there. On Uggla, his average is ugly but he walks enough to give him a .317 on-base percentage and he has 19 homers. Add it all up and he actually has a 100 OPS+, exactly league average.
Basically, the Braves don't need to be an aggressive buyer. They just need several offensive guys to play up to their ability as well as possibly adding relievers and bench players.
Of the 30 teams in Major League Baseball, this team is in bar none the most intriguing situation for me. The Phillies are seven games out of first, which is within striking range of the Braves. They have been in "win now" mode for nearly a decade now, but they did sell (Shane Victorino, Hunter Pence) last season in July. Then they got hot and climbed to within three games of a wild-card spot in late September. Knowing that, won't Ruben Amaro be reluctant to sell? Possibly even buy? 
Personally I see a flawed, injury-riddled roster. I'd sell pieces like Michael Young and Delmon Young if there were buyers -- and we know the Yankees, for one, are desperate for a corner infielder type like Michael. I'd also part with Chase Utley (Dodgers? Athletics?), as he's hitting free agency after the season and my faith in him staying healthy for long stretches has all since vanished. Cliff Lee's contract probably makes him untradeable (he's due $50 million in 2014-15 and has a $27.5 million vesting option for 2016), but it's definitely worth exploring. Same goes for Jonathan Papelbon.
Look, it's time the Phillies stopped staring down the present with the current core. They had a great run and grabbed a World Series title. It's time to start looking ahead with the Cole Hamels, Domonic Brown, Darin Ruf nucleus. Patchwork moves such as the Young duo for this season don't do much to improve the ballclub as a whole.
I have a hunch, however, that Amaro will buy before he sells. We'll see.
In a season that they entered in full-on "World Series or bust" mode, the Nationals are four games under .500 and eight games out of a playoff spot. That's a long road, but it's workable, so the Nats are obvious buyers. The biggest need if I'm general manager Mike Rizzo is a starting pitcher, because I'm totally bailing on Dan Haren. He's cooked. He was bad last year and has been awful in 18 starts this year. Another bullpen arm couldn't hurt, but otherwise I feel like they have the personnel and just need to play better, similar to some members of the Braves offense.
It's hard to sell when the team is playing well -- the Mets are 8-4 in their last 12 -- but that's what needs to happen. They are inching closer to contention behind David Wright, Matt Harvey, Zack Wheeler and some good talent in the upper levels of the minors. If veterans like LaTroy Hawkins and Marlon Byrd can bring back anything of value, that's what the Mets should do. Then again, that's about all they have of value, so they'd be modest sellers at best. 
Perhaps unbelievably, I think they're a hold candidate right now. The veterans, like Juan Pierre and Placido Polanco, have so little value at this point they'd bring essentially nothing back. There's no reason to trade guys just for the sake of trading and vacate a big-league roster spot. The young guys with value like Jose Fernandez, Giancarlo Stanton et al are under team control and very cheap for several more years, so they aren't going anywhere. So now that Ricky Nolasco is gone, the Marlins are essentially meaningless heading to the deadline.
Keep tabs on the top 50 free agents right here

The Padres have been heavily connected with Hosmer all offseason

The Twins needed rotation help, so the Odorizzi acquisition makes sense
The Rays pulled off a head-scratching move Saturday night

The Rangers will certainly be back in the market for a reliever

Watson will give the Giants a good left-handed reliever