MLB trade deadline buy, sell or hold: NL Central
It's buy, sell or hold time -- with the National League Central.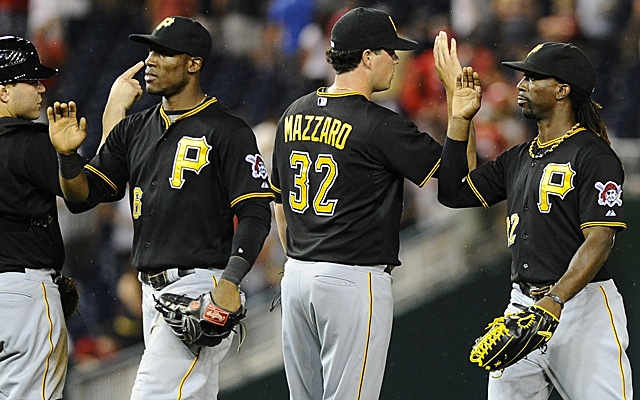 Buy, sell, hold: AL West | NL West | NL Central | AL Central | NL East | AL East
Just as we did with the West divisions yesterday we're now going to do with the Centrals. The trade deadline is just over a week away. Should the teams in the National League Central buy, sell or hold?
Let's dive in, because long introductions are starting to annoy me. I will again point out we're trying to say what teams should do, not predicting what they will do.
St. Louis Cardinals
They'll probably add at least a bullpen piece -- that's a John Mozeliak tradition, after all -- but they could probably just hold. The pitching is only gonna get more healthy and they have excellent organizational depth almost everywhere. They may buy -- specifically a starting pitcher or shortstop, in addition to the aforementioned Moz Special -- but I'm just not sure they need to.
Pittsburgh Pirates
This is it. This has to be the year that the Pirates not only break .500, but end their playoff drought. Time to push your chips to the center of the table, Neal Huntington. Buy, buy, buy. They could use a middle infielder -- because one injury to Neil Walker got Clint Barmes back in the order -- right fielder and, obviously, pitching. The starting rotation could be fine, but it never hurts to look for possible upgrades. Even before Jason Grilli 's injury, I've been saying they need to add bullpen depth because the workloads Grilli and Mark Melancon were racking up could be troublesome. And now the Grilli injury further illustrates the need for another late innings guy.
Cincinnati Reds
Some moves could be made to shore up depth, sure, but mostly the Reds can hold. Ryan Ludwick is out on a rehab assignment and it won't be long before the likes of Johnny Cueto , Jonathan Broxton and Sean Marshall return from their respective maladies. That's a lot of talent for a team already in playoff position to get back. I'm bullish on the Reds' chances of cruising into October with what they have, though it wouldn't be surprising to see them buy a left fielder or pitching.
Chicago Cubs
Easiest team in the league to discuss here. They are a hard sell. If you look ahead to where the Cubs' now rather stacked farm system has most its star power, it's in the lower levels of the minors -- though Javier Baez was recently promoted to Double-A -- it's easy to see that 2015 is the club's goal to contend. Every veteran on the roster is surely a trade possibility, as we've already seen Scott Hairston , Scott Feldman and Matt Garza dealt. Candidates to go next: Alfonso Soriano , Kevin Gregg , David DeJesus (once healthy), James Russell and Nate Schierholtz . Stay patient, though, Cubs fans. This will only be happening one more year.
Milwaukee Brewers
They should definitely sell spare parts, but otherwise they have enough of a good, young nucleus to build around for next season. Jonathan Lucroy , Rickie Weeks , Jean Segura , Ryan Braun (sorry, guys, he's coming back and he's still going to be productive), Carlos Gomez , Corey Hart and Nori Aoki all could be part of a winning ballclub next season, if the pitching ever gets sorted out and they avoid major injuries.
So who to sell? If Yovani Gallardo can fetch back a pitching-heavy package, I'd do that. Same with Kyle Lohse . Aramis Ramirez is hurt, but the New York Yankees , for example, are desperate for offense. It's worth a phone call.