MLB Trade Deadline roundup: July 30
It was a busy day in trade deadline action, whether with deals actually happening, getting close to happening or reports flying. Here's a quick summary.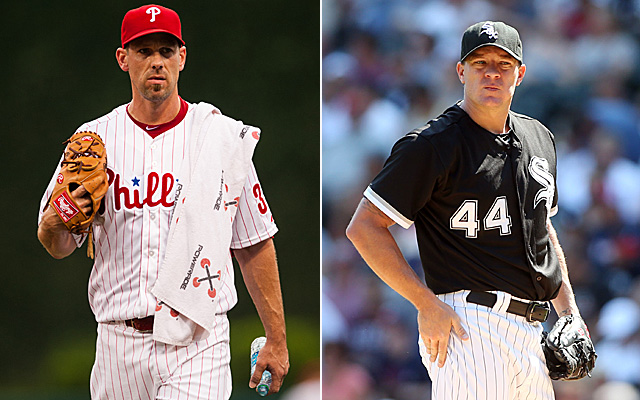 More: 2013 MLB Trade Deadline Rumors and Updates
Here's a one-stop shop for everything trade deadline related that happened on Trade Deadline Eve.
Early Tuesday, the White Sox scratched Jake Peavy from his start, so we knew something was afoot. And late Tuesday, a trigger was pulled. Peavy goes to the Red Sox in a three-team, seven-player trade that sent Jose Iglesias to the Tigers and Avisail Garcia to the White Sox. Full story
From earlier, it appeared the Red Sox were the only player for Cliff Lee, but now that Peavy is headed to Boston that looks even more unlikely. Full story
Also, the Diamondbacks were thinking of trading Ian Kennedy to free up money for Peavy, so it's likely Kennedy is now off the block. Full story
Alberto Callaspo was traded to the Athletics to play second base. Full story
Trade candidates Alex Rios (full story) and Yovani Gallardo (full story) each left his respective game with an injury. 
The Cardinals have checked in on infielder Erick Aybar. Full story
Justin Morneau has not helped his trade value at all for the Twins. Full story
The surging Royals want an upgrade at second base and have discussed Gordon Beckham and Howie Kendrick, among others. Full story
Orioles may pursue starting pitcher Jason Vargas and haven't made an offer for Astros starter Bud Norris just yet. Full story
Speaking of Norris, he was scratched from his scheduled start Tuesday, so it would seem a deal is getting closer to happening. Full story
The Reds and Yankees have called the Giants about possible availability of outfielder Hunter Pence. Notably, Pence has been traded prior to each of the past two trade deadlines and gone on to the playoffs -- last year winning the World Series. Full story
Michael Young appers to be close to being traded by the Phillies, less than nine months after they traded for him. Full story
Wright was arrested at his home Friday

The former Tigers teammates were voted into Cooperstown by the 16-person Modern Era Commit...

The Yankees still have room for a good-sized signing even after Saturday's trade with Miam...
St. Louis gets some much needed help for their bullpen

Keep tabs on the top 50 free agents right here

Morrow thrived with the Dodgers last season