MLB trade deadline rumors, news and injury roundup for July 30
We're less than a day from the MLB trade deadline. Catch up on all the latest rumors right here.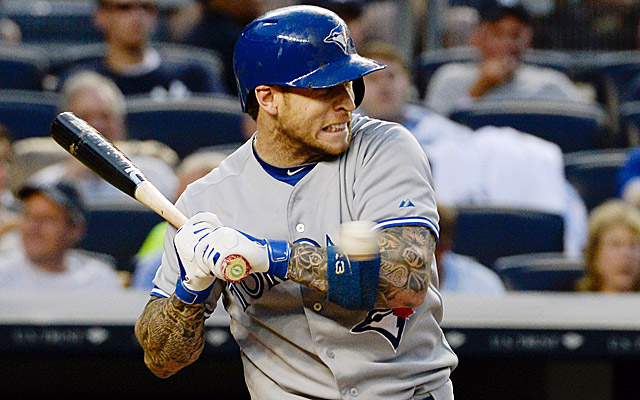 Trade Tracker | Heyman's latest | Heyman on Twitter
Here we are. It's the homestretch. We're within the final 15 hours prior to the MLB non-waiver trade deadline. Trade talks between the MLB teams are surely furious and the rumor mill is churning just as one would expect.
Here's our roundup for the day. Click through on the provided links, when applicable, for the full story.
TRADES
Cardinals/Indians: Justin Masterson was traded to St. Louis for prospect James Ramsey.
Cubs/Red Sox: Felix Doubront was shipped to the Cubs for a player to be named later.
Dodgers/Cubs: The player to be named later in the Darwin Barney trade is Class A pitcher Jonathan Martinez, who heads to the Cubs (Cubs.com).
REPORTS, RUMORS and SPECULATION
Astros: They are looking to move power hitter Chris Carter, reports Joel Sherman of the New York Post.
Blue Jays: Their main focus is pitching, according to Jon Heyman of CBSSports.com. They aren't looking for a short-term fix, per sportsnet.ca.
Emilio Bonifacio: The Cubs utility man is expected to be traded very soon. The Giants, Orioles and Reds, among others, are in play, Heyman reports.
Dodgers: They aren't against trading one of their top trio of coveted prospects (Joc Pedersen, Corey Seager, Julio Urias) unless it's for a rental, reports Bill Shaikin of the Los Angeles Times. Also from Shaikin, GM Ned Colletti says the club was never shopping Matt Kemp.
Ian Kennedy: The Padres are discussing Kennedy with the Royals, Pirates, Marlins and more, though he's not a certainty to be traded (via Ken Rosenthal).
Jon Lester: The Orioles won't deal their top prospects for him (via Heyman). The A's could be in on the Lester sweepstakes (Heyman). The Pirates and Cardinals are "pushing hardest," reports Fox Sports.
Indians: Asdrubal Cabrera is being looked at by Toronto and others to play second, reports Heyman.
Marlins: They are seeking a starting pitcher, though Jon Lester and/or John Lackey are unlikely, reports Heyman. Clark Spencer of the Miami Herald reports there's "zero chance" on Lackey.
Mets: Bartolo Colon's trade market still isn't developing, Heyman reports.
Nationals: They have "internally" discussed Asdrubal Cabrera and Daniel Murphy, but no deal is close, per Fox Sports.
Orioles: They're considering reliever Neal Cotts, reports Dan Connolly of the Baltimore Sun. Other lefty relievers, via Connolly: Tony Sipp, Andrew Miller and Oliver Perez.
Padres: The Yankees and Dodgers are looking at Joaquin Benoit, according to Heyman. The Padres are more likely to trade Benoit than Kennedy, but it's possible both stay put, reports Jayson Stark of ESPN.
Phillies: They are willing to pay at least some of Cliff Lee's remaining salary in a deal, per Heyman. Rosenthal reports the Phillies haven't received an acceptable offer on any of their players. He further reports the Phillies don't have to cut payroll.
Rangers: They are "gaining traction" on trading Alex Rios, reports Tim Brown of Yahoo Sports.
Rays: Neither Joe Maddon nor David Price believe Price is going to be traded (tampabay.com).
Red Sox: There has been no "recent" contact between the club and the Phillies about Cole Hamels or Cliff Lee, reports Scott Lauber of the Boston Herald.
Reds: Ryan Ludwick is available, reports Bob Nightengale of USA Today.
Rockies: Serious talks about a possible trade involving Troy Tulowitzki and/or Carlos Gonzalez will wait until the offseason, Heyman reports. Also, per Denver Post beat writer Patrick Saunders, neither Jorge De La Rosa, Brett Anderson nor any relievers are likely to be dealt.
Royals: They've discussed John Lackey, but the Red Sox are seeking a power arm in exchange and the Royals may not want to give one up (Andy McCullough).
Tigers: The club is still scouting relief pitchers, reports Scott Miller.
Twins: It now appears Josh Willingham is not going to be traded before the deadline, reports Mike Berardino of the St. Paul Pioneer Press, who notes that an August waiver deal is still possible.
Yankees: They are discussing a John Danks with the White Sox, but a gap in negotiations still remains, says Heyman. GM Brian Cashman said there's "more work to do" before the deadline (MLB.com). They've talked about adding Marlon Byrd, per Heyman.
OTHER ROSTER MOVES
Dodgers: A few days after trading for him, Darwin Barney was optioned to Triple-A.
Red Sox: Brandon Workman was called up to start in place of Lester and he took Doubront's vacated roster spot.
Royals: After four Triple-A starts, Joe Saunders has been released (Royals.com).
INJURY UPDATES
A's: Coco Crisp has suffered chronic, degenerative changes in his neck.
Astros: Reliever Josh Zeid is out for the season, as he needs foot surgery (Ultimate Astros).
Blue Jays: Brett Lawrie could begin a rehab assignment this weekend (BlueJays.com).
Braves: Jason Heyward's back injury will keep him out until at least Friday (Braves.com).
Mets: Matt Harvey has been cleared to start throwing off the mound.
Orioles: Prospect Hunter Harvey is out for the season (MiLB.com).
Padres: Andrew Cashner is nearing a rehab assignment (UTSanDiego.com).
Rangers: Alex Rios left Wednesday's game after getting hit with a pitch in the quad, but it doesn't sound serious (Rangers.com). Derek Holland felt "really good" after a rehab outing (Rangers.com).
Royals: Eric Hosmer's hand is almost fully healed (Royals.com).
Tigers: Eugenio Suarez is day to day with a back injury (freep.com).
White Sox: Reliever Nate Jones had Tommy John surgery Monday (Scott Merkin).
MISCELLANY
Eric Chavez: He has retired. Very good career.
Indians: Triple-A pitcher Tyler Cloyd threw a no-hitter (MiLB.com).
Tigers: Minor-league reliever Evan Reed has been charged with two counts of criminal sexual conduct (freep.com).
Twins: They found a dude who throws 100 mph and signed him for $250,000.
White Sox: Carlos Rodon made his professional debut in Class A Wednesday (WhiteSox.com).
Our annual look back at the preseason predictions and rankings shows lots of good and bad

Keep it locked right here for everything you need to know about the world of baseball Tues...

There have been several racially charged incidents at Fenway Park this year
Washington's right fielders have sputtered offensively since Harper went down

The good news? Wichita still has a chance to win the series Tuesday night

The 2017 season is going to shatter the all-time collective home run record