MLB Trade Deadline: Taking stock of potential sellers
The trade deadline is less than five weeks away, so it's a good time to sit down and figure out what noncontenders actually have to offer.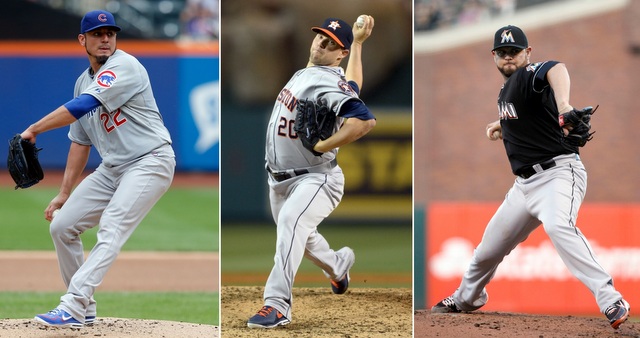 More MLB: Scoreboard | Standings | Probable Pitchers | Sortable Stats | Odds
By and large, the addition of the second wild card spot to both leagues has gone very well. More teams are in the hunt and that makes September races much more exciting, plus the wild card play-in game is an exciting Game 7 without the hassle of Games 1 through 6.
Therein lies the problem. More teams in the race means more contenders, which means fewer sellers at the trade deadline. It creates a seller's market, so the teams willing to move pieces can create a bidding war to maximize their return. There has been some talk of moving the July 31 trade deadline back to Aug. 31 -- teams can make waiver trades in August now, but not before jumping through hoops -- but there is no plan to make any change right now.
On this date last year, only five teams were as many as nine games out of a playoff spot. This year, already seven teams are at least nine games out. There are more sellers this year, at least in theory. The season is just halfway over and there is still plenty of time for some of those clubs to turn it around.
With the trade deadline four weeks and five days away, let's take stock of what those seven teams who are at least nine games out have to offer over the next few weeks.
CHICAGO CUBS (11.0 GB)
Players To Offer: RP Shawn Camp, OF David DeJesus, SP Scott Feldman, SP Matt Garza, RP Kevin Gregg, RP James Russell, OF Nate Schierholtz, OF Alfonso Soriano, SP/RP Carlos Villanueva
The Cubbies are chock full of trade chips. Garza, an impending free agent, is pitching very well and figures to be the best postseason-tested starting pitcher on the market. DeJesus is currently on the DL with a shoulder injury but should be on the move if he gets healthy in time. Russell might be the best available lefty reliever this summer. Outside of infielders, the north-siders have something for everyone at the deadline.
CHICAGO WHITE SOX (9.5 GB)
Players To Offer: RP Jesse Crain, IF Gordon Beckham, 1B/DH Adam Dunn, RP Matt Lindstrom, SP Jake Peavy, SS Alexei Ramirez, OF Alex Rios, RP Matt Thornton
Jon Heyman of CBSSports.com recently reported the ChiSox are "open for business," with everyone but ace Chris Sale and team captain Paul Konerko being available. No available reliever has performed better than Crain this summer, and he figures to be atop the wish list for any team looking for bullpen help. Peavy is sidelined with a rib injury and might not return in time to showcase himself prior to the deadline. Dunn and Rios come with pricey contracts that run through 2014.
HOUSTON ASTROS (13.5 GB)
Players To Offer: SP Erik Bedard, SP Lucas Harrell, OF Justin Maxwell, SP Bud Norris, 1B/DH Carlos Pena, RP Jose Veras, RP Wesley Wright
The rebuilding Astros have traded away most of their best chips in recent years. Norris is the real prize and not only because he's healthy and pitching well, but because he is under team control as an arbitration-eligible player in 2014. Unlike almost every other starting pitcher in this post, he isn't a rental and his salary is affordable.
MIAMI MARLINS (17.0 GB)
Players To Offer: RP Steve Cishek, RP Mike Dunn, 1B Logan Morrison, SP Ricky Nolasco, OF Justin Ruggiano
The Marlins insist Giancarlo Stanton is not available at the moment, but these things do have a way of changing in a hurry. For now, I'll give them the benefit of the doubt. CBSSports.com's Danny Knobler recently reported Miami is shopping Nolasco hard, with four NL West clubs involved. The durable, free agent-to-be right-hander could be moved very soon -- as in the next few days -- and kick off the summer trading season.
MILWAUKEE BREWERS (12.0 GB)
Players To Offer: OF Norichika Aoki, RP John Axford, RP Burke Badenhop, SP Yovani Gallardo, SP Kyle Lohse, C Jonathan Lucroy, 3B Aramis Ramirez, RP Francisco Rodriguez
Pretty much everything that could go wrong for the Brewers has gone wrong this year. Ramirez would be a great fit for contenders in need of a bat, but he has battled knee trouble this year and isn't showing the same kind of power as he had in the past. He's also under contract for $16 million in 2014. Gallardo is having his worst season as a big leaguer, but he's also just 27 and signed through 2014 with a club option for 2015. Lucroy and Aoki would bring very nice returns if Milwaukee was indeed open to moving them.
NEW YORK METS (11.0 GB)
Players To Offer: C John Buck, OF Marlon Byrd, RP LaTroy Hawkins, RP Brandon Lyon, SP Shaun Marcum
The Mets are in what feels like a perpetual rebuild, and they don't really have any difference makers to offer at the deadline. Some fine complementary pieces, but no one who could put a contender over the top. That could change if they decide to shop closer Bobby Parnell, who is one of the best relievers in baseball despite an utter lack of fanfare.
SEATTLE MARINERS (9.5 GB)
Players To Offer: OF Jason Bay, RP Charlie Furbush, OF/DH Raul Ibanez, SP Hisashi Iwakuma, 1B/DH Kendrys Morales, 1B/OF Michael Morse, RP Oliver Perez, SS Brendan Ryan, SP Joe Saunders
If the Mariners decide to make Iwakuma available, he would be arguably the most sought-after starter on the market. Morales and Morse would be two of the better bats available, but again, that's assuming Seattle is willing to trade them less than a year after acquiring them during the winter. There are definitely some nice pieces here, guys who would help contenders quite a bit while sending some nice young talent to the Mariners.
Neither Josh Donaldson nor Brian Dozier have talked about a new contract extension

Francisco leads the Dominican Winter League with seven home runs

Thome deserves enshrinement and here's why the case against him does not hold up
The Twins have already fortified the bullpen with Addison Reed, and now they want to address...

The Orioles likely want pitching, and the Indians have plenty of it

Halladay died in a November plane crash off the coast of Florida