MLB Weekday Series Rankings: Angels, Athletics meet again
Let's break down the 15 series that start our week and see where they rank on the hoagie scale.
More MLB: Power Rankings | Expert Picks | Latest news & notes | Fantasy news
It's hoagie scale time, so let's check out how hungry we are to consume the 15 weekday series in Major League Baseball. The bigger the sandwich, the more juicy the matchup. Let's dig in. Nom, nom, nom!

| | | |
| --- | --- | --- |
| | at | |
Athletics at Angels
Monday: Jesse Chavez vs. Garrett Richards
Tuesday: Drew Pomeranz vs. Tyler Skaggs
Wednesday: Tommy Milone vs. Jered Weaver
Here's a clash of AL titans. The A's, once you consider run differential and strength of schedule, have been the best team in baseball this season. The Angels, meantime, are in wild-card position and have the third-best run differential in the AL. Oakland is 5-1 against the Angels this season, so those Angels have something to prove at home.
| | | |
| --- | --- | --- |
| | at | |
Nationals at Giants
Monday: Stephen Strasburg vs. Ryan Vogelsong
Tuesday: Doug Fister vs. Madison Bumgarner
Wednesday: Tanner Roark vs. Matt Cain
Thursday: Blake Treinen vs. Tim Hudson
The surging Nats (they've won seven of nine) run into the NL's top squad, which itself has won five in a row. That it's a four-game set only raises the stakes. This one clearly means more to Washington, now tied atop the NL East. As for the Giants, they've already barged to a 9½-game lead in the West.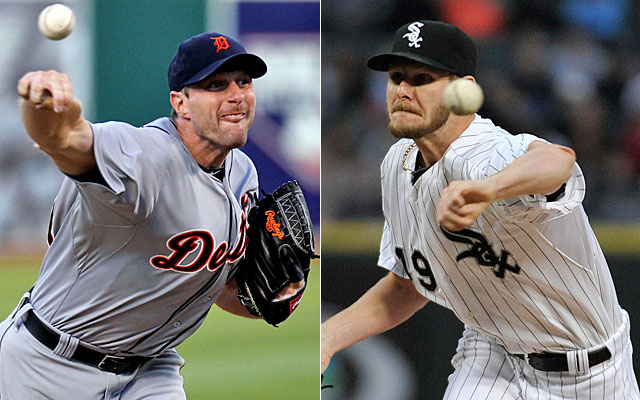 | | | |
| --- | --- | --- |
| | at | |
Tigers at White Sox
Monday: Rick Porcello vs. Hector Noesi
Tuesday: Justin Verlander vs. John Danks
Wednesday: Drew Smyly vs. Andre Rienzo
Thursday: Max Scherzer vs. Chris Sale
The White Sox are a roundly mediocre team this season, but the Tigers can't put much distance between themselves and the middling remainder of the division. Detroit comes in with a 2-5 mark in June. Thursday's Scherzer-Sale matchup is perhaps your pitching encounter of the week. The inconsistent Sox would do well to take three out of four in this one.
| | | |
| --- | --- | --- |
| |  at  | |
Braves at Rockies
Monday: Gavin Floyd vs. Christian Bergman
Tuesday: Mike Minor vs. Juan Nicasio
Wednesday: Julio Teheran vs. Eddie Butler
Thursday: Ervin Santana vs. Jhoulys Chacin
Consider this compelling in the sense that someone has to win. The Braves are coming off a 1-4 week and have gone 16-19 since May 1. The Rockies have been even worse, as they've gone from being tied for first place on May 7 to being 12½ games out at this writing. The wheels have indeed come off in Denver.
| | | |
| --- | --- | --- |
| |  at  | |
Twins at Blue Jays
Monday: Ricky Nolasco vs. R.A. Dickey
Tuesday: Kevin Correia vs. J.A. Happ
Wednesday: Phil Hughes vs. Marcus Stroman
The Twins are lost in the non-Tigers teams of the Central, while the Blue Jays continue to pace the East. When you're an expectations-defying team like Toronto, you want to minimize your skids over the course of the sixth-month season. Coming off a home series loss to the Cardinals, taking two of three against the Twins is advisable. Consider Hughes-Stroman to be your "stealth" must-watch matchup of the week.
| | | |
| --- | --- | --- |
| | at | |
Brewers at Mets
Tuesday: Marco Estrada vs. Daisuke Matsuzaka
Wednesday: Wily Peralta vs. Jacob deGrom
Thursday: Kyle Lohse vs. Jonathon Niese
Rather quietly, the Brewers have been in first place in the NL Central all season. They spent three days tied for the lead (not counting Opening Day), but other than that it has been all first place, all by themselves, all the time for Milwaukee. Sure, we keep expecting the Cardinals to make a run and the Brewers to fade, but we're well into June and it hasn't happened yet. Oh, the Mets will also be participating in this series.
| | | |
| --- | --- | --- |
| | at | |
Yankees at Mariners
Tuesday: Masahiro Tanaka vs. Hisashi Iwakuma
Wednesday: Chase Whitley vs. Chris Young
Thursday: David Phelps vs. Roenis Elias
To state the obvious, Tuesday's Tanaka-Iwakuma faceoff presents us with some compelling baseball. Tanaka has been perhaps the best starter in baseball this season, and Iwakuma boasts a career ERA of 2.82. There's also the fact that they both made the (very successful) leap from Japan to MLB. As for the rest of the series, the Yankees have the good fortune to miss out on Felix Hernandez. Right now, the M's are in wild-card position.
| | | |
| --- | --- | --- |
| |  at  | |
Indians at Royals
Tuesday: Corey Kluber vs. Yordano Ventura
Wednesday: Trevor Bauer vs. Jeremy Guthrie
The Royals were widely expected to give the Tigers their biggest challenge, but it's the Indians who have methodically worked their way up to second place. It's a brief two-gamer, but said second place is indeed at stake. Kluber vs. Ventura? Yes, please and thank you.

| | | |
| --- | --- | --- |
| | at | |
Red Sox at Orioles
Monday: Jake Peavy vs. Bud Norris
Tuesday: Brandon Workman vs. Chris Tillman
Wednesday: Rubby De La Rosa vs. Wei-Yin Chen
This one sounds more relevant than it is, what with the Sox and O's being a combined six games under .500. The Sox are, though, the reigning champs, and the O's are currently in second place by a half-game over the Yankees. Presumably, some team in the East at some point will go on a run and mount a challenge to the Jays. Presumably. Lucky for Baltimore, they'll duck Jon Lester and John Lackey.
| | | |
| --- | --- | --- |
| | at | |
Dodgers at Reds
Monday: Dan Haren vs. Tony Cingrani
Tuesday: Josh Beckett vs. Mike Leake
Wednesday: Hyun-Jin Ryu vs. Johnny Cueto
Thursday: Zack Greinke vs. Alfredo Simon
It's of course too early to say any divisional race is over, but the Dodgers are almost double-figures in games back in the West. With that kind of payroll investment, a focus on the wild card would be a disappointment, but that's the reality for the Dodgers right now. As for the Reds, they're still below .500 despite having played one of the weakest schedules in all of baseball.
| | | |
| --- | --- | --- |
| | at | |
Cardinals at Rays
Tuesday: Adam Wainwright vs. Jake Odorizzi
Wednesday: Michael Wacha vs. Erik Bedard
The Cardinals got a sorely needed series win in Toronto this past weekend, and now they'll look to put together some kind of positive run. After all, their longest winning streak this season is four games. On the other side, the Rays have lost six of their past seven series and are on pace for 101 defeats.
| | | |
| --- | --- | --- |
| | at | |
Marlins at Rangers
Tuesday: Tom Koehler vs. Colby Lewis
Wednesday: Jacob Turner vs. Yu Darvish
Given the struggles of 2013, it's a minor miracle that the Marlins are three games above .500 and within percentage points of first place. Given the injuries of 2014, it's a minor miracle that the Rangers are one game below .500 and not in last place.
| | | |
| --- | --- | --- |
| | at | |
Cubs at Pirates
Monday: Edwin Jackson vs. Charlie Morton
Tuesday: Travis Wood vs. Francisco Liriano
Wednesday: Jason Hammel vs. Brandon Cumpton
Thursday: Jeff Samardzija vs. Edinson Volquez
The Pirates are already thin in the rotation, and now they'll look to survive a stretch without Gerrit Cole. Coming off an above-.500 May, they're above .500 for June. Will Gregory Polanco finally get the call? On the Cubs' side of things, they had a banner week and have won back-to-back series for the first time all season.

| | | |
| --- | --- | --- |
| | at | |
Astros at Diamondbacks
Monday: Jarred Cosart vs. Josh Collmenter
Tuesday: Brad Peacock vs. Bronson Arroyo
Diamondbacks at Astros
Wednesday: Brandon McCarthy vs. Dallas Keuchel
Thursday: Wade Miley vs. Scott Feldman
To be fair, these two teams are playing much better of late. The D-Backs are five games over .500 since bottoming out on April 29, and the Astros two games over .500 since May 1. Yes, these Astros are pondering the realistic possibility of not having the top overall draft pick for the first time since 2011.
| | | |
| --- | --- | --- |
| | at | |
Padres at Phillies
Tuesday: Ian Kennedy vs. A.J. Burnett
Wednesday: Tyson Ross vs. Kyle Kendrick
Thursday: Andrew Cashner vs. Cole Hamels
There's actually a couple of quality pitching matchups in this one -- Kennedy and Burnett on Tuesday and most especially Cashner and Hamels on Thursday. However, in the end this is one bad team (the Padres) vs. one awful team (the Phillies).
Another team rumored to be interested in Stanton has confirmed their interest

Chris Woodward has spent the last two seasons with the Dodgers

We heard about it being awful for years, but was it?
Then again, three trades in four days might be behind Jerry Dipoto's usual pace

Ohtani is arguably the best hitter and pitcher in Japan

The O's need rotation help, and Cobb is available for hire