MLB Weekday Series Rankings: First place in AL East up for grabs
It's Hoagie Scale time, highlighted by Yankees-Blue Jays, Nationals-Brewers and Dodgers-Royals.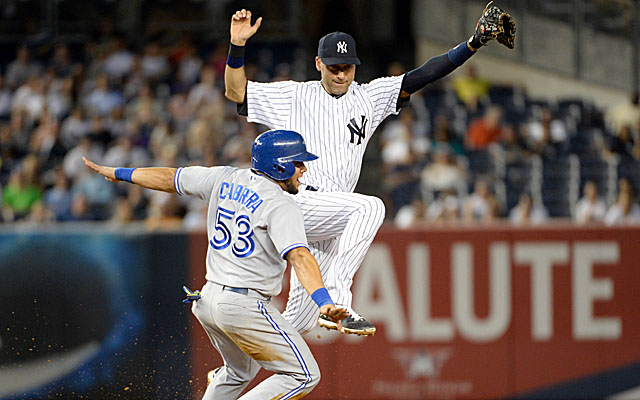 More MLB: Power Rankings | Expert Picks | Latest news & notes | Fantasy news
Hungry for our weekday series rankings? Of course you are. Here's how hungry we are to consume the upcoming action ...

| | | |
| --- | --- | --- |
| | at | |
New York Yankees at Toronto Blue Jays
Monday: Chase Whitley (3-0) vs. Marcus Stroman (3-2)
Tuesday: David Phelps (3-4) vs. Mark Buehrle (10-4)
Wednesday: Hiroki Kuroda (4-5) vs. Drew Hutchison (5-5)

After having lost five of their past six games, the Blue Jays' hold on first place in the mediocre AL East is tenuous and it'll be tested in this series. The Jays hold a 1½-game lead over the Yankees (and Orioles) and were swept by the Bronx Bombers just last week. So the Yankees have a chance to take over first place here.
The difference, though, is this series comes at home for Toronto. Yankee Stadium has been a house of horrors for the Blue Jays and returning home from a 10-game road trip can't hurt. So it could be time for revenge.
| | | |
| --- | --- | --- |
| | at | |
Washington Nationals at Milwaukee Brewers
Monday: Gio Gonzalez (3-4) vs. Matt Garza (4-4)
Tuesday: Jordan Zimmermann (5-4) vs. Yovani Gallardo (5-4)
Wednesday: Stephen Strasburg (6-5) vs. Marco Estrada (6-4)

Possible playoff preview? Sure. The Nationals and Brewers both enter the series in first place. The Brewers have a 5½-game lead and are playing excellent baseball right now while the Nationals bring a 1½-game lead in after finally conquering the Braves in two straight games, salvaging a four-game split against their nemesis.
Brewers center fielder Carlos Gomez brings in an 18-game hitting streak. The Brewers offense as a whole seems to be firing on all cylinders, though some of that could be attributed to their trip to Coors Field.
The pitching matchups generally seem to favor Washington, but the Brewers have been the superior team to this point in the season. This should be a beauty.
| | | |
| --- | --- | --- |
| | at | |
Los Angeles Dodgers at Kansas City Royals
Monday: Zack Greinke (9-3) vs. Jeremy Guthrie (4-6)
Tuesday: Clayton Kershaw (7-2) vs. Danny Duffy (4-6)
Wednesday: Dan Haren (7-4) vs. James Shields (8-3)

The Royals were the toast of baseball last week after a 10-game winning streak landed them in first place in the AL Central. Unfortunately, they've lost four straight now and are again looking up at the Tigers by 2½ games.
The Dodgers, meanwhile, have won seven of nine and are really starting to come together.
Still, this is a quality matchup between two good teams.
Something to watch: The Royals' offense is completely unfamiliar with Kershaw. In fact, most have never faced him. Given that and how well he's throwing right now, another no-hitter isn't far-fetched at all. I'll predict at least a shutout.
Something to see: Greinke was drafted and developed by the Royals. He won a Cy Young as the Royals ace. He'll now be pitching in his former home as a member of the Dodgers.

| | | |
| --- | --- | --- |
| | at | |
Detroit Tigers at Texas Rangers
Tuesday: Drew Smyly (3-6) vs. Colby Lewis (5-4)
Wednesday: Anibal Sanchez (4-2) vs. Nick Tepesch (2-3)
Thursday: Rick Porcello (9-4) vs. Joe Saunders (0-3)

A rematch of the 2011 ALCS and also a battle of Ian Kinsler against his former team -- who he famously said he wanted to go 0-162 this season. Though he was obviously exaggerating for effect, Kinsler definitely doesn't have much love for his former team and specifically his former GM, Jon Daniels.
On the field, though, this appears a lobsided matchup now that the Tigers are back on track. They've won four straight and are back in control of the AL Central after temporarily yielding to the Royals. The Rangers have dropped five straight and it's looking like a lost season.
This series is also notable for the big-name pitchers that won't be toeing the slab. Yu Darvish, Justin Verlander and Max Scherzer will all be watching from the dugout.
| | | |
| --- | --- | --- |
| | at | |
Oakland Athletics at New York Mets
Tuesday: Scott Kazmir (9-2) vs. Bartolo Colon (7-5)
Wednesday: Brad Mills (0-0) vs. Zack Wheeler (3-7)

It's the best team in baseball against one of the worst in a two-game series, but there's some intrigue here.
First of all, Colon was with the A's the past two seasons, helping provide veteran leadership for the two-time AL West champs. And his counterpart Tuesday happens to be a former first-round selection of the Mets -- as Kazmir was traded by the Mets to the Rays for Victor Zambrano in 2004.
Wednesday, Mills (the One Dollar Man) takes on Wheeler, who is coming off a three-hit shutout -- which is the best outing of his young career. The A's will provide a huge test for the promising youngster.
| | | |
| --- | --- | --- |
| | at | |
San Diego Padres at San Francisco Giants
Monday: Odrisamer Despaigne (0-0) vs. Matt Cain (1-5)
Tuesday: Jesse Hahn (2-1) vs. Tim Hudson (7-3)
Wednesday: Ian Kennedy (5-8) vs. Tim Lincecum (5-5)

The Padres are one of the worst teams in the majors right now and just fired their general manager, but we have to put this up here because the Giants are in first place. They might well have broken out of their funk, too. After losing nine of 10, they've won two straight and have a chance to start this big homestand off on a great note.
Matt Cain has been brutal of late, but his only start against the Padres this season was one of his best (7 IP, 0 ER, 8 K). He also gets to face off against a 27-year-old rookie who had a 6.03 ERA in seven minor-league starts -- since Andrew Cashner was a scratch from this scheduled start.

| | | |
| --- | --- | --- |
| |  at  | |
Atlanta Braves at Houston Astros
Tuesday: Aaron Harang (5-6) vs. Scott Feldman (3-4)
Wednesday: Alex Wood (5-6) vs. Collin McHugh (4-5)
Thursday: Mike Minor (2-4) vs. Jarred Cosart (7-5)

The Braves are only one game over .500 entering the series, but they're still hot on the heels of Washington in the NL East. The Astros, meanwhile, seem to have reverted back to being a doormat, as they've lost six of seven and own the second-worst record in the AL. One would think the Braves should enjoy this matchup, but their offense can't be counted on. Getting three close games is a decent bet.
| | | |
| --- | --- | --- |
| | at | |
Chicago White Sox at Baltimore Orioles
Monday: Chris Sale (6-1) vs. Wei-Yin Chen (7-2)
Tuesday: Jose Quintana (3-7) vs. Miguel Gonzalez (4-4)
Wednesday: Hector Noesi (2-5) vs. Ubaldo Jimenez (2-8)

As mentioned earlier, the Orioles find themselves only 1½ games out in the AL East while the Blue Jays and Yankees are set to battle each other. A sweep over the White Sox here would be huge.
The timing may be right, as the Sox have dropped four straight and eight of their past 10. Then again, beating Sale is always a tall order.
Of note: Heading into the series, the Orioles' starting pitching has been excellent of late, sporting a 0.76 ERA in the past four games.
| | | |
| --- | --- | --- |
| | at | |
Minnesota Twins at Los Angeles Angels
Tuesday: Kyle Gibson (6-5) vs. C.J. Wilson (7-6)
Wednesday: Yohan Pino (0-0) vs. Garrett Richards (7-2)
Thursday: Ricky Nolasco (4-5) vs. Hector Santiago (0-7)

Still relatively newly signed Kendrys Morales makes his way to his former stomping grounds -- also the site of his career-altering broken leg.
The Twins come in riding high, having gotten a four-game sweep over the White Sox, but this opponent should be more worthy. The Angels have a clear-cut advantage in the first two pitching matchups and are starting to inspire some actual confidence. After sweeping the Rangers, the Angels are five games back in the AL West, hold the top AL wild-card spot and have won 10 of their past 15 games.
| | | |
| --- | --- | --- |
| | at | |
Boston Red Sox at Seattle Mariners
Monday: John Lackey (8-4) vs. Felix Hernandez (8-2)
Tuesday: Jake Peavy (1-5) vs. Erasmo Ramirez (1-4)
Wednesday: Felix Doubront (2-4) vs. Hisashi Iwakuma (5-3) 

One of these teams has resembled a legitimate playoff contender all season and it's not the defending champs. The Mariners come in hot, too, having won six of eight. They also have a decided advantage in the pitching matchups both Monday and Wednesday.
The Red Sox broke a three-game losing streak with a dramatic victory Sunday and, amazingly, they still have a shot to climb back into contention thanks to how much mediocrity there is in baseball this year.
They'll need the offense to wake up in order to do so. Before Sunday's seven-run game, the offense had put up 11 runs in the previous six games. The Mariners' offense isn't much to discuss this season, either, so three low-scoring games is a possibility.
| | | |
| --- | --- | --- |
| | at | |
St. Louis Cardinals at Colorado Rockies
Monday: Lance Lynn (7-5) vs. Jhoulys Chacin (1-5)
Tuesday: Shelby Miller (7-6) vs. Jorge De La Rosa (6-6)
Wednesday: TBD vs. Christian Bergman (0-2)

The Cardinals have three starting pitchers on the disabled list -- and Adam Wainwright won't get to start in the series -- and get to visit the top hitting team in the top hitting park in all of baseball.
Then again, the Rockies' pitching staff has been abused at home several times in June. The club is currently riding a six-game losing streak.
Expect lots of runs. Otherwise this is a pretty unpredictable series.
| | | |
| --- | --- | --- |
| |  at  | |
Cincinnati Reds at Chicago Cubs
Monday: Alfredo Simon (10-3) vs. Jeff Samardzija (2-6)
Tuesday: Homer Bailey (7-3) vs. Jake Arrieta (3-1)
Wednesday: Mat Latos (0-0) vs. Edwin Jackson (5-7)

The Reds have been playing much better lately as winners of eight of 11 games. They sit on the cusp of contention at 37-37 and with a real chance to take down an inferior club. Of course, they haven't been over .500 all season. They've evened things up a few times but haven't been able to get over the hump. Does it happen this series? Well, the Cubs aren't the pushover they were earlier this year. They have a winning record (18-15) since May 16. 

| | | |
| --- | --- | --- |
| |  at  | |
Miami Marlins at Philadelphia Phillies
Monday: Nate Eovaldi (4-3) vs. Roberto Hernandez (3-5)
Tuesday: Andrew Heaney (0-1) vs. David Buchanan (3-3)
Wednesday: Henderson Alvarez (4-3) vs. A.J. Burnett (5-6)
Thursday: Tom Koehler (5-6) vs. Cole Hamels (2-4)

The Marlins have lost eight of 11 games and now have to go out on the road, where they're just 12-20 this season. The Phillies come in having lost two straight, though they were playing well before that (winning nine of 11 before the two-game losing streak).
Notable: Giancarlo Stanton returns to the scene of this crime against a baseball:
| | | |
| --- | --- | --- |
| | at | |
Pittsburgh Pirates at Tampa Bay Rays
Monday: Edinson Volquez (4-6) vs. Alex Cobb (2-5)
Tuesday: Jeff Locke (0-1) vs. Chris Archer (4-4)
Wednesday: Charlie Morton (4-8) vs. David Price (5-7)

The Pirates have rebounded from a poor start and have gone 19-12 since May 20. They're still only 37-38 overall and have several teams between themselves and a return to the playoffs at this juncture.
The Rays, meanwhile, still sport the worst record in the majors.
So this is a matchup between two 2013 playoff teams, but they're both disappointments to this point in 2014, the Rays in a major way.
Fun side-story: What if David Price is facing his future team?
| | | |
| --- | --- | --- |
| | at | |
Cleveland Indians at Arizona Diamondbacks
Tuesday: Justin Masterson (4-5) vs. Wade Miley (3-6)
Wednesday: Corey Kluber (6-5) vs. Chase Anderson (5-2)

The Indians were hot earlier this month, but they've been bloodied since then and have lost eight of 12. Now might be a nice time to get back on track -- and the Terry Francona Indians have been unbelievably consistent in terms of long winning or losing streaks -- because the Diamondbacks are the worst team in baseball this side of Tampa Bay. They've lost nine of 12, too. The smart money is on a two-game sweep here for the Tribe.
The Twins have already fortified the bullpen with Addison Reed, and now they want to address...

The Orioles likely want pitching, and the Indians have plenty of it

Halladay died in a November plane crash off the coast of Florida
The power-hitting outfielder is headed to Toronto

Martinez could add some power to a Boston lineup void of it

It's almost that time of the year again, time for the Tebow madness to return