MLB Weekday Series Rankings: Tigers clash with Athletics
Let's take a look at how each of the 15 week-starting series in MLB grades out on our 'hoagie scale.'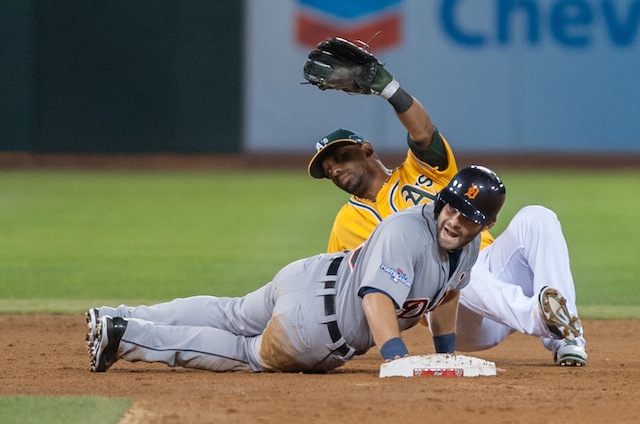 More MLB: Power Rankings | Expert Picks | Latest news & notes | Fantasy news
We're heading into another week of action in major-league baseball, which means it's time to look to the Hoagie Scale to see which series are most worthy of our consumption. Wear a bib, slobs!

| | | |
| --- | --- | --- |
| | at | |
Detroit Tigers at Oakland Athletics
Monday: Drew Smyly vs. Tommy Milone
Tuesday: Max Scherzer vs. Sonny Gray
Wednesday: Anibal Sanchez vs. Scott Kazmir 
Thursday: Rick Porcello vs. Jesse Chavez 
It's a rematch of last year's ALDS, and it's a matchup involving two of baseball's best thus far in 2014. It's also one in which both teams need to get back to form. The A's come in having been swept by the Blue Jays and having lost four in a row overall. As for the Tigers, they just dropped six of seven to the Indians and hobbled Rangers. The rotations line up pretty nicely on both sides, and the Scherzer-Gray encounter will be appointment viewing. 
| | | |
| --- | --- | --- |
| | at | |
New York Yankees at St. Louis Cardinals
Monday: Chase Whitley vs. Michael Wacha
Tuesday: David Phelps vs. Lance Lynn
Wednesday: Hiroki Kuroda vs. Shelby Miller 

History abounds! The greatest AL franchise meets the greatest NL franchise. These two august clubs have combined for 38 championships and 59 pennants (most, of course, coming courtesy of the colossus in the Bronx). As for head-to-head encounters, the Cardinals have prevailed in three of their five World Series matchups. In the here and now, the Cards come in having won eight of 10. Each team will miss out on the other's ace, as Masahiro Tanaka and Adam Wainwright won't go in this one. 

| | | |
| --- | --- | --- |
| | at | |
Baltimore Orioles at Milwaukee Brewers
Monday: Chris Tillman vs. Kyle Lohse
Tuesday: Wei-Yin Chen vs. Matt Garza
Wednesday: Bud Norris vs. Marco Estrada 

The first-place Brewers badly need to hit a roll in order to keep the Cardinals at bay, while the Orioles are trying to remain within spitting distance of the Blue Jays and Yankees. The Baltimore power bats should enjoy a trip to homer-friendly Miller Park, but the host Brewers can thump a little, too. 
| | | |
| --- | --- | --- |
| |  at  | |
Boston Red Sox at Atlanta Braves
Monday: Clay Buchholz vs. Ervin Santana
Tuesday: Jon Lester vs. Aaron Harang
Atlanta Braves at Boston Red Sox
Wednesday: Gavin Floyd vs. John Lackey
Thursday: Mike Minor vs. Jake Peavy 
Time was when these two franchises shared the same city. This one's actually two two-game series, but we'll count it as one for these purposes. The Sox of course are reeling: They've dropped 10 in a row, and at this writing their playoff odds check in at just 9.9 percent. Facing the first-place Braves isn't an ideal way to get on track, though. 
| | | |
| --- | --- | --- |
| |  at  | |
Tampa Bay Rays at Toronto Blue Jays
Monday: Erik Bedard vs. Drew Hutchison
Tuesday: Alex Cobb vs. Mark Buehrle
Wednesday: Chris Archer vs. Liam Hendriks  

The Jays have gone 16-7 in May and are coming off a 6-0 week. Can the struggling Tampa Bay rotation keep one of the best offenses in baseball in check? That will be the challenge. More broadly, it has been a disappointing season to date for the Rays, but they come in having won four in a row. The Cobb-Buehrle matchup has potential. 
| | | |
| --- | --- | --- |
| | at | |
Los Angeles Angels at Seattle Mariners
Monday: Tyler Skaggs vs. Chris Young
Tuesday: Jered Weaver vs. Roenis Elias
Wednesday: C.J. Wilson vs. Felix Hernandez 
Thursday: TBA vs. Brandon Maurer
The Angels are seven games above .500, and only the A's have a better run differential. As well, it's possible that Josh Hamilton will return from the DL at some point during this series. The M's catch the best end of the improved Anaheim rotation, but it remains to be seen who Mike Scioscia sends to the bump in the finale. For the M's, Robinson Cano has been ablaze the past two weeks, and one gets the impression he's about to go on a power tear. 

| | | |
| --- | --- | --- |
| | at | |
Texas Rangers at Minnesota Twins
Monday: Nick Tepesch vs. Kevin Correia
Tuesday: Yu Darvish vs. Phil Hughes
Wednesday: Joe Saunders vs. Kyle Gibson 
Thursday: Nick Martinez vs. Samuel Deduno

The skeleton-crew Rangers are struggling to stay above the water line and perhaps scouring the markets for first-base help. As for the Twins, it's a minor miracle that they're just one game below .500 at this writing. Darvish-Hughes is the headline matchup, but the rest of the two respective rotations feature unknown quantity upon unknown quantity. 
| | | |
| --- | --- | --- |
| |  at  | |
Miami Marlins at Washington Nationals
Monday: Nathan Eovaldi vs. Tanner Roark
Tuesday: Henderson Alvarez vs. Blake Treinen
Wednesday: Tom Koehler vs. Jordan Zimmermann 

The upstart Marlins are 6-9 since losing Jose Fernandez for the year, and there's some offensive regression baked into that run. Has the methodical slide down the standings begun? We figured it would happen eventually. A good way to stave it off for a while would be to take a bite out of the inconsistent Nationals. Believe it or not, the pitching matchups may favor the Fernandez-less Marlins. 
| | | |
| --- | --- | --- |
| | at | |
Colorado Rockies at Philadelphia Phillies
Monday: Jhoulys Chacin vs. Kyle Kendrick
Tuesday: Jorge De La Rosa vs. Cole Hamels
Wednesday: Jordan Lyles vs. Roberto Hernandez 

The Rockies dropped two of three in Atlanta (and lost the Eye On Baseball Heavyweight Championship in the process!), while the Phillies on Sunday were no-hit by Josh Beckett. Not surprisingly, the Rockies' problem has been winning away from Coors Field: they're 16-7 at home but just 11-16 on the road. On the other hand, the Phillies (9-14) can't seem to win at home. 
| | | |
| --- | --- | --- |
| | at | |
Chicago Cubs at San Francisco Giants
Monday: Jeff Samardzija vs. Yusmeiro Petit
Tuesday: Jake Arrieta vs. Tim Hudson
Wednesday: Edwin Jackson vs. Tim Lincecum 

The Giants enter the week with the best record in baseball (and a hefty five-game lead over the Rockies), and they're poised to pad their margin with three at home against the lowly Cubs. Matt Cain is a no-go for the series opener, so Petit steps into the breach. Nothing brings home the bountiful flaws of the pitcher win-loss statistic quite like the 2014 plight of Samardzija: MLB-leading 1.46 ERA, 0-4 record. 
| | | |
| --- | --- | --- |
| | at | |
Cincinnati Reds at Los Angeles Dodgers
Monday: Johnny Cueto vs. Hyun-Jin Ryu
Tuesday: Alfredo Simon vs. Zack Greinke
Wednesday: Homer Bailey vs. Clayton Kershaw 

Two 2013 playoff teams, two 2014 disappointments (at least thus far). The Reds will be without Joey Votto, who's on the DL; they'll be playing on the road; and they'll catch the "buzzsaw" portion of the Dodgers rotation. As for those high-dollar Dodgers, they're 5½ games out, and they badly lag behind the Giants and Rockies in terms of run differential. 
| | | |
| --- | --- | --- |
| | at | |
Cleveland Indians at Chicago White Sox
Monday: Josh Tomlin vs. Jose Quintana
Tuesday: Justin Masterson vs. Chris Sale
Wednesday: T.J. House vs. Hector Noesi 
The Indians have played better of late, and Jason Kipnis returns Tuesday. As for the Sox, they're still without Jose Abreu, but they do send Sale to the mound in the second game of the series. This is a matchup of two teams likely headed in different directions. The Indians still have wild-card potential, while the Sox's realistic goals include, mostly, finishing ahead of the Twins. Will Masterson finally begin rounding into form? 

| | | |
| --- | --- | --- |
| | at | |
San Diego Padres at Arizona Diamondbacks
Monday: Tyson Ross vs. Brandon McCarthy
Tuesday: Eric Stults vs. Wade Miley
Wednesday: TBA vs. Chase Anderson 
The Diamondbacks of course endured a miserable start to the season, but they're a respectable 11-10 for the month of May. So that's something. This team was always, in my mind, a fringe contender, but that 6-18 April made contention all but an impossibility. As for the Padres, they continue to limp along. This is likely to be an ongoing struggle for fourth and last place in the division. Hence, it falls under the "slider" category. 
| | | |
| --- | --- | --- |
| | at | |
Pittsburgh Pirates at New York Mets
Monday: Brandon Cumpton vs. Jacob deGrom
Tuesday: Edinson Volquez vs. Jon Niese
Wednesday: Charlie Morton vs. Bartolo Colon 

The Pirates have back-slid substantially since their playoff run a season ago. The future remains bright thanks to the young and prime-age talent in Pittsburgh and on the way, but 2014 is looking like a lost season. It's somewhat early yet, but the Buccos check in with less than a 10 percent chance of making the postseason. As for the Mets, they've dropped eight of 10, and their season moving forward is mostly about whether manager Terry Collins and the front office can keep their jobs. 
| | | |
| --- | --- | --- |
| | at | |
Houston Astros at Kansas City Royals
Monday: Scott Feldman vs. Yordano Ventura
Tuesday: Collin McHugh vs. Jeremy Guthrie
Wednesday: Jarred Cosart vs. Danny Duffy 
The Astros become a bit more interesting each time they promote one of their noteworthy prospects, but this remains a team on pace for 102 losses. This series presents the chance to lay eyes upon Ventura again, which is never something to be squandered. His Royals are in second place, but it certainly doesn't feel like they are. They'll need more power if they're to make a serious run at the postseason. 
Boston wants to add two big bats to their lineup, not just one

Even more relievers signed on the final day of the Winter Meetings

Keep tabs on the top 50 free agents right here
The league is not happy Ohtani's medical information leaked

Kansas City and Baltimore were quite busy at the Rule 5 Draft

Piscotty's mother was diagnosed with ALS earlier this year