MLB Weekend Series Rankings: Another test for the Jays
Let's break down all 15 weekend MLB series and tell you where they rank on the hoagie scale!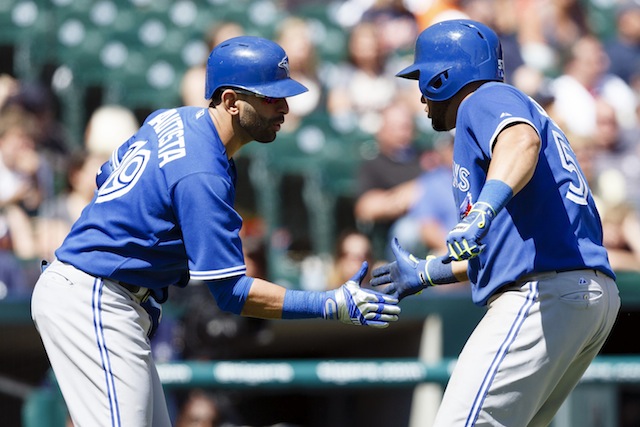 More MLB: Power Rankings | Expert Picks | Latest news & notes | Fantasy news
It's hoagie scale time, so let's check out how hungry we are to consume the 15 weekend series in Major League Baseball. The bigger the sandwich, the more juicy the matchup. Let's dig in. Nom, nom, nom!

| | | |
| --- | --- | --- |
| | at | |
St. Louis Cardinals at Toronto Blue Jays
Friday: Lance Lynn vs. Marcus Stroman
Saturday: Shelby Miller vs. Mark Buehrle
Sunday: Jaime Garcia vs. Drew Hutchison
Here's an intriguing one. The Cards are of course the reining NL champs, and the Jays are surprisingly leading the AL East. In Toronto's favor is that it is playing at home and will also be able to miss out on Adam Wainwright and Michael Wacha . The Jays' rotation, meantime, lines up pretty well against a St. Louis offense that has been very light on power this season.


| | | |
| --- | --- | --- |
| | at | |
Oakland Athletics at Baltimore Orioles
Friday: Tommy Milone vs. Wei-Yin Chen
Saturday: Sonny Gray vs. TBA
Sunday: Scott Kazmir vs. Ubaldo Jimenez

The A's have been the AL's best team thus far in 2014, and the O's are holding down second place in the AL East. Unfortunately, they catch the toughest end of the Oakland rotation in Gray and Kazmir.
| | | |
| --- | --- | --- |
| | at | |
Boston Red Sox at Detroit Tigers
Friday: Rubby De La Rosa vs. Drew Smyly
Saturday: Jon Lester vs. Max Scherzer
Sunday: John Lackey vs. Anibal Sanchez

Lester vs. Scherzer on Saturday is appointment viewing, and Lackey-Sanchez is another strong pairing. More broadly, there's just no predicting what the Sox are going to do from series to series. They lost 10 in row, and then they won seven in a row, and then they got swept by the Indians. As for the Tigers, they're still in first place, but they've dropped 12 out of their past 16.

| | | |
| --- | --- | --- |
| |  at  | |
Chicago White Sox at Los Angeles Angels
Friday: Andre Rienzo vs. Jered Weaver
Saturday: Chris Sale vs. Matt Shoemaker
Sunday: Jose Quintana vs. C.J. Wilson

It's not precisely clear how the White Sox are above .500, but here they are. Consider Robin Ventura a strong candidate for AL Manager of the Year honors, at least if this keeps up. On the one hand, the Angels have been one of baseball's best offenses against lefties, and they'll face two lefties in this series. On the other hand, those two lefties are Chris Sale and Jose Quintana.
| | | |
| --- | --- | --- |
| |  at  | |
Milwaukee Brewers at Pittsburgh Pirates
Friday: Kyle Lohse vs. Brandon Cumpton
Saturday: Matt Garza vs. Edinson Volquez
Sunday: Yovani Gallardo vs. Charlie Morton

The Pirates are a respectable 18-15 since the end of April, and this series presents them with the chance to take a bite out of the division leaders. Speaking of the division leaders, the Brewers enter this series with a 66.8 percent chance of making the playoffs. Among NL clubs, only the Giants have a higher mark.
| | | |
| --- | --- | --- |
| | at | |
New York Yankees at Kansas City Royals
Friday: Chase Whitley vs. Jeremy Guthrie
Saturday: David Phelps vs. Danny Duffy
Sunday: Hiroki Kuroda vs. James Shields
Monday: Vidal Nuno vs. Jason Vargas

The Royals took three of four from the Cardinals, but they still linger in last place. The Yankees find themselves in third place, and among AL teams only the Astros and Rays have a worse run differential. Four games go down, and KC manages to miss out on Masahiro Tanaka .
| | | |
| --- | --- | --- |
| | at | |
New York Mets at San Francisco Giants
Friday: Jonathon Niese vs. Matt Cain
Saturday: Bartolo Colon vs. Tim Hudson
Sunday: Zack Wheeler vs. Tim Lincecum

Interesting pitching matchups abound in this one. Friday brings us Cain's first start back from the DL, and he'll be opposite Niese, who has been quietly excellent this season. The Saturday tilt features two hurlers who are a combined 79 years of age (and Hudson has been among the very best pitchers in baseball this season). As for Sunday, the still young and still well-regarded Wheeler counters a two-time Cy Young winner. The Giants come in with MLB's best record. The Mets come in having been swept by the Cubs.
| | | |
| --- | --- | --- |
| |  at  | |
Cleveland Indians at Texas Rangers
Friday: Trevor Bauer vs. Yu Darvish
Saturday: Josh Tomlin vs. Nick Tepesch
Sunday: Justin Masterson vs. Joe Saunders
Monday: T.J. House vs. Nick Martinez

The Indians are 21-11 at home and 9-19 on the road. So it's notable that they'll be playing in Arlington for this four-game set. Friday's matchup is particularly compelling, as the upward-trending Bauer takes on frontline ace Darvish. The Indians come in having won six in a row and having pulled to within three games of the first-place Tigers. Oh, and the Eye On Baseball Heavyweight Championship is also at stake. And that's important.

| | | |
| --- | --- | --- |
| | at | |
Los Angeles Dodgers at Colorado Rockies
Friday: Hyun-Jin Ryu vs. Eddie Butler
Saturday: Zack Greinke vs. Jhoulys Chacin
Sunday: Clayton Kershaw vs. Jorge De La Rosa

The Dodgers are the reigning NL West champs. The Rockies were baseball's "it" team for the early weeks of this season. Now these two clubs are a combined two games under .500. While the Dodgers are obviously the bigger disappointment, what with their stratospheric payroll, the Rockies come in having dropped seven in a row and nine of 10. One of these teams badly needs to get on track, as the Giants are already starting to run away with the division.
| | | |
| --- | --- | --- |
| | at | |
Seattle Mariners at Tampa Bay Rays
Friday: Chris Young vs. Erik Bedard
Saturday: Roenis Elias vs. Alex Cobb
Sunday: Felix Hernandez vs. Chris Archer
Monday: Erasmo Ramirez vs. David Price

Hard as it is to believe, yes, the Rays at this writing have the worst record in baseball. They're on pace for 101 losses, which would be their highest total since 2006. They've lost 10 in a row at the moment. The M's, though, are creeping up the standings, having won five in a row and now sharing wild-card position with the Angels. The rotation lines up fairly well for the Rays, but scoring runs is another matter.
| | | |
| --- | --- | --- |
| | at | |
Washington Nationals at San Diego Padres
Friday: Tanner Roark vs. Tyson Ross
Saturday: Blake Treinen vs. Andrew Cashner
Sunday: Jordan Zimmermann vs. Eric Stults

The Padres get Cashner back in this series, and he was one of MLB's top starters this season before coming down with elbow problems. The Padres also duck Stephen Strasburg and Doug Fister . Are the Nats finally getting ready to run down the Braves? They enter this one having won five of six.
| | | |
| --- | --- | --- |
| | at | |
Atlanta Braves at Arizona Diamondbacks
Friday: Julio Teheran vs. Brandon McCarthy
Saturday: Ervin Santana vs. Wade Miley
Sunday: Aaron Harang vs. Chase Anderson

Since their 9-19 April, the Diamondbacks are three games above .500. Since their 17-9 March/April, the Braves are four games below .500. Teheran comes in having allowed two runs in his past 23 1/3 innings. Tommy La Stella is batting .409/.458/.409 since his callup. Still, Atlanta is struggling.
| | | |
| --- | --- | --- |
| | at | |
Miami Marlins at Chicago Cubs
Friday: Nathan Eovaldi vs. Jason Hammel
Saturday: Randy Wolf vs. Jeff Samardzija
Sunday: Henderson Alvarez vs. Jake Arrieta

Of course the Marlins miss Jose Fernandez . How could they not? But they refuse to conform to expectations and go away. They've won four in a row, and they've pulled even with the Braves atop the NL East. Alvarez and Eovaldi continue to impress. On the downside, the Marlins have had much trouble winning on the road thus far in 2014.

| | | |
| --- | --- | --- |
| | at | |
Philadelphia Phillies at Cincinnati Reds
Friday: Cole Hamels vs. Johnny Cueto
Saturday: Roberto Hernandez vs. Alfredo Simon
Sunday: David Buchanan vs. Homer Bailey

Hamels-Cueto certainly has potential, but the rest of this one is not exactly consequential, at least as things stand now. The Phils have dropped six in a row and have an NL-worst run differential of minus-54. Can a pre-deadline sell-off be very far away? The Reds, meantime, can't get on a roll of either sort. Their longest win streak this season is four games, and their longest losing streak is ... four games.
| | | |
| --- | --- | --- |
| | at | |
Houston Astros at Minnesota Twins
Friday: Dallas Keuchel vs. Phil Hughes
Saturday: Scott Feldman vs. Kyle Gibson
Sunday: Collin McHugh vs. Samuel Deduno

The Astros have George Springer and Jon Singleton up, and they're above .500 since the end of April. They're not the embarrassments of the recent past, to say the least. As well, the rotation lines up perfectly for Houston in this series, as their front three above have been solid (Feldman) to outstanding (Keuchel and McHugh). The Keuchel-Hughes encounter is quietly one of the better matchups of the week.
Sunday's MLB roundup features the D-Backs clinching a postseason spot and the Mariners going...

The 2017 season has been, by far, the worst season of Cabrera's career

The Mariners were eliminated from postseason contention with Sunday's loss
Maxwell became the first MLB player to kneel during the national anthem Saturday

The Blue Jays are not expected to bring Bautista back next season

The Dodgers have already clinched the NL West title, so the D-Backs will be a wild card te...