MLB Weekend Series Rankings: A's, Blue Jays battle in Toronto
A battle of first-place teams happens in Toronto this weekend between the A's and Blue Jays. Let's take a look at that and more in our Hoagie Scale.
More MLB: Power Rankings | Expert Picks | Latest news & notes | Fantasy news
Memorial Day weekend is upon us. Get out the grills and put some dead animals on them while enjoying your favorite frothy beverages. It's one of the great sports weekends of the year, and Major League Baseball series won't disappoint. We've got some great ones on tap.
Let's dive in with the "hoagie" scale, listing each series in order of how hungry we are to consume them. Subjectively, of course.

| | | |
| --- | --- | --- |
| | at | |
Oakland Athletics at Toronto Blue Jays
Friday: Scott Kazmir (5-1) vs. Liam Hendriks (0-0)
Saturday: Jesse Chavez (4-1) vs. R.A. Dickey (4-4)
Sunday: Drew Pomeranz (4-1) vs. J.A. Happ (3-1)

Believe it or not, this is a matchup of first-place teams. The A's are arguably the best team in baseball while the Blue Jays come into the series as one of baseball's hottest teams. They've won eight of their past 10 and sit at four games above .500 for the first time since June 6, 2012.
The series pits two of the most explosive offenses in baseball. The A's have very good pitching while the Blue Jays have been getting quality pitching from a few unlikely sources but still shouldn't be considered a good pitching club. The A's dodge Mark Buehrle, too, which bodes well for them.
The Blue Jays had an issue with blown saves earlier in the season, but closer Casey Janssen is 5 for 5 since returning from the DL. The A's, meanwhile, have actually had some closer issues of their own, but they're 8-5 in one-run games.
In all, though, this series is a measuring stick for Toronto. The A's have been to the playoffs each of the past two years and we know they're legit. Are the Blue Jays? This is a good test.
Something else to consider? The Blue Jays are 10-11 at home while the A's are 18-7 on the road.
| | | |
| --- | --- | --- |
| | at | |
Colorado Rockies at Atlanta Braves
Friday: Jordan Lyles (5-1) vs. Gavin Floyd (0-1)
Saturday: Juan Nicasio (4-2) vs. Mike Minor (2-2)
Sunday: Franklin Morales (3-3) vs. Julio Teheran (3-3)

The two clubs enter with nearly identical records and are both on pace for playoff berths.
Are the Braves back on track after a rough patch? They've won four of their past five and just took a series from the first-place Brewers. The offense still has all the makings of an inconsistent bunch, but they do have power. Rockies pitchers are susceptible to the longball at times, too. 
The Rockies bring in some serious firepower of their own but they leave a lot back home. Their road batting line is .251/.299/.411 as opposed to a ridiculous .342/.388/.565 slash at home.
Thus, if the Braves hit the ball, there's a good shot to get this one. The Rockies are 10-14 on the road.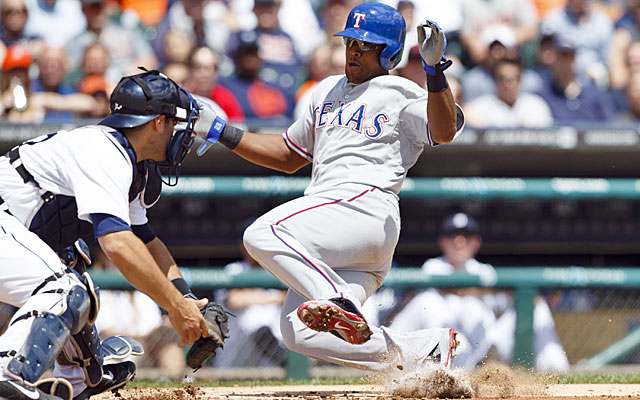 | | | |
| --- | --- | --- |
| | at | |
Texas Rangers at Detroit Tigers
Thursday: Rangers 9, Tigers 2
Friday: Scott Baker (0-0) vs. Anibal Sanchez (1-2)
Saturday: Nick Martinez (0-1) vs. Rick Porcello (7-1)
Sunday: Colby Lewis (3-3) vs. Justin Verlander (5-3)

After Ian Kinsler's venomous comments about Rangers GM Jon Daniels following the big trade this past offseason, there's obviously some intrigue here. Kinsler did say he hoped the Rangers would go 0-162 this season, though the exaggeration didn't have a ton to do with his former teammates. Still, it's something.
On the field, the Tigers have now dropped four straight after Thursday's loss in the series opener. Given that they still hold a 4½-game lead in the AL Central, there's no problem just yet.
On the flip side, the Rangers just lost Prince Fielder and probably Jurickson Profar for the season. They have won two in a row, but before that lost 15 of 21. They aren't yet a non-contender, but they were (are?) trending that way. This series needs to be one that stops the bleeding and gives the club some confidence against a powerhouse. Otherwise the season is over before June.
| | | |
| --- | --- | --- |
| | at | |
St. Louis Cardinals at Cincinnati Reds
Friday: Shelby Miller (6-2) vs. Homer Bailey (3-3)
Saturday: Jaime Garcia (0-0) vs. Tony Cingrani (2-3)
Sunday: Adam Wainwright (7-2) vs. Mike Leake (2-3)

After a bit of a disappointing start, the Cardinals seem to have righted the ship, having won seven of their past eight games. They're still trailing the Brewers in the NL Central, though, so don't expect them to get comfortable and let up any time soon -- especially in Cincinnati.
We know about the history here. These two clubs don't like each other at all and it's oh-so-fun. Remember when Brandon Phillips tapped Yadier Molina's shin guard and it started a brawl? Speaking of which, Johnny Cueto isn't starting, so that's a slight letdown in this rivalry.
The Reds had a more disappointing beginning to the season than the Cardinals and haven't yet gotten things on track -- at least partially due to significant injury issues. They do have Jay Bruce back in the lineup and took two of three from Washington. Getting a series over the Cardinals would be a nice boost for morale.

| | | |
| --- | --- | --- |
| |  at  | |
Minnesota Twins at San Francisco Giants
Friday: Kyle Gibson (4-3) vs. Tim Lincecum (3-3)
Saturday: Ricky Nolasco (2-4) vs. Ryan Vogelsong (2-2)
Sunday: Samuel Deduno (1-2) vs. Madison Bumgarner (5-3)

It has been over a decade, but I still can't see those two logos together without thinking of this:
Nov. 14, 2003: Giants trade Joe Nathan, Boof Bonser and Francisco Liriano to Twins for A.J. Pierzynski.
I'm sure Giants fans have gotten over it by now, considering the two World Series championships in the past four seasons. So it's just fun for all to discuss.
As far as 2014 is concerned, though, this has the first-place Giants against the upstart Twins.
Perhaps quietly, the Twins are two games over .500 and have won seven of their past nine. They won't be intimidated by a first-place team, either, considering they just took two of three from the Tigers and also the defending champion Red Sox.
Consider this a sleeper that many, nationally, will overlook. I like the Giants here, but the Twins taking the series wouldn't even remotely surprise me.
| | | |
| --- | --- | --- |
| | at | |
Kansas City Royals at Los Angeles Angels
Friday: Danny Duffy (2-3) vs. C.J. Wilson (5-3)
Saturday: James Shields (6-3) vs. Matt Shoemaker (2-1)
Sunday: Jason Vargas (4-2) vs. Garrett Richards (4-1)

The Royals have hovered around .500 like no one else in the majors so far this year. Get this: They've never been better than two games over but they've never been worse than three under. It's uncanny. Of course, the way things are going this season in the muddled mess that is the AL, this will be good enough to stay at least on the cusp of contention for a while. So that makes this a battle of two contenders.
The Angels are going very well right now and it has been for an extended stretch. They've won 10 of their past 13 games and are now six games over .500 for the first time since the end of the 2012 season.
Something that might matter but probably doesn't: The last time these two teams played, the Angels swept the Royals in four games.
| | | |
| --- | --- | --- |
| | at | |
Cleveland Indians at Baltimore Orioles
Thursday: Indians 8, Orioles 7 in 13 innings
Friday: T.J. House (0-0) vs. Bud Norris (2-4)
Saturday: Corey Kluber (4-3) vs. Ubaldo Jimenez (2-5)
Sunday: Trevor Bauer (1-1) vs. Miguel Gonzalez (2-3)

Remember the streakiest team in baseball last season? The Indians have now won four straight -- including getting a three-game sweep over their nemesis, the Tigers. After back-to-back 13-inning games, the bullpen will be a little taxed heading into Friday.
Then again, the Orioles had to get seven innings from their bullpen Wednesday in Pittsburgh, so it's not like they have an advantage in this department. In fact, judging from the pitching matchups, the offensive capabilities and the bullpens likely being a bit tired, we could see some serious offense here.
And, of course, there's the angle of Jimenez facing his former team for the first time since departing via free agency.
| | | |
| --- | --- | --- |
| | at | |
Milwaukee Brewers at Miami Marlins
Friday: Marco Estrada (3-2) vs. Tom Koehler (4-3)
Saturday: Wily Peralta (4-3) vs. Jacob Turner (0-2)
Sunday: Yovani Gallardo (2-3)* vs. Randy Wolf (0-0)

The Brewers are still in first place, but they're struggling mightily right now. In fact, their 6½-game lead has dwindled all the way down to 1½ games with the Cardinals surging and the Brewers having just lost five of six -- which includes losing a series to the Cubs. Aramis Ramirez is on the DL, Ryan Braun's oblique may have flared up and Gallardo is dealing with an ankle injury. Overall, the Brewers are 8-13 since opening up that big lead in the Central.
And now they get to deal with the Marlins in Miami.
While the young Marlins are pathetic on the road and have lost their ace, they are still 19-6 at home and seem to possess some sort of late-inning magic (maybe it comes from the home run structure?).
The Brewers need this, but it appears it'll be quite the tall order.
*Gallardo may not be able to make his start due to an ankle injury
| | | |
| --- | --- | --- |
| | at | |
New York Yankees at Chicago White Sox
Thursday: White Sox 3, Yankees 2
Friday: Hiroki Kuroda (3-3) vs. Hector Noesi (0-4)
Saturday: Vidal Nuno (1-1) vs. John Danks (3-4)
Sunday: Masahiro Tanaka (6-1) vs. Andre Rienzo (4-0)

This actually doesn't excite me that much, but it gets a boost for two reasons. First of all, we have to include the Thursday action and Chris Sale's return to the hill -- in dominant fashion -- was outstanding. He's always must-watch TV. Secondly, the Yankees are only half a game out in the AL East and actually entered Thursday in first place. So there's something here.
Something to watch moving forward: How will Tanaka respond in his first outing after a loss since 2012? He has to be unbelievably mentally tough, but he's also not real familiar with bouncing back. He's not familiar with it at all in MLB. The White Sox pose a good offensive foe in a hitter's ballpark, too, though having Jose Abreu on the DL definitely helps Tanaka's cause.

| | | |
| --- | --- | --- |
| |  at  | |
Washington Nationals at Pittsburgh Pirates
Thursday: Pirates 3, Nationals 1
Friday: Jordan Zimmermann (3-1) vs. Charlie Morton (0-6)
Saturday: Stephen Strasburg (3-3) vs. Gerrit Cole (4-3)
Sunday: Doug Fister (1-1) vs. Francisco Liriano (0-4)

Both offenses sport a tendency to disappear for innings -- or even games -- at a time. The Nationals do expect to get (former Pirate!) Adam LaRoche back Sunday, but Bryce Harper and Ryan Zimmerman are still out. The Pirates don't have injury woes on offense, they just don't have many good hitters.
Considering the above and combining it with the stellar talent set to take the mound in this series, both starters and relievers, the four total runs we saw Thursday night are likely a harbinger of things to come. Expect lots of great pitching. The matchups in the final three games favor the Nationals, but we know how predictable our great game of baseball is when it comes to "on paper" matchups.
| | | |
| --- | --- | --- |
| | at | |
Boston Red Sox at Tampa Bay Rays
Friday: John Lackey (5-3) vs. Chris Archer (3-2)
Saturday: Jake Peavy (1-2) vs. David Price (4-4)
Sunday: TBD vs. Jake Odorizzi (2-4)

Heading into the season, this would have looked like a marquee matchup. Instead, it's a battle to avoid the cellar.
It still matters for a few reasons. First of all, the defending champs have lost seven straight. How long will that losing streak go? Could it stretch long enough to ruin the season?
On the flip side, the Rays haven't been able to get any positive momentum whatsoever this season, but they just had a dramatic, extra-inning win over the A's on Thursday. Can this help them start to get their mojo back?
There's still plenty of time for either team to get things back on track, especially since no teams have separated themselves from the rest of the AL East, but one of these two teams needs to show some sign of life for an extended period of time.
Maybe it starts here. That's the appeal.
| | | |
| --- | --- | --- |
| | at | |
Los Angeles Dodgers at Philadelphia Phillies
Friday: Clayton Kershaw (2-1) vs. Roberto Hernandez (2-1)
Saturday: Dan Haren (5-2) vs. David Buchanan (0-0)
Sunday: Josh Beckett (2-1) vs. A.J. Burnett (3-3)

The Payroll Bowl? These two teams combine for seven players making at least $20 million this season and another four making at least $15 million.
Considering that, the two clubs have combined for pretty disappointing results to date. The Phillies are in last place in the NL East and have lost 10 of their past 15. With Cliff Lee on the disabled list and Cole Hamels not set to pitch, this series seems an uphill battle, too. That's because as much as the Dodgers have been disappointing, they're still a very talented bunch. I'm not ready to back off the possibility they get real hot at some point, so this might be where it starts.
Something to watch: Kershaw is coming off the worst start of his career (seven earned runs in 1 2/3 innings against the last-place D-Backs). How will he bounce back? I'm betting on dominance.

| | | |
| --- | --- | --- |
| |  at  | |
Arizona Diamondbacks at New York Mets
Friday: Chase Anderson (2-0) vs. Bartolo Colon (3-5)
Saturday: Josh Collmenter (2-2) vs. Zack Wheeler (1-4)
Sunday: Bronson Arroyo (4-3) vs. Rafael Montero (0-2)

Everyone! Let's get ready to ... yawn.
The Diamondbacks have the worst record in the NL and the worst run differential in baseball. They've played a bit better of late, but they're still not a good ballclub. Of course, the Mets have lost six of their past eight and don't appear much better.
Perhaps this is payback time for the Snakes? The two clubs faced off back in mid-April in Arizona and the Mets got a sweep, outscoring Arizona 21-5 in the three games combined.
| | | |
| --- | --- | --- |
| | at | |
Houston Astros at Seattle Mariners
Thursday: Mariners 3, Astros 1
Friday: Brad Peacock (1-4) vs. Felix Hernandez (5-1)
Saturday: Dallas Keuchel (5-2) vs. Brandon Maurer (1-2)
Sunday: Scott Feldman (2-2) vs. Hisashi Iwakuma (3-0)

Too bad Keuchel -- who is possibly baseball's hottest pitcher -- doesn't square off against one of the Mariners' aces. Instead every pitching matchup is lopsided as this pits the worst AL team against a mediocre Mariners club, at least for now.
Plus, we've already seen plenty of this. After this four-game series, these two teams will have played 10 times this season.
For me, the most exciting thing about this series is the chance for the Mariners to sweep and climb into a favorable spot in the AL.
| | | |
| --- | --- | --- |
| | at | |
Chicago Cubs at San Diego Padres
Thursday: Cubs 5, Padres 1
Friday: Edwin Jackson (3-3) vs. Tim Stauffer (1-0)
Saturday: Travis Wood (4-4) vs. Donn Roach (1-0)
Sunday: Jason Hammel (5-2) vs. Ian Kennedy (2-6)

Well, Cubs manager Rick Renteria was the Padres' bench coach before heading to the Windy City, so there's that. These two teams also swapped a pair of highly regarded prospects named Anthony Rizzo and Andrew Cashner a few offseasons ago. Rizzo homered and doubled Thursday night, too, while Cashner is on the DL -- so that means the Cubs definitely won the trade, right?
Otherwise, this is arguably the worst team in the National League facing off against a sub-par team with an injury-riddled pitching staff.
Let's put it this way: If you can list five reasons anyone who isn't a Cubs or Padres fan should watch a minute of this series -- excluding fantasy baseball -- you've done some damn fine work. And probably lied.
The process for determining home-field advantage in the World Series is different in 2017

The Yankees will have to close out the series on the road

Let's update each team's chances of winning the World Series
Puig has a healthy relationship with his club of choice and gave the quote of the night

The Dodgers are back in the World Series thanks to a smartly built roster, analytics and m...

Seager missed the NLCS with a back injury