MLB working toward new PED deal, would increase suspensions
Major League Baseball and the MLBPA are working toward a new drug policy that would punish first-time offenders with a 100-game suspension and second-timers with a full season ban.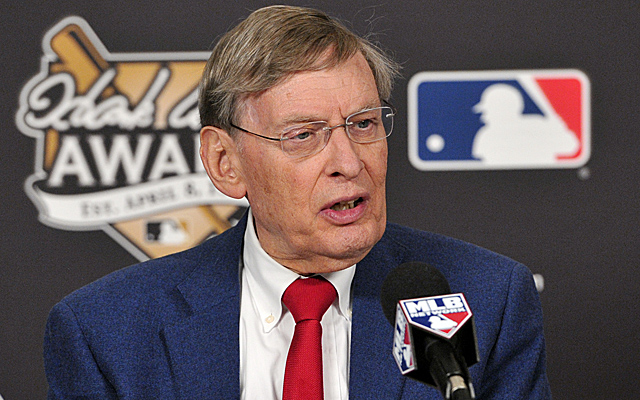 MORE: Spring Training | Scoreboard | Team previews
Major League Baseball and the MLB Players Association are working toward increasing penalties for players caught using performance-enhancing drugs while also decreasing penalties for players testing positive unintentionally, the Associated Press reports.
The AP report notes that now a first positive test would result in a 100-game suspension while a second would trigger a full-season suspension. A third test would then result in a lifetime ban, which was already the rule in place. At present, it's a 50-game suspension for a first offense, followed by a 100-game ban for a second offense.
On the flip-side, players who test positive for inadvertant use would only be nailed with half a violation. It will be intersting to see how MLB and the MLBPA believes they can prove accidental use, but here are two examples provided by the Associated Press:
Philadelphia infielder Freddy Galvis was suspended for 50 games in June 2012 for a Clostebol Metabolite, which he later claimed was contained in a foot cream he used. Reliever

Guillermo Mota

, then with San Francisco, was suspended for 100 games in May 2012 after taking a cough syrup with Clenbuterol.
The current expectation is that MLB will have the new system in place before Sunday, when the Dodgers and Padres open the non-Australian part of the 2014 MLB regular season.
The good news? Wichita still has a chance to win the series Tuesday night

Soon more home runs will have been hit in 2017 than in any other season in MLB history

Ferrell somehow avoided going to the ground
Plus, we saw a possible AL Wild Card Game preview in the Bronx and lots more from around M...

The Pirates disappointed in 2017. Will 2018 be any different?

Let's see how SportsLine forecasts the race for MLB's 10 playoff spots