MLB.com pulls failed attempt at Roy Halladay bobblehead
MLB.com shop had a very poorly designed Roy Halladay bobblehead. After the blogosphere blew up Thursday morning, the item has now disappeared.
I feel like this should be one of those video games in a bar where you try to find all the mistakes, using a touch screen to circle them.

Anyway, Thursday morning Phillies-centric blog Zoo With Roy posted a picture of the massive fail that was MLB.com's attempt at a "Roy Halladay" bobblehead. Quotes are there for a reason ... Look: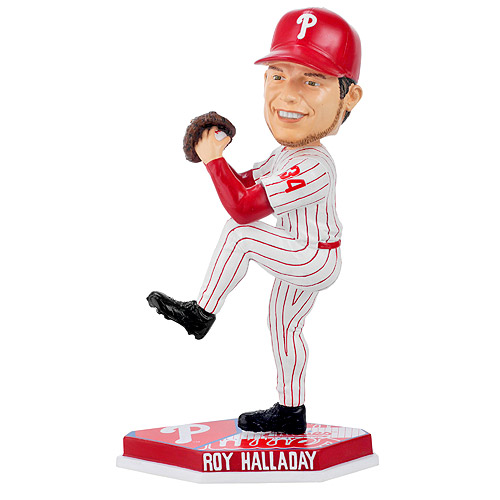 So let's sort this out. He's evidently left-handed? But still uses a left-leg kick while facing the wrong way? The face isn't even remotely in the ballpark (Zoo With Roy likened it to Billy Bob Thornton, which I'm on board with), nor is the facial hair, and Doc has apparently died his hair jet black.

But, hey, they did spell his name correctly, get the right number and put him on the Phillies. So there's that.

As the photo of the "Halladay" bobblehead circulated, someone must have alerted the authorities, because the MLB.com shop page that once displayed this item now gives an error message. Yep, it's been pulled. But, thanks to Zoo With Roy, we still have the picture saved in time. God bless Al Gore's Internet.

For more baseball news, rumors and analysis, follow @EyeOnBaseball on Twitter, subscribe to the RSS feed and "like" us on Facebook.
Supposedly, MLB execs have discussed letting teams hit any three hitters they want in the...

Keep tabs on the top 50 free agents on the market right here

After the departures of Steven Souza and Corey Dickerson, the Rays add a right-handed bat
Rasmus essentially walked away from baseball during last season

Forrest Whitley is the Astros' top pitching prospect and set to work in Double-A this year

Jonah Keri talks to Orioles manager Buck Showalter