MLBPA upset by story on FAs Drew, Morales; says execs violated CBA
The players' union is not pleased with recent anonymous quotes from team executives regarding Stephen Drew and Kendrys Morales.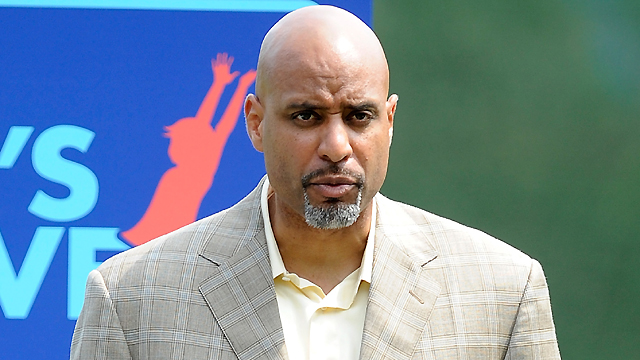 More MLB: Scoreboard | Standings | Probable Pitchers | Sortable Stats | Odds
The Major League Baseball Players' Association is not happy about a recent ESPN article, which included anonymous quotes from team executives around the league about the current market value of free agents Stephen Drew and Kendrys Morales. Union chief Tony Clark released the following statement, which implies possible collusion:
"I am angered that numerous anonymous baseball executives have blatantly and intentionally violated our collective bargaining agreement by offering to ESPN comments about the free agent values of Stephen Drew and Kendrys Morales. These statements undermine the free agent rights of the players and depress their market value. Today, I have called upon the Commissioner's Office to investigate immediately and thoroughly the sources of these statements and to take appropriate action to enforce our agreement."
The subscriber-only article, which was published on Wednesday, includes quotes from at least eight anonymous sources regarding Drew and Morales. Most say they would offer the players one-year contracts in the $5 million-$10 million range. Both Drew and Morales turned down qualifying offers worth $14.1 million early in the offseason.
Quotes from anonymous sources are the backbone of the hot stove league, and they often include explicit dollar numbers. Drew and Morales are in a unique situation, however, because they are quality players whose value is very clearly hurt by free agent compensation. Drew in particular could help several teams right now.
Clark's point is a valid one -- the comments in the article may depress the markets for both players even more than they already are. I'm not sure what can be done about it since ESPN does not have to (and certainly won't) give up the names of their sources, however. At the very least, MLBPA has gone on the record with their unhappiness.
Gonzalez was reportedly killed in a car crash in Cuba

Our Black Friday FA shopping guide includes a starting pitcher, slugger, super sub, and re...

Get 15 percent off any order of more than $75 at CBS Sports Shop
Need a gift for someone who loves baseball? We're here to help as the holidays approach

Several prominent Japanese-born Mariners and ex-Mariners have said they will help as well

Get your sports fans something that they'll wear all year