MLB's worst contracts: Catchers, middle infielders
Our series on the worst contracts in baseball continues with catchers and middle infielders.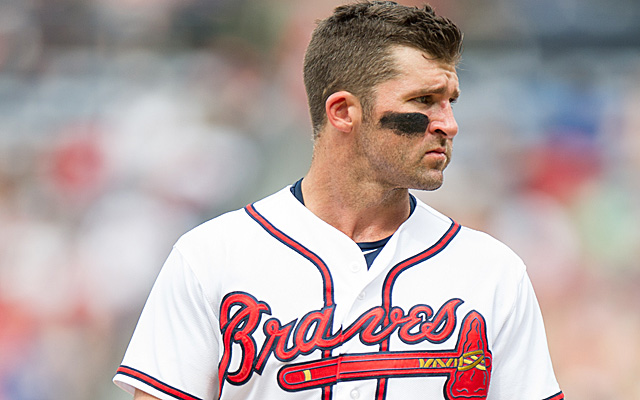 Previously: MLB's worst pitching contracts
As we slog through our annual series on baseball's worst contracts, we'll hit on the catchers and middle infielders in this installment.
Please note the following, which I posted in the pitchers entry Monday:
Before we dive in, a quick word on "bad contracts." This is all relative because most MLB teams make obscene profits these days. I'd be willing to say that only a small handful of deals are actually bad for business, overall, and the rest could be justified. And, frankly, I'd rather the players get the money than the owners.

That being said, if a contract finds itself on our list, the rationale is that the money could have been better spent elsewhere.

Also, in this series, we're only talking about what is remaining on the contract, not the full deal.
This note should come in particular handy in this entry, because I found the "bad" contracts among catchers, second basemen and shortstops to be particularly few and far between. I had to nitpick in a few cases, even. Remember, Major League Baseball is incredibly profitable and the players aren't even getting the biggest piece of the pie. Owners are.
Still, we committed to doing the lists this week, so here we go.
Catchers
Worst: Carlos Ruiz, Phillies
Remaining contract: Three years, $25.5 million
Yes, the deal that was signed Monday shoots to the top of the list. I actually don't even think this is that awful a contract, but with Joe Mauer having moved to first base and Brian McCann not yet being signed a potential nine-figure deal, we don't have a lot to choose from.
And with Ruiz, we're talking about a guy who will turn 35 before next season that is coming off a .268/.320/.368 (90 OPS+) line. He only threw out a fourth of the opposing would-be base stealers, too, which is below league average. The 2009-12 version of Ruiz would be worth this money, but I fear he's in the decline phase of his career now. The guaranteed third year here is what propels this deal to the top.
Runner-up: Miguel Montero, Diamondbacks
Remaining contract: Four years, $50 million
Another admitted reach here, as Montero in 2009, 2011-12 was well worth his hefty salary. He is coming off a season where he hit .230/.318/.344 (83 OPS+) and additionally saw his caught stealing rate plummet (from 42 percent to 33 percent). He's now 30 and has logged almost 6,000 innings behind the plate at the big-league level, so there's some concern moving forward.
Honorable mention
Actually, those were the only two guys I had listed and I'm not even 100 percent sure either one of these is overly "bad." Catchers don't often sign lucrative deals unless they're well worth it. I can see concern about Buster Posey's nine-year, $164 million deal that began this past season, but I'm not calling that bad right now.
Second basemen
Worst: Dan Uggla, Braves
Remaining contract: Two years, $26.4 million
His batting average progression (regression) since 2010: .287, .233, .220, .179. His strikeouts have risen each year, too, which isn't a coincidence. Uggla does hit for power and take plenty of walks, which help to mitigate his awful batting average a bit, but his OPS+ was a paltry 83 last year. Team that with his defensive futility and Uggla posted a -1.3 WAR. And he makes eight figures a year.
Runner-up: Brandon Phillips, Reds
Remaining contract: Four years, $50 million
He's still an excellent defender, though he'll begin losing a step pretty soon given that he's gonna be 33 next year. With the bat, though, Phillips is incredibly overrated due to his inflated RBI total. He hit .261/.310/.396 (92 OPS+) last season. For the money he's making, all three of those triple-slash lines are far too low.
Honorable mention
The only other player I had listed was Rickie Weeks. His deal for 2014 is far worse than Phillips, but he is spared because Phillips has an extra three years. Weeks will make $12 million next season before hitting free agency. If he continues on this path, though, he's due a colossal pay cut. In 2012, Weeks hit .230/.328/.400 (93 OPS+) and last season that dwindled to .209/.306/.357 (80 OPS+). He's a poor defender and his baserunning skills have deteriorated. In both baseball-reference.com and fangraphs.com versions of WAR, Weeks was in the negative last year.
Also, it's possible Dustin Pedroia (six-year, $85 million extension beginning in 2016) and Ian Kinsler (four years, $57 million left, plus a $12 million club option with a $5 million buyout) deals end up hurting, but as things stand right now I'm unwilling to call those deals bad. Doing so would be just because they are long-term and for big money. They are risky, no doubt -- especially Pedroia's, due to the length -- but we don't have a crystal ball.
Shortstop
Worst: Derek Jeter, Yankees
Remaining contract: One year, $12 million
A figurehead deal for sure, with which I really have no problem. The Yankees have plenty of money, too. It's just that they signed Brendan Ryan and are now pursuing Jhonny Peralta. When you have a $12 million a year shortstop, should you really need to double-down on insurance? Jeter's made over $250 million in his career -- only including playing salary, by the way -- so it's not like the Yankees should have felt obligated to take care of him.
Runner-up: Jose Reyes, Blue Jays
Remaining contract: Four years, $82 million
While I don't think this is egregious, there aren't any worse deals at this position and I think Reyes would be hard pressed to get over $20 million per season if he hit the market right now. In the past two seasons he's hit .290/.350/.431 (111 OPS+) with a bad ankle injury -- and he's a speed guy. To reiterate, I don't hate this deal, but it's not a huge leap to say it'll hurt the Blue Jays more than it helps them moving forward.
Honorable mention
Those are the only two I listed when I went through MLB shortstop salaries. Much like with catcher, I didn't find these egregious, either. Some might want to include Elvis Andrus (eight years, $118 million starting in 2015), but -- much like with Posey, Kinsler and Pedroia -- any inclusion would be just because it's a big and long deal.
Get 15 percent off any order of more than $75 at CBS Sports Shop

Get your sports fans something that they'll wear all year

No, you're not imagining things. This MLB offseason has been very slow compared to the last...
Francesa will retire from radio next month, so he'll have plenty of free time next summer

The Twins need help in the rotation, and they may look to the trade market to find arms

Here are the bullet-points of what went down Tuesday regarding MLB and the Braves' punishm...