MLB.tv blackout restrictions could be eased starting next season
Blackout restrictions for MLB's streaming service could be eased starting as soon as 2015.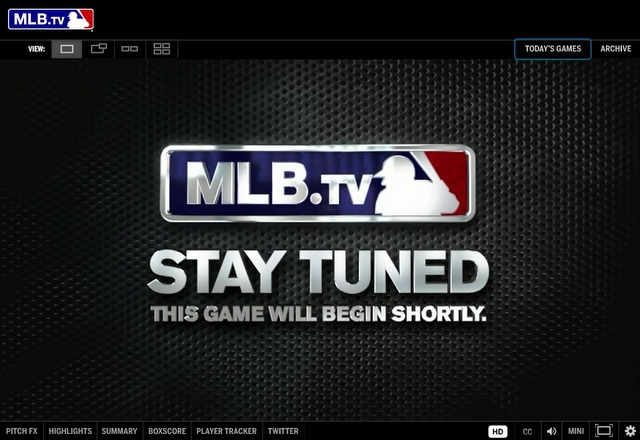 According to the Associated Press, Major League Baseball may start easing up on the blackout restrictions of their MLB.tv streaming service starting next season. Fans are currently blacked out of games in their home market, regardless of whether the team is home or away.
Here's more from the Associated Press:
In an interview this week, Bob Bowman said he is optimistic that a deal could be reached soon with various cable operators, channels and ballclubs. The catch is that even with an MLB.TV subscription, which starts at $20 a month, fans will also need a cable or satellite TV subscription to view hometown teams at home.

"Everyone's trying to solve it," Bowman said. "If our hands were 4 feet apart three or four years ago, they are now 6 inches apart," Bowman said. "We're moving in the right way. We continue to talk. The dialogue is professional."
Bowman, MLB's head of online business, said it's possible only some networks will agree to participate, meaning there may still be some blackouts in place. The parties still need to work out "the look and the feel of it, the marketing of it, the branding of it, economics," he added.
Blackouts currently extend to some national broadcasts, though those have been lessened in recent years. The All-Star Game was streamed on MLB.tv this year for the first time. A similar plan is in place for the postseason this year. In the past, the wild-card, LDS and LCS postseason rounds were available online, but only with alternate camera angles and not the live broadcast feed.
The Yankees' owned YES Network offered an in-market streaming option for an additional fee in the past that allowed YES subscribers in the New York area to stream Yankees games online with MLB.tv. That service was discontinued for the 2014 season, however.
Needless to say, anything that lessens MLB's blackout restrictions is a major win for fans. I understand there are major economic hoops to jump through, but fans just want to watch baseball. Anything that can make more games available to fans is a plus the game.
(h/t Awful Announcing)
Here are the bullet-points of what went down Tuesday regarding MLB and the Braves' punishm...

The owners need to ratify on the new system in place, but the takeaway here is Ohtani is coming...

A preliminary report National Transportation Safety Board has shined some light on details...
John Coppolella was placed on the permanently ineligible list by MLB on Tuesday

Among other sanctions, Atlanta lost the player who was deemed the No. 1 international signing...

Among other penalties, No. 1 international prospect Kevin Maitan is now a free agent