Molina, NL's most important player, returns to Cardinals lineup
Yadier Molina may not be the MVP, but try to come up with a player more important to his team. The Cardinals need him, and now get him back.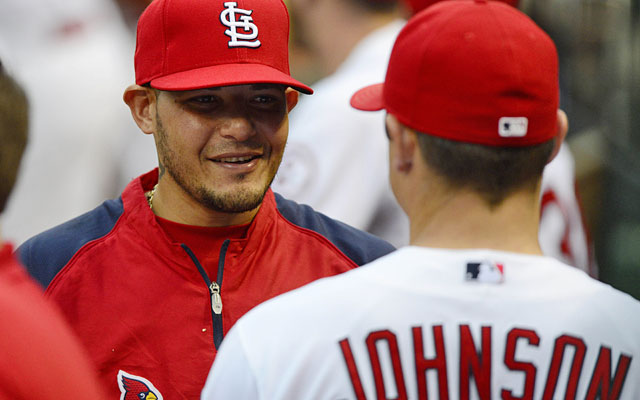 The day Yadier Molina went on the disabled list, there was a rumor that went around that he would miss the rest of the season.
Bad rumor. Good thing for the Cardinals.
You can argue all you want about who should be the National League's Most Valuable Player, but as I wrote two months ago, it's hard to come up with a player more important to his team than the Cardinals' catcher.
His two weeks on the disabled list did nothing but back up that opinion.
Admittedly, the Cardinals' slump began with Molina in the lineup. But they went 6-8 during the two weeks he missed, and the team ERA (3.42 when he got hurt) was 4.05 in those 14 games.
His return became even more important when backup Tony Cruz went down with a stress fracture in his left forearm, forcing him to the DL on Thursday in the move made to activate Molina.
The Cardinals have admitted that they probably leaned on Molina too heavily in the first four months of the season. They promise they'll ease up on him now.
"We just have to be smart," general manager John Mozeliak said last week. "We'll have six weeks or so to go [in the regular season]. We have to give him breaks."
Molina played in 98 of the first 105 games, and the St. Louis Post-Dispatch points out that he played 84 of the first 86 innings coming out of the All-Star break.
It won't be easy for manager Mike Matheny to convince Molina he needs time off now.
"Right now is not the time to rest," Molina told reporters Wednesday. "Right now, my team needs me."
He's right about that. The Cardinals remain a heavy favorite to make the playoffs (95.7 percent, according to the computers at coolstandings.com, or 95.0 percent, if you prefer the computers at baseballprospectus.com). But they're three games behind the Pirates in the NL Central, and very much want to enter the playoffs this year as a division champion, avoiding the one-game wild-card playoff.
With Molina healthy, they have a real chance. Without him, it would have been very tough.
They still would much rather grab the AL East, however

Sale becomes the first AL pitcher to reach 300 strikeouts since 1999

Steve Balboni's long-standing record of 36 has finally fallen
Several players called for the netting to be extended down the base lines following Wednesday's...

Maria made landfall as a Category 4 on Wednesday

The players are trying to do their job and don't want to see anyone hurt