Montero vs. Shoppach said to be source of debate in Seattle
Elements of the front office were said to believe Mariners manager Eric Wedge should be using Jesus Montero more, and Kelly Shoppach less.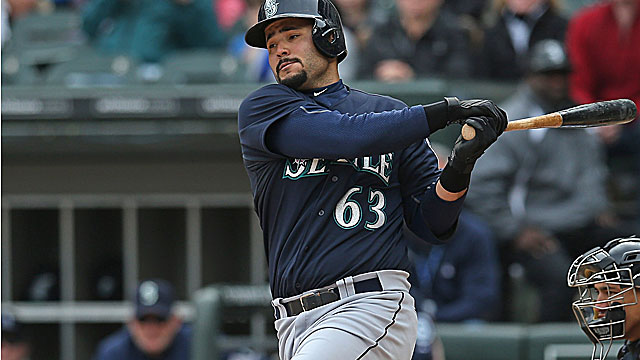 There has been discussion, even disagreement, over the playing time of young Mariners catcher Jesus Montero, with some Seattle front office staff apparently believing manager Eric Wedge should play Montero more, people familiar with the situation said.
This debate is of extra interest since speculation began to swirl about the job status of both Wedge and GM Jack Zduriencik a couple weeks ago -- though the Mariners' recent run of five wins in six games to improve to 14-17 overall could muffle that kind of talk.
Zduriencik, reached by phone, declined to say whether Montero's playing time has been a topic of debate or dispute.
"We talk abut everything all the time. You always have times where the manager and GM discuss things," Zduriencik said.
Others familiar with the Mariners' thinking suspect Wedge may not be enamored with Montero's lapses in concentration and perhaps on some level is more comfortable with Kelly Shoppach, who played for Wedge in Cleveland from 2006-09. Oddly enough, Shoppach was in the middle of a managerial controversy last year when he had a blow-up with Bobby Valentine.
This mini catching controversy may not turn into much, as Montero has played in five of the Mariners' last six games, coincidentally the five games the Mariners won. Montero has been struggling with the bat, which does complicate the situation, and was benched for the entire Angels series before Seattle's recent hot streak. Overall, he has 70 at-bats to 44 for Shoppach.
Zduriencik has helped build the Mariners' superb farm system, but the major-league team has struggled to win -- and score -- the past few years, giving rise to speculation about his job. While the Mariners' future appears to be in excellent hands with big-time prospects -- such as pitchers Taijuan Walker, Danny Hultzen and James Paxton, catcher Mike Zunino and shortstop Nick Franklin -- Mariners bosses surely would like to see success at the major-league level.
Seattle's success hinges in part on winter hitting pickups like Michael Morse, Kendrys Morales and Raul Ibanez, but just as much on young hitters like Dustin Ackley, Justin Smoak and Montero. All three started slow this year, but Ackley and Smoak are beginning to show signs of turning things around.
Montero is still at .200 with two home runs, seven RBI and a disappointing .579 OPS. Shoppach, meanwhile, is hitting .273 and has an .804 OPS.
The bigger issues with Montero have been his catching and throwing. The Mariners envisioned him as a "Mike Napoli type," a great hitter who could catch four or five days a week (and DH the other days). Scouts say he's decent at receiving balls, but is still less than great blocking balls, and of course throwing.
"I think Montero is working his rear end off, really busting his tail to become a catcher," Zduriencik said.
Meantime, Zduriencik, beginning his fifth year in Seattle, is trying not to concern himself with rumors about his status.
"I got a job to do," he said. "The future is bright. We had a good second half, and we had a good spring training. We got off to a slow start ... This organization is in good shape."
The offense is somewhat improved (the Mariners are 23rd of 30 teams with 107 runs and 21st with a .697 OPS), and has been hampered some by injuries; the entire starting outfield has been hobbled; Franklin Gutierrez and Michael Saunders were out and Morse continues to play with a broken pinkie.
Despite their needs, Zduirencik continues to guard against rushing the kids, which is one reason Zunino wasn't promoted off a powerful start (he's slowed a bit and is at .200 with five home runs at Tacoma now). And it's why Franklin still hasn't been promoted, despite tearing up the Pacific Coast League. He's at .356 with three homers and 14 RBI.
The Mariners' offensive productive at shortstop has been consistently awful with slick-fielding Brendan Ryan struggling worse than usual (he's at .141), but if the temptation is there to promote Franklin, it isn't swaying Zduriencik thus far. The GM said, "We're not going to panic. We're going to do the right thing for the organization. That's what we get paid to do.''
The presence of Zunino will likely make the Montero/Shoppach duo a temporary catching complement eventually, anyway. Zunino is the Mariners' top positional prospect, a very high draft choice who has impressed everyone with his hitting and leadership abilities. Zunino is almost surely the Mariners' catcher of the future.
Several players called for the netting to be extended down the base lines following Wednesday's...

Maria made landfall as a Category 4 on Wednesday

The players are trying to do their job and don't want to see anyone hurt
The child is receiving medical attention at an area hospital, the Yankees said in a statem...

Brantley has not played since August 8 due to an ankle injury

Plus the Red Sox can lock down a postseason spot and all you need to know from the world of...