Moore won't win Rookie of the Year, but he had a nice rookie year
Coming off his exciting performances last September and October, Matt Moore was the consensus preseason pick for American League Rookie of the Year. Obviously, he's not going to win. But as Rays manager Joe Maddon said Saturday, Moore has had a fine rookie season.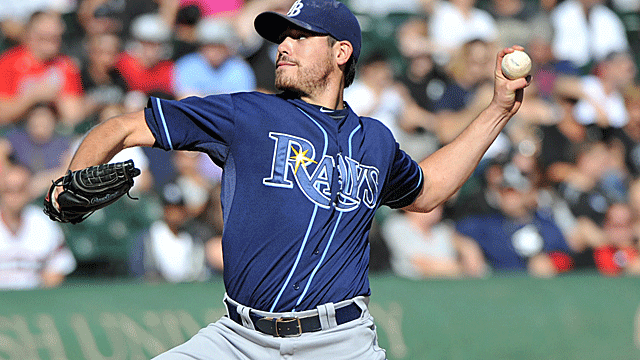 Matt Moore handles the White Sox for his 11th win of the year.
(Getty Images)
CHICAGO -- It seems so obvious now. Mike Trout is the best rookie in the American League, and maybe even the best player.
It seemed so obvious this spring, too.
The bosses asked everyone who had anything to do with baseball to pick an American League Rookie of the Year. Every last one of us -- all eight -- said it would be Matt Moore.
What went wrong?
Perhaps nothing. Moore didn't get hurt, and he didn't have an awful season. He didn't even have a so-so season.
More on Rays, playoff races
Related links
"I think he's had an excellent first year, not just good," Rays manager Joe Maddon said Saturday, after Moore's final start of the regular season. "If he had not done what he did last year, we'd be talking glowingly about him."
Realistically, we still should. Moore just turned 23 in June, and there were times this year he looked every bit as dominating as he did in the short tease we got last September and October.
It happened again Saturday, when he set the first 13 White Sox hitters down in order in what became a 10-4 Rays win.
If this is it (Moore could theoretically make another appearance in relief, and would be in line to start if the Rays need a Game 163 on Thursday), then Moore finishes his first full season with an 11-11 record and a 3.81 ERA. He finishes with nearly a strikeout an inning (175 in 177 1/3 innings).
He struggled in his three starts before Saturday, and even on Saturday, Maddon pulled him after just 77 pitches (and with only one hit allowed) because he noticed a drop in velocity. Maddon and Moore both said with conviction that there is no health issue, and Moore said that there has been no health issue at all this year.
There's no real reason to doubt them, and every reason to believe that Moore has simply gone through what plenty of young pitchers have, the experience of learning how a full big-league season can wear you down.
The same thing seems to have happened to Chris Sale, the White Sox rookie who faced Moore on Saturday. The Sox have tried hard to keep Sale from wearing down, but he looked like a tired pitcher on Saturday.
As Maddon pointed out, Moore's 23-year-old season compares favorably with David Price's 23-year-old season. Price was a September/October sensation just after turning 23, and the next summer his numbers were good but not spectacular (10-7, 4.42, 102 strikeouts in 128 1/3 innings).
Maddon was also raving about another kid Saturday. Chris Archer just turned 24 last week, and he has been impressive in a few appearances this month. Archer is the right-hander the Rays got from the Cubs in the Matt Garza deal.
"This guy's going to be so good," Maddon said.
Rookie of the year, anyone?
Francisco leads the Dominican Winter League with seven home runs

Thome deserves enshrinement and here's why the case against him does not hold up

The Twins have already fortified the bullpen with Addison Reed, and now they want to address...
The Orioles likely want pitching, and the Indians have plenty of it

Halladay died in a November plane crash off the coast of Florida

The power-hitting outfielder is headed to Toronto