Morales seen as increasingly likely to wait to sign until after draft
Top free agent Kendrys Morales (as well as Stephen Drew) could benefit from a post-draft signing since a signing team would no longer have to surrender a draft choice to sign him. And here are a few teams that could make sense for Morales.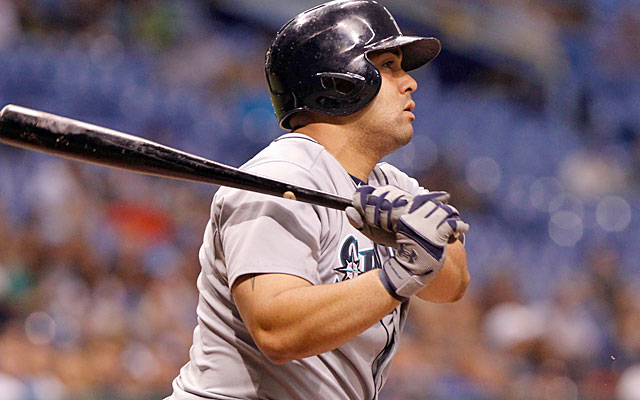 More MLB: Power Rankings | Expert Picks | Latest news & notes | Fantasy news
There is growing speculation among executives and others around baseball that free agent first baseman/DH Kendrys Morales may wait until after the June draft to sign.
Some teams have been in contact with Morales in recent weeks (the Orioles are believed to be one), and while a pre-draft signing is still possible, waiting until after the June 5-7 draft could open the field of interested teams to include some of the many that stand to lose a first-round draft choice should they sign him before the draft. Twenty teams originally stood to lose first-round picks by signing premium free agents, but once the draft is held, a pick would no longer be attached to the signing of a top free agent such as Morales.
While Morales had some talks with teams since the season begun, a wait for Morales does indeed seem more likely as the early June draft draws closer. But, of course, an injury to a current starting first baseman or DH could change the equation.
The attachment of a draft choice has significantly impacted the free agencies of Morales and shortstop Stephen Drew, who also remains available, plus also Nelson Cruz and Ervin Santana, who signed one-year deals during spring training with the Orioles and Braves, respectively. Many teams have shied away from these four stars as they've attached significant values to draft choices.
It's possible a team could try to forge an understanding with Morales and agent Scott Boras now for a post-draft signing, but no agreement made now for a future deal would be enforceable, people familiar with the rules say.
Morales, 30, hit .277 with 23 home runs and 80 RBI for the Mariners in 2013.
At least the Orioles are believed to have engaged in serious talks with Morales in recent weeks, but the Morales market has remained mostly a mystery (as has the market for Drew, who could also wait at this point).
Here are a few teams that could make sense for Morales:
1. Orioles. Baltimore signed top free agents Ubaldo Jimenez and Nelson Cruz late, made a run at Santana and is thought to have had its eye on Morales as recently as the start of the season. It's possible they aborted their talks thanks to Delmon Young's hot start, but Young has cooled a bit (he's down to .306) and combined with David Lough, the combo is hitting .221 together, as the defensively-strong Lough has struggled at the plate, with a six-for-41 start in Baltimore. They clearly have some money socked away, and are going for it. The Orioles already have lost their first- and second-round picks, so they only stand to lose a third-rounder if they sign Morales now.
2. Brewers. Milwaukee owner Mark Attanasio has signed Boras clients Kyle Lohse and Francisco Rodriguez and is extremely believed with the results. Lohse was a late-spring signing last year when Attanasio over-ruled his baseball people and gave up their first-round draft choice. While the Brewers don't want to give up this year's pick, which very likely precluding a pre-draft signing of Morales, they could make sense post draft. Mark Reynolds and Lyle Overbay are currently providing a first-base platoon. While Reynolds has shown his usual power (he has five home runs), he's hitting .197; Overbay is batting .208 early.
3. Mariners. Seattle loved Morales in its lineup and clubhouse but hasn't been unable to work out a deal with him to this point. The Mariners may start to get the idea that there may not be a compensatory draft choice forthcoming for Morales, which could potentially serve as a possible inducement to re-sign him, especially if their offense continues to struggle. Heading into today, the Mariners were second to last in the AL in OPS (.632) and tied for second worst in runs (71.) Also, big free-agent signee Robinson Cano could still benefit from the presence a bona fide cleanup hitter.
4. A's. Oakland is off to a terrific start and probably needs Morales less than the other teams. But GM Billy Beane is known for making unpredictable moves, and there's probably some concern about Josh Reddick, whose struggles have continued into this year. The A's are probably a long shot here, but they could move Brandon Moss to the outfield if they decided to make a play for Morales.
Colon wants to break a Dennis Martinez record

The Twins have been rumored to be interested in Darvish all winter

Rolen is one of the best third basemen of all time, but you wouldn't know it based on this...
Neither Josh Donaldson nor Brian Dozier have talked about a new contract extension

Francisco leads the Dominican Winter League with seven home runs

Thome deserves enshrinement and here's why the case against him does not hold up