More embarrassing: Polanco hitting cleanup or Cedeno starting at SS?
The Astros' opening day shortstop is Ronny Cedeno. The Marlins' opening day cleanup hitter is Placido Polanco. Which is more embarrassing?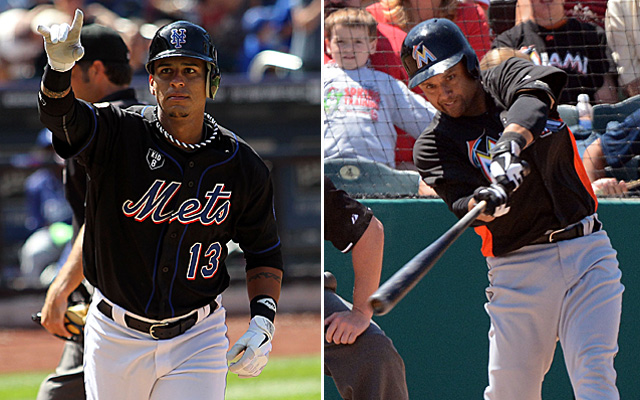 The Houston Astros will make their American League debut on Sunday night against the Texas Rangers. And they'll do so with a lackluster lineup. Most notable for me is Ronny Cedeno being the starting shortstop.
This is the same Ronny Cedeno who sports a career .247/.290/.357 line. And, no, he doesn't make up for it on the base paths. He has stolen 34 bases in 55 attempts in his career. And, no, his defense isn't great, either. His career .970 fielding percentage is a tick below the league-average .972 during his time, and his range has yielded a negative dWAR in four different seasons.
Cedeno is so unappealing that the Cardinals cut him March 19 though he was only vying for a backup job. This was after the Mets had no interest in retaining him as a utility backup.
Equally as laughable, however, is that the Marlins' lineup against Stephen Strasburg and the Nationals on Monday will have Placido Polanco batting fourth. Yes, cleanup. The 37-year-old Polanco hit .257/.302/.327 with two homers in 90 games last season. Carlos Zambrano has a career .388 slugging percentage -- 61 points higher than Polanco had last season!
So, yeah, the Astros and Marlins enter the season as whipping boys for media and fans everywhere. I'm not sure they can live down to the expectations. But for now, I'm left wondering which is more embarrassing -- Polanco at cleanup or Cedeno as a starting shortstop. Let me know in the comments.
The Reds will have the expanded netting in place by Opening Day 2018

The Baltimore third baseman is eligible for free agency following the 2018 season

The clubs breaks ground on Globe Life Field next week
The fan struck at Wednesday's Twins-Yankees game was hospitalized

The Yankees are almost certainly headed to the postseason as a real threat to win the World...

They still would much rather grab the AL East, however