Morris, Raines among Hall of Fame candidates who deserved better
On a stacked ballot, Jack Morris and Tim Raines got a raw deal.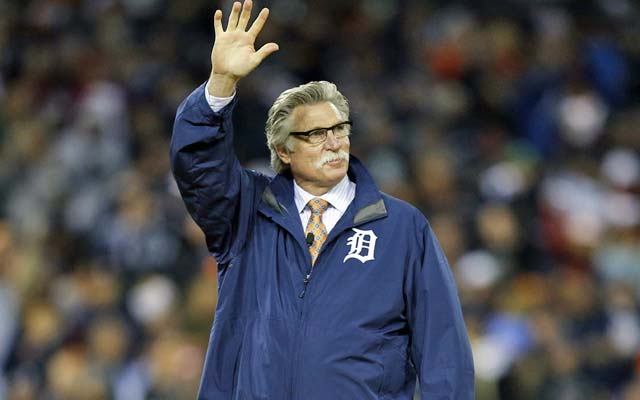 More Hall of Fame: Maddux, Glavine, Thomas voted in | Biggio, Bagwell near-misses
The baseball writers elected three players in Hall of Fame voting for the first time since 1999, with greats Greg Maddux, Tom Glavine and Frank Thomas easily clearing the 75-percent plateau needed for election. But what stands out even more than the selection of three obviously deserving candidates in this year of the packed ballot was the number of excellent candidates (and even great players) who whiffed.
Among the holdovers, only Craig Biggio, who missed election by a heart-breaking two votes, plus Mike Piazza, won a greater percentage of votes this year than last year.
The most shockingly disappointing totals went to all-time greats (and steroid kings) Barry Bonds and Roger Clemens, who received meager support in their first year of eligibility considering their incredible on-field exploits and actually moved down a bit this year. Each barely received more a third of the voting.
But let's not waste any space on these two fellows. They helped themselves via medical means during their glorified playing days to win more accolades, more hardware -- a majority of their combined 15 Cy Youngs and MVPs likely came thanks to performance enhancers -- and surely much more moolah than they would have received had they not transformed themselves into superhuman beings in what should have been the twilights of their careers.
No, it's time now to stump for two guys who got the shaft today. Actually this comes too late for one, Jack Morris, who went off the ballot in his 15th and final try after seeing his support drop to 61 percent from 67 in 2013.
That just isn't right.
The extra-stacked ballot full of PED players who've remained up for consideration, rather than being voted in or out, already hurt all the so-called "borderline" candidates.  But Jack Morris had a double whammy going against him.
The extra attention paid to certain stats, which generally have a decent place and definitely have a real value, very likely quashed any chance Morris had. If there wasn't an internet campaign against him, there was certainly a strong collection of online voices who emphasized a few rather mundane career numbers, such as his 3.90 ERA and 101 ERA-plus, and that had to hurt him.
While Morris' career ERA would have been the highest ever for a Hall of Fame pitcher (Red Ruffing at 3.80 is currently highest) that figure didn't come close to measuring his impact on the game from the late '70s through the early '90s. He's a guy who was the ace of three World Series winners, the very guy selected to start a record-tying 14 Opening Days in addition to being the lead pitcher for three champions.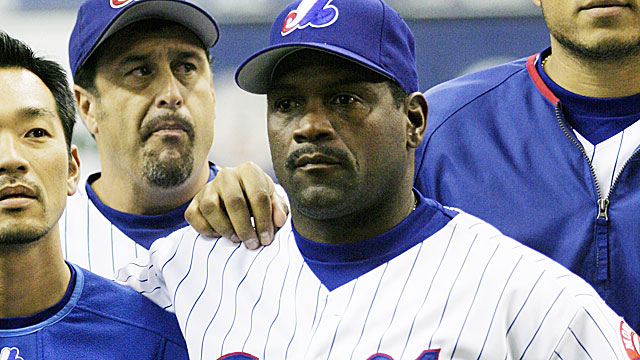 Morris not only was the winningest pitcher of the '80s, he also lasted eight innings in a remarkable 52 percent of his starts over a 14-year period, a testament to his amazing fortitude and perseverance. He is also one of those guys where this saying may prove truest: You had to be there.
A dissection of his numbers in retrospect doesn't do justice to his career, which contained a great decade (the '80s) great years (Cy Young votes in seven seasons) and spectacular moments (considering context, Game 7 of the 1991 World Series was arguably the best-pitched game of the past 50 years). So his impact far exceeded his career totals.
Another player with a major complaint today is Tim Raines, and his shocking loss of the same six percent can't be attributed at all to the internet, the stat guys or the newer stats. He was, quite likely, the victim of the jam-packed ballot.
Raines was surely overshadowed by guys who had bigger stars and in some cases bigger numbers, and this has been the story of Raines from the start. He never seems to get his due.
Part of that is because he wasn't Rickey Henderson as a leadoff hitter. Big deal. Who is?
The other part is that his best years happened to be his first seven, when he played in Montreal, which never got much attention and now obviously doesn't even have a team. His lesser years, when he was a very nice complementary piece, were spent in the media capitals of Chicago and New York. Switch that around and Raines may be a first ballot guy.
Raines was a Hall of Famer for getting on base (.385 career on-base percentage) and stealing base when he got there (his 84.7 steal percentage is the best for anyone with 500 stolen bases). No surprise, his 1,571 runs are good for 53rd all-time, with all above him in the Hall of Fame except Bonds, Biggio, Rafael Palmeiro and three 19th century guys (via Elliott Kalb of the MLB Network). Not only that, but Raines' peak was exceptional. He wasn't just good from 1981-1987; he was quite likely one of the five best players in the game.
Morris and Raines were far from the only two to suffer from the deep ballot as stars such as Lee Smith, Curt Schilling, Fred McGriff, Larry Walker, Don Mattingly and Palmeiro (who was knocked off altogether) also took disheartening slides. With the possible exception of Schilling, who only is in his second year of eligibility, all of the above are very unlikely to ever make it.
There's a lot to digest from one of the most glamorous ballots ever such as ...
1.) Bonds and Clemens, after winning 35 percent of the vote apiece, appear unlikely to ever make it. Both would have to more than double their vote totals to get in, and while the stacked ballot hurt them -- as some surely decided they didn't want to keep a clean player out for a tainted one -- that's a heckuva long way to go. They have no one to blame but themselves.
2.) Lee Smith took the biggest hit, going from just below 50 percent to just below 30. He now has an even longer way to go. He had an excellent and remarkably consistent career, but the rising perception of him as a "specialist" probably hurt him.
3.) Edgar Martinez took a steep cut, from 36 percent to 25 percent, as it was a bad day for some specialists. Thomas, with the 14th highest OPS in history, had no problem clearing the bar as a sometime DH, but an issue for Martinez -- a darling of the stat set -- seems to be an over-reliance on percentages thanks to a  lack of big career numbers. Someone will have to explain to me why he's more deserving than Moises Alou, who got only six votes total (I voted for neither). Save for on-base percentage, their career stats were eerily similar. While Martinez walked a lot more often, Alou ably played the field, was a star in his one World Series (1997) and had just as great in-season impact, if not greater (seven years with MVP votes, with three in the top 10, to five and two for Martinez).
4.) Alan Trammell, Don Mattingly and Fred McGriff don't get as much support as they should. They received 21 percent, 12 percent and eight percent, respectively. On the field, all did more than Martinez in my estimation. I voted for all three.
5.) Palmeiro was knocked out and only has himself to blame. He waved his finger at all of us that day in Congress. Today, you might say, he got the finger, at least in a figurative sense. But his drug failure, not any perceived hubris, is ultimately what did him in.
6.) Piazza improved from 58 percent to 62 percent and Jeff Bagwell slipped from 60 percent to 54 percent. Both would appear to have a strong shot going forward. Theirs are tricky cases, as there is no proof of steroid use. (I'd say the same is true for Sammy Sosa, who only got seven percent of the vote.) But since this isn't a court of law, so many of us (myself included) are deferring their "yes" votes on two big guys who admitted Andro use and took something other than a negative public stance on steroids. With many deferrals presumably becoming "yes" votes eventually, at least Piazza can reasonably be termed as likely to one day make it.
7.) I'd love to know who gave a vote to Armando Benitez, though ultimately it doesn't matter.
8.) Neither do the 16 ballots that didn't include the name of Greg Maddux. A lot was made of Ken Gurnick of MLB.com leaving off Maddux (and everyone else from what he deemed the "steroid era," whether there's suspicion surrounding them or not), but these stray outliers are just the product of a large voting block. If Willie Mays and Mickey Mantle weren't unanimous (and didn't even receive as high a percentage as Maddux), no one should care. Maddux certainly didn't seem to mind.
9.) In the end, the sanctimonious attention seeker who gave his vote to a web site that bashes his own employer only harmed himself.
CBS Sports HQ Daily Newsletter
Get the best highlights and stories - yeah, just the good stuff handpicked by our team to start your day.
Please check the opt-in box to acknowledge that you would like to subscribe.
Thanks for signing up!
Keep an eye on your inbox for the latest sports news.
Sorry!
There was an error processing your subscription.
Altuve has been battling a knee issue since July

The postseason is underway and the World Series starts Oct. 23

SportsLine's Mike McClure, a DFS pro with nearly $2M in winnings, gives optimal lineup adv...
NLCS Game 4 is set for Dodger Stadium on Tuesday

It might feature a game plan similar to Game 1

No player did more with those slim margins for success than Jhoulys Chacin