Most lopsided trade deadline trades of the 2000s
The trade deadline is only five days away, so let's look at back five of the most lopsided deadline deals of the 21st century.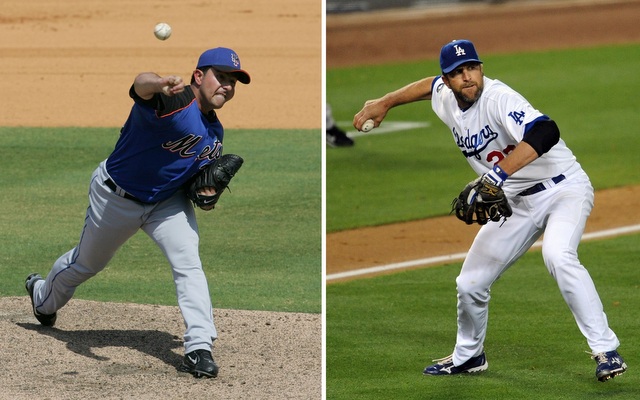 More MLB: Scoreboard | Standings | Probable Pitchers | Sortable Stats | Odds
The 2013 non-waiver trade deadline is next Wednesday, and we've already seen some big names change teams in recent weeks. Matt Garza went to the Texas Rangers and Alfonso Soriano went to the New York Yankees just this week. More than a few players will change addresses in the next few days.
Any time a trade is made, there's a chance it will go horribly wrong for one side and wind up lopsided. It's the nature of the beast. Think Doyle Alexander for John Smoltz, Tom Seaver for Steve Henderson & Co., Mark McGwire to the Cardinals ... the list of one-sided trades goes on and on. There's a good chance some club will swing a lopsided deal very soon.
So, with a few days to go before the deadline, let's take a moment to look back at some of baseball's most lopsided trades of the century. We could go back further of course, but 14 seasons seemed like enough. I'm going to limit this to July trades only given the whole "trade deadline" theme. Early May/June swaps and late waiver August deals get left out.
Here are five of the most lopsided deals since 2000, listed chronologically:
July 23, 2003: Pittsburgh Pirates trade Aramis Ramirez and Kenny Lofton to Chicago Cubs for Jose Hernandez, Bobby Hill and Matt Bruback
Money played a big role in this trade. The Pirates were hemorrhaging cash even though PNC Park had just opened, and the then-25-year-old Ramirez was set to earn a hefty multi-million dollar raise through arbitration. They shipped him and Lofton to Chicago's north side for a package built around Hill, who was ranked as the 48th best prospect in the game by Baseball America in the previous season. He had an 82 OPS+ in parts of three seasons for the Pirates while Aramis raked for the Cubs for the better part of a decade. Lofton was excellent in the second half following the trade as well (120 OPS+).
July 30, 2004: New York Mets trade Scott Kazmir and Jose Diaz to Tampa Bay Rays for Victor Zambrano and Bartolome Fortunato
This one looked bad for the Mets the day it was made. Baseball America had just ranked Kazmir as the 12th best prospect in the game while Zambrano was the proverbial best pitcher on a bad team, going 12-10 with a 4.21 ERA in 2003. He struggled to throw strikes, but Mets pitching coach Rick Peterson infamously said they could fix him in 10 minutes. That never happened. Zambrano made just three starts after the trade due to injury and pitched to a 94 ERA+ in parts of three seasons in New York. Kazmir had a 116 ERA+ as soon as 2005 and ultimately pitched to a 114 ERA+ with two All-Star appearances in parts of six seasons with the Tampa Bay franchise. Yuck.
July 30, 2006: Philadelphia Phillies trade Bobby Abreu and Cory Lidle to Yankees for C.J. Henry, Matt Smith, Carlos Monasterios and Jesus Sanchez
Abreu might be one of the most underrated players of his generation -- he hit .292/.396/.477 (129 OPS+) with 287 homers and 399 stolen bases in his career. The Yankees had lost both Hideki Matsui and Gary Sheffield to injury in 2006, and the Phillies were happy to unload Abreu's big contract. They took four prospects in return, including Henry, who was New York's first round pick in 2005. He never got out of Single-A. Smith and Monasterios had short-lived stints in the big leagues while Sanchez couldn't stick behind the plate and had to convert to a pitcher. He is the only one of the four still active in affiliated baseball, pitching out of the bullpen for the Brewers' Triple-A affiliate. Abreu, meanwhile, put up a 120 OPS+ in parts of three seasons for New York. Lidle had a solid second half before his untimely death the following offseason.
July 31, 2007: Rangers trade Mark Teixeira and Ron Mahay to Atlanta Braves for Elvis Andrus , Jarrod Saltalamacchia , Matt Harrison , Neftali Feliz and Beau Jones
This was a true franchise-altering trade. Teixeira had turned down a nine-figure contract extension offer from Rangers before they decided to move him, getting that package of five players from the Braves. Andrus has become an All-Star shortstop, Feliz an All-Star closer, Harrison a workhorse starter, and Salty a solid starting backstop after being flipped to the Red Sox. That's three above-average to elite players and a great trade chip. Teixeira did put up a 146 OPS+ in just about a full year with Atlanta before they traded him to the Angels for Casey Kotchman and a minor league pitcher at the 2008 deadline. This is the gold standard of veteran-for-prospects trades. They don't work out any better. The Rangers wouldn't be where they are today without it.
July 26, 2008: Los Angeles Dodgers trade Carlos Santana and Jon Meloan to Cleveland Indians for Casey Blake
This trade is still mind-boggling. Blake was a solid player in Cleveland, hitting to a 121 OPS+ before the deal and a 108 OPS+ in parts of six seasons with the Tribe. Santana, then just 22, was in the middle of breakout year at the Single-A level. He hit .323/.431/.563 with 14 homers in 99 games before the trade and was ranked as the 26th best prospect in baseball the following spring by Baseball America. Santana cracked the big league roster for good in 2010 and has since put up a 129 OPS+ in parts of four seasons. Blake, meanwhile, continued to be just solid for the Dodgers (108 OPS+). This isn't a true disaster like the others in the post, but man was it a bad deal for Los Angeles.
Several players called for the netting to be extended down the base lines following Wednesday's...

Maria made landfall as a Category 4 on Wednesday

The players are trying to do their job and don't want to see anyone hurt
The child is receiving medical attention at an area hospital, the Yankees said in a statem...

Brantley has not played since August 8 due to an ankle injury

Plus the Red Sox can lock down a postseason spot and all you need to know from the world of...