Mostly healthy Dodgers will be very tough out in October
The Dodgers have weathered tons of injuries -- and some underperformance -- this season and are still headed to the playoffs. With most of that in the rearview, they appear poised for a huge October.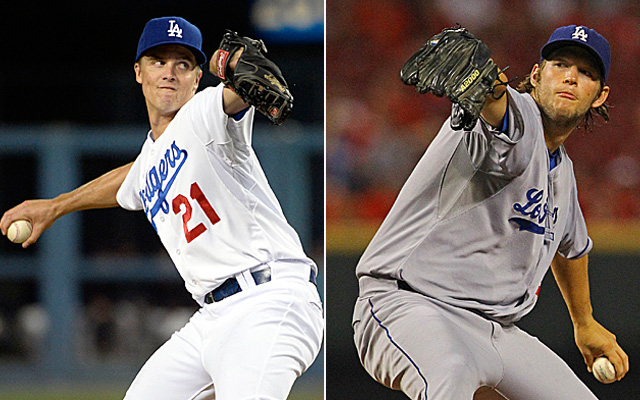 More: Dodgers clinch NL West title, becoming first team in playoffs
After stumbling out to a 30-42 record -- good for last place in the mediocre NL West -- the Los Angeles Dodgers are headed to the playoffs. And they're going to be an awfully tough out if they get there at least relatively healthy.
Consider how few games the Dodgers have gotten from some regulars this season. Carl Crawford has only appeared in 109 games. Hanley Ramirez has appeared in 81. Yasiel Puig has only played in 95 since his promotion. Matt Kemp has been limited to 66. Zack Greinke has only started 26 games, thanks to a broken collarbone. Ricky Nolasco has only made 14 starts since being acquired ahead of the trade deadline.
Consider the underperformance from some key spots. Kemp has been banged up all year and is hitting .274/.328/.394 with only five homers in 265 plate appearances. This is a 28 year old with immense talent. He should have won the 2011 NL MVP and was the best player on the planet in 2012 before his hamstring and shoulder issues limited him (he was hitting .359/.446/.726 with 12 homers and 28 RBI through 34 games). If he works his way back to form by October, you're talking about adding an MVP-caliber player to a first-place team just in time for October.
How about at closer? Brandon League blew four saves before finally being replaced with Kenley Jansen , who has thrived. Since becoming full-time closer, Jansen has saved 24 of 27 chances (he had two saves and one blown save before taking the job). On the season, he sports a 1.95 ERA, 0.86 WHIP and 104 strikeouts in 73 2/3 innings. So he's excellent at missing bats and keeping guys off base. Sounds like a good formula for a closer in October. Not only that, but his cutter has been compared favorably to that of Mariano Rivera . And Rivera has been decent in October during his career, no?
The bridge to Jansen is strong, too. Ronald Belisario has shown flashes of brilliance. J.P. Howell and Paco Rodriguez have been very good. And how about The Beard? Brian Wilson has a 1.08 ERA in 12 outings.
So Jansen and the bridge to Jansen are in good shape. How about the guys who will get the Dodgers to said bridge?
1. Clayton Kershaw . Best pitcher on the planet. No further explanation necessary.
2. Zack Greinke. At 15-3 with a 2.75 ERA and 1.15 WHIP, he'd be considered the ace on many playoff teams. He's the Dodgers second in line.
3. Hyun-jin Ryu. He's 13-7 with a 3.03 ERA (118 ERA+) and 1.20 WHIP. He routinely works into the seventh inning, averaging over 6 1/3 innings per start. That's plenty good for a three.
4. Ricky Nolasco. Since coming to the Dodgers by way of the Marlins, Nolasco is 8-2 with a 3.14 ERA and 1.17 WHIP. He's struggled badly in his past two outings, but his body of work is good and he's only a fourth starter -- so not definitely needed in a five-game series and only needed once in a seven-gamer.
Putting together all the pieces, the Dodgers have everything you need from a roster in order to succeed in October.
Strong rotation? Check.
Strong back-end of the bullpen? Check.
Power? Check -- assuming the likes of Ramirez and Kemp are healthy. And they've both looked pretty solid the past few games.
Bench depth? Check, with Michael Young or Andre Ethier being a good DH options in a possible World Series matchup.
So if the Dodgers can get to October with guys like Kemp, Ramirez and Ethier healthy, this is a scary-good playoff roster. The potential is off the charts. On the day they clinched a playoff berth, I couldn't help but think about it.