Mozeliak on Peralta signing: Cardinals aren't 'moral police'
Cardinals general manager John Mozeliak responded to backlash against signing Jhonny Peralta -- who was suspended for ties to PEDs last season -- by saying the Cardinals aren't the moral police.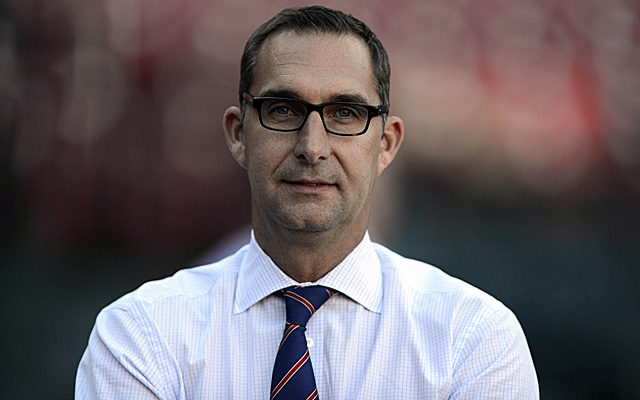 Peralta signs four-year, $52 million deal with St. Louis | Tipping point?
The Cardinals have been  met with some criticism from players, fans and media after inking shortstop Jhonny Peralta to a four-year, $52 million contract this past season. The problem in the minds of the dissenters is that Peralta was seemingly "rewarded" for a season in which he served a 50-game suspension for his ties to PED via the Biogenesis clinic.
As for his side of the story, Cardinals general manager John Mozeliak replied with the following in a press conference Monday morning: "I don't think it's the Cardinals responsibility necessarily to be the moral police on potentially future employment."
More from Mozeliak:
"The shortstop market was one that was not deep in free agents. For us it was really focusing on someone who could hit from the right side, someone who was a steady defensive player, someone who had experience and could fit right in."

--snip--

Character and makeup are something we weigh into our decision-making. In his case, he admitted what he did, he took responsibility for it. I feel like he has paid for his mistakes, and obviously if he were to make another one, then it would be a huge disappointment.
Mozeliak also said that he actually agrees with the sentiment that apparently a 50-game suspension for a first offense doesn't seem to be enough of a deterrent, but apparently he doesn't have a problem playing legally within the rules. That's certainly his right.
He does, however, believe the game is cleaner nowadays than it was in the past.
"I think Major League Baseball has done a great job trying to clean up this game, and I feel like they've taken great steps," he said.
The current MLB collective bargaining agreement is signed through Dec. 1, 2016, so it's possible any changes to the Joint Drug Agreement would have to wait until then, but you never know. Changes to the JDA can be made without amending the CBA, as one might recall that this past January MLB added random, in-season testing for human growth hormone (HGH).
The club is expected to part ways with Collins after the season

Here is a preview of what's on the line Tuesday

Jerry Dipoto will have his hands full
Otani is said to be coming over this offseason, though nothing has been made official yet

What do the Mets need to do to get back to the postseason next year? Well, a lot

This is a two-man race coming down the stretch. Who should win?