M's still may have move to go: Ervin, Ubaldo, Kendrys, Arroyo or Cruz?
Seattle has a little money left and seems to be eying five or six of the best free agents.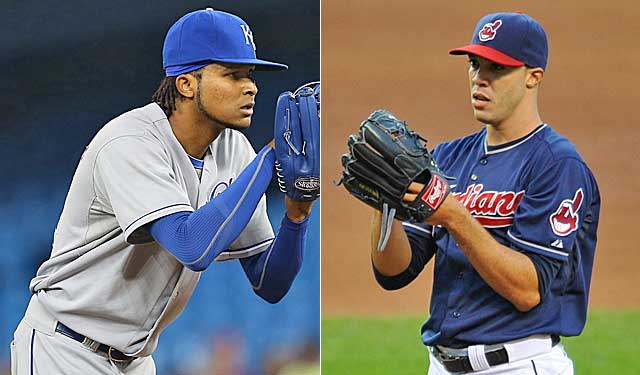 More MLB: FA tracker: position players | FA tracker: pitchers
The Mariners made the biggest deal of the winter, but it appears they may still have room for one more decent-sized move. The Robinson Cano $240 million signing energized a franchise, but the Mariners still have a few holes to fill, so they're still eyeing most of the best remaining free agents.
They haven't jumped in with both feet yet. But they are at least thinking a bout it.
New Mariners president Kevin Mather has suggested that GM Jack Zduriencik could still have a little more financial flexibility, and the team has indeed had discussions with five of the half dozen or so biggest free agents remaining -- pitchers Ervin Santana, Ubaldo Jimenez and Bronson Arroyo, outfielder Nelson Cruz and first baseman/DH Kendrys Morales, who played for Seattle this past year, plus reliever Fernando Rodney. The Mariners are also scouring the trade market with their eye on a possible trades, especially for a veteran starting pitcher -- though there's no hint of resurrecting a David Price trade.
The Mariners entered the off-season looking to bulk up their offense and add a No. 3 starter, so any of those first five free-agent players could fit, though Zduriencik hinted they'd likely be limited to one of the five or six, if that. The budget clearly isn't unlimited. "Sometimes, if a club had one bullet, you've got to figure out where to go with it," Zduriencik said. While he was speaking generally, the remark seems to fit Seattle's circumstance.
There had been an assumption they were close to tapped out after signing star second baseman Cano, then adding two more potential power pieces, outfielder/first baseman Corey Hart and first baseman/DH Logan Morrison, for close to a quarter of a billion dollars (with Cano receiving about 97 percent of that). However, Mather signaled the possibility to spend a bit more. The Mariners have a few ways they could go with it.
It makes sense because the Mariners are trying to stem a four-year losing streak in a very difficult and vastly improved division. While importing Cano was huge for credibility, it's hard to imagine the Mariners winning their division as currently constituted; there still are holes.
Like several other teams (the Blue Jays, Orioles among them), the Mariners have been talking to the top pitchers on the market, waiting to see if they could be comfortable with price tags for Santana, who is the most durable and consistent of the free-agent hurlers in their prime (23 quality starts last year, 59 over the past three years) or Jimenez.
It also was learned the Mariners have talked with Arroyo, too. While Arroyo is thought by some to have a slight preference for the East Coast and spring training in his home state of Florida, he has a connection from his Pittsburgh days to new Mariners manager Lloyd McClendon.
The Mariners have been linked publicly to Cruz, who'd seem to be a fit but has drawn mixed reviews within their front office; he's also a .238 career hitter at Safeco Field. Morales hasn't been mentioned, at least not publicly (lately), but Seattle has continued dialogue with him, even after deals for Hart and Morrison. Mariners people love Morales, not only for his bat (an impressive 23 home runs and 80 RBI considering Safeco is a pitcher park) but his leadership ability as well. Either he or Cruz would make sense as candidates to bat behind their new star Cano, as well.
If they were to re-sign Morales, who received a $14.1 million qualifying offer from them, it would seem to possibly signal the possible expiration of Justin Smoak's tenure in Seattle -- though insiders say Zduriencik remains a fan of Smoak.
The Mariners also were linked earlier to free-agent closer Fernando Rodney, who still is looking for a job.
"I can't tell you we are exactly done," Zduriencik said. "We are exploring avenues. In terms of jumping in on the big guys, that has yet to be determined."
CBS Sports HQ Daily Newsletter
Get the best highlights and stories - yeah, just the good stuff handpicked by our team to start your day.
Please check the opt-in box to acknowledge that you would like to subscribe.
Thanks for signing up!
Keep an eye on your inbox for the latest sports news.
Sorry!
There was an error processing your subscription.
Things got spicy once again between the Giants and the Dodgers outfielder

Keep it right here for all of Tuesday's MLB action

On what should have been ball four, Zobrist was rung up
Let's give it up for Cain, a long underappreciated player who deserves some credit for his...

The Indians have a huge lead in the AL Central, but definitely need Bauer for the postseas...

Shane Baz was the Pirates' first-round pick in 2017