Much ado about Gardy, but smart money says Twins keep him in '14
Longtime Twins manager Ron Gardenhire has a big backer in GM Terry Ryan.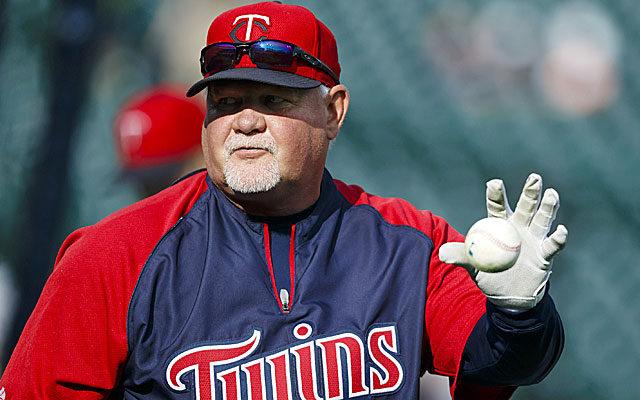 There's been a lot of speculation lately about whether longtime Twins manager Ron Gardenhire might be fired, some of it fueled by the club's recent slide to 39-53, some more of it fueled by esteemed Minneapolis Star-Tribune columnist Patrick Reusse's recent suggestion that maybe it's time to "put him out of his misery."
Folks are figuring that if Reusse's suggesting, maybe someone up high must be suggesting or or even whispering loudly that Gardenhire is about to go.
But that isn't necessarily the case. Reusse very well may believe exactly what he says, which is that Gardy, as he is better known in the Twins Cities and around baseball, deserves not to be suffering anymore. This is the third straight year of Twins suffering following a very nice six-year run by the Twins under Gardenhire, so it isn't necessarily an unreasonable opinion.
But people connected to the team actually are suggesting that there is very little chance Gardenhire won't be asked back next year, basically that he's a safe bet to be asked back even though his contract is up and the team isn't particularly achieving.
Of course the natural assumption is to wonder whether these Twins-connected people may just be trying to defuse the current situation. The Twins are a team that hates speculation as much as it likes stability, so maybe they just don't want folks surmising about Gardy's future.
I don't think that's it.
Here are the reasons Gardenhire will very likely be invited back next year:
1) As I said, the Twins relish stability. As Reusse pointed out, the last manager they fired was Ray Miller in 1986. Part of that is because they had the great Tom Kelly for a long time. But the other part of that is, they don't like change.
2) The Twins have some big prospects coming fairly soon, including two of the very best in all of baseball, multitalented outfielder Byron Buxton and slugging third baseman Miguel Sano, and upper management believes Gardenhire is well-equipped to handle those big-time young talents.
3) The Twins-owning Pohlad brothers, Jim and Bob, are said very likely to leave the final call up to general manager Terry Ryan, which is a great idea since Ryan is one of the best baseball people going. Not only that but Ryan is beloved by Twins upper management. He's the perfectly stable type for their stable team.
Ryan, a well-known Gardenhire backer, expressed support publicly for Gardenhire right after Reusse's article appeared. The GM was slated to fly to New York for the Futures Game anyway, so he came in a couple of days early to give Gardenhire a pat on the back, to tell him he's behind him, and also to tell the media that he remains behind him.
4) Even if it isn't all Ryan's call, there's no evidence the Pohlads are itching to be rid of Gardy, or even that they aren't particularly Gardy fans. "He's in good graces with the Twins owners,'' one Twins-connected person said about Gardenhire.
So in other words, we have all wasted a lot of time and type speculating about a job that is in reality about as safe as they come. Is this a guarantee he'll be back? No, not quite. Twins decision makers are sure to discuss all sorts of things if their slide doesn't stop, and that includes Gardenhire's fate.
But discussing and firing are two different things.
Twins upper management believes the team is a bit better than it's showing, but it also understood this was not a year for contention. In other words, they are going to be reasonable about things. Probably more than reasonable.
That's the Twins way. Has been forever.
Marcell Ozuna figures to be the next Marlins star on the move

Several relievers have signed in the last two days

Several teams are interested in the switch-hitting first baseman
Neshek and the Phillies are closing on a two-year contract

And the team that first drafted Cole is interested

This scout was SUPER into Jeter