Must-Read: Breaking down Max Scherzer's escape job in Game 4
Max Scherzer's eighth inning escape job in ALDS Game 4 helped save the Tigers' season. Baseball Nation put together a must-read breakdown of how he did it.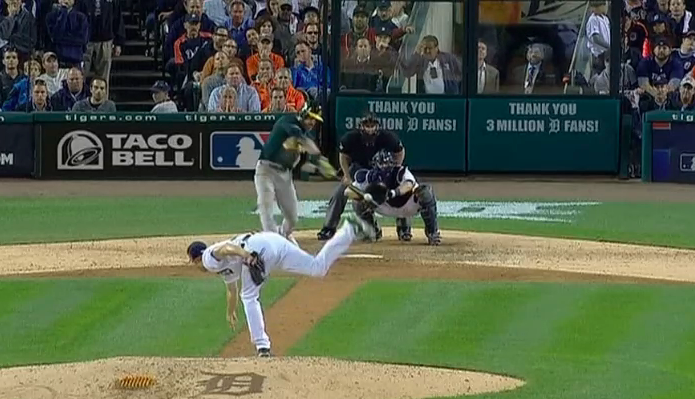 More ALDS: Game 4 recap | Game 4 quick hits | Who has the edge?
The Tigers avoided elimination with an 8-6 win over the Athletics in Game 4 of the ALDS on Tuesday afternoon, but they were dangerously close (on several occasions) to having the game change dramatically in favor of Oakland. The win required timely hitting and clutch pitching, especially from staff ace-turned-setup man Max Scherzer.
Manager Jim Leyland used his Game 1 starter out of the bullpen -- a move made easier by having Justin Verlander in reserve for a potential Game 5 -- because, frankly, he's a much better option than his middle relievers. Scherzer entered a tie game in the seventh and allowed a run to give the Athletics a 4-3 lead, but his offense battled back and handed him a 5-4 lead in the eighth.
Scherzer loaded the bases on a walk, a double and an intentional walk with zero outs in that eighth inning. According to Baseball Prospectus, the A's would be expected to score more than two runs after having the bases loaded with no outs. Almost anything, including a ground ball double play, ties the game. Almost anything except a strikeout, however.
The likely AL Cy Young Award winner escaped the massive jam without allowing a run thanks to two strikeouts (Josh Reddick and Stephen Vogt) and a line out to center (Alberto Callaspo). The Tigers went on to tack on some insurance runs and survive another Athletics rally in the ninth to finish off the win and force a Game 5, but Scherzer's escape job was the critical moment of the game (and the series).
Over at Baseball Nation, Grant Brisbee broke down all 17 pitches Scherzer used to record those three outs with the bases loaded, complete with screen shots of each pitch. You get to see both the brilliance and overpowering dominance of Scherzer as well as a look at just how close he was to total disaster. For an example, see the pitch at the top of this post.
Brisbee is one of the very best baseball writers out there and his breakdown of Scherzer's inning gets EOB's highest level of recommendation. Check it out.
The Red Sox and Cardinals are expected to make trade offers next

The free agent first baseman may be a fit in St. Louis

The front office changes in Atlanta continue
The Marlins are more likely than you think on our list

Judge finished a distant second in the balloting and he paid respect to the winner

Stanton just won the 2017 NL MVP award but could wind up being dealt this offseason