National League Cy Young watch: R.A. Dickey leads the pack
Johnny Cueto has lost his last two starts, paving the way for R.A. Dickey to take over the lead in the National League Cy Young Award race. Gio Gonzalez, on the other hand, is entering the conversation.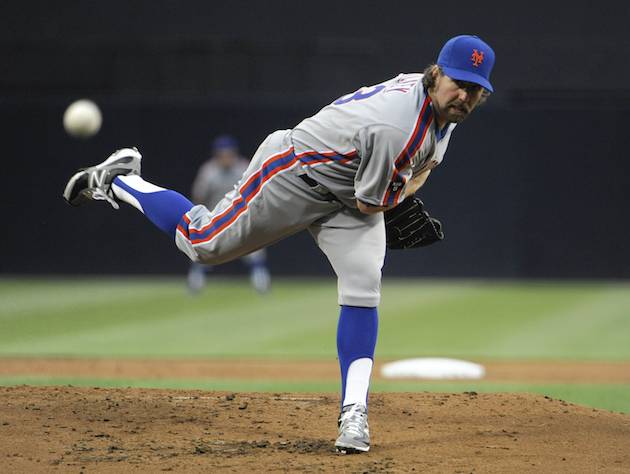 R.A. Dickey has a chance to be the first knuckleballer to win a Cy Young. (Getty Images)
As the Eye on Baseball crew continues its look at the major award races, we've checked out the MVP races, so now we're on to the Cy Young race. First up, the National League's best pitchers. And, remember, once again this is for entertainment purposes only. We're not saying this is where our votes would be cast if we had them, just how the chips are likely to fall.
Frontrunner
R.A. Dickey, Mets: With a shot at his 19th victory on Tuesday, the award might be the knuckleballer's to lose as we head into the final weeks of the season. Sporting an 18-4 record and a 2.64 ERA, Dickey's biggest hurdle might be his teammates -- because the Mets aren't in contention, some voters might punish him since he's "not pitching for anything." Everything else -- his numbers, his story, his pitch and the city where he plays -- seems to be going in his favor.
Stock rising
Gio Gonzalez, Nationals: Gonzalez became the first pitcher in the big leagues to win 19 games and he has a very good chance to win 20 games -- and any 20-game winner, especially in this day and age, will get Cy Young votes. With a 2.93 ERA, he is a stabilizing force in his first season in Washington, D.C., and he's certainly deserving.
More from Eye on Baseball
Status Quo
Craig Kimbrel, Braves: He's still dominating and he's still a reliever, so nothing's changed. Kimbrel is striking out an astounding 16.54 batters per nine innings. Some voters won't vote for a reliever, regardless of their performance. Kimbrel certainly could challenge that belief because he's been as dominating as a pitcher can be.
Clayton Kershaw, Dodgers: Since allowing eight runs in a loss to the Cardinals on July 24, Kershaw has gone 5-2 with a 1.97 ERA in eight starts. Overall, he's 12-8 with a 2.79 ERA. Kershaw has a chance to boost his standing in the stretch run, beginning Tuesday against the Diamondbacks. He was skipped on Sunday, so his health will be an issue down the stretch.
Matt Cain, Giants: Cain's 13-5 record and 2.96 ERA puts him in the discussion, if not at the forefront of the conversation. 
Stock falling
Johnny Cueto, Reds: The last time we checked in on the Cy Young, it looked as if Cueto could edge Dickey. Since then, he's lost his last two starts, including an ugly loss to the lowly Astros on Sunday. Cueto has surrendered the ERA lead after allowing four runs in seven innings to the Phillies and four runs in four innings to the Astros. At 17-8 with a 2.71 ERA, he's by no means out of the race but he's just given up the driver's seat.
Aroldis Chapman, Reds: He's looked human in his last couple of outings, something that's understandable because he is indeed human. On Friday, Chapman blew his first save in 28 appearances -- to the Astros. What's odd is that his last blown save was against the Twins. Chapman returned to the mound Monday, but was pulled after walking three batters in just 2/3 of an inning.
Stephen Strasburg, Nationals: You might not have heard, but the Nationals have shut down their 24-year-old ace. He finished the season 15-6 with a 3.16 ERA but struggled in two of his last three outings. The Marlins put up five runs in three innings in Strasburg's last start of the season and also got to him for seven runs (five earned) on Aug. 28. 
For more baseball news, rumors and analysis, follow @EyeOnBaseball on Twitter, subscribe to the RSS feed and "like" us on Facebook.
Marcell Ozuna figures to be the next Marlins star on the move

Several relievers have signed in the last two days

Several teams are interested in the switch-hitting first baseman
Neshek and the Phillies are closing on a two-year contract

And the team that first drafted Cole is interested

This scout was SUPER into Jeter