Nationals managerial candidates becoming clearer
There are a few more names added to the Nationals managerial wish list, but it sounds like that list isn't likely to keep growing.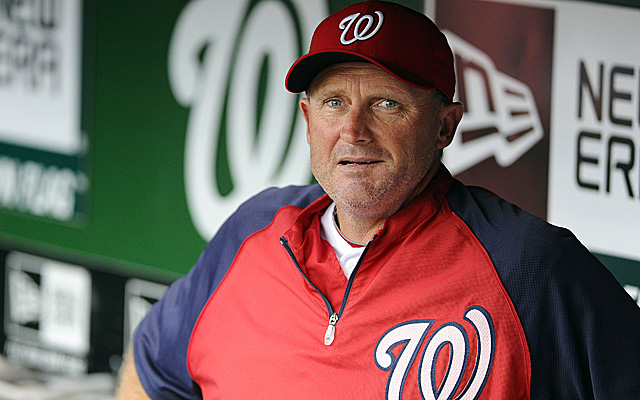 With former manager Davey Johnson having retired from his post, as expected, the Washington Nationals are looking for a new skipper. They are currently in their first round of interviews.
As previously reported here on CBSSports.com by Jon Heyman and Danny Knobler, among the candidates are Nationals bench coach Randy Knorr, Diamondbacks third base coach Matt Williams and maybe even Cal Ripken.
From washingtonpost.com Thursday also come the names of Nationals third base coach Trent Jewett and former big-league catcher Brad Ausmus -- who currently works in the Padres front office.
That report mentions that the Nationals will have a second round of interviews with the top candidates before making a decision.
Knorr, 44, has lots of minor-league managerial experience and has been the Nationals bench coach for the past two seasons. He served as a backup catcher for 11 big-league seasons, and those guys are generally pretty cerebral.
Speaking of smart catchers, Ausmus, 44, has no managerial experience but that doesn't mean he can't thrive. Joe Girardi and Mike Matheny are two successful managers who recently took their first managerial job with little-to-no experience. Like Girardi and Matheny, Ausmus had an excellent reputation of working well with pitchers during his playing days. He survived 18 years in the majors as a poor hitter for a reason.
Jewett, 49, would be familiar for the Nationals, as he's been a base coach (first at first base and then to third after Bo Porter took the Astros manager job) since the middle of 2010. He was a minor-league catcher and then served as a Triple-A manager in the Pirates system from 2005-08.
Williams, 47, was the Diamondbacks first-base coach in 2010 and has been third-base coach since 2011.
As for Ripken, the 53-year-old Hall of Famer is currently a broadcaster for TBS. He has no real coaching experience, but obviously is a quality baseball mind. His father managed the Orioles for 169 games in 1985, 1987-88.
From the sounds of things, the next Nationals manager will come from this group.
The Indians pitching coach would be getting his first MLB managerial job

In the last several years, lots of droughts have ended in MLB

The most likely scenarios are Dodgers winning in five or six games
Despite a seven-game ALCS, the Houston rotation lines up nicely for the World Series

Sabathia and the Yankees are a perfect fit for each other

Bregman threw out Greg Bird at the plate to preserve the Astros' lead