Nationals pound Mets, win EOB Heavyweight Championship
We have a new Eye On Baseball Heavyweight Champion: The Washington Nationals.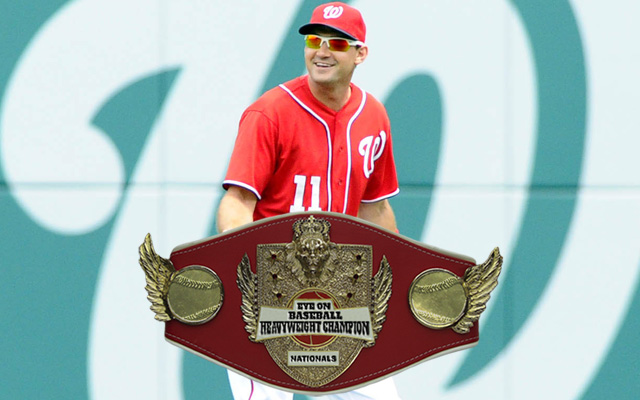 More MLB: Scoreboard | Standings | Probable Pitchers | Sortable Stats | Odds
The Washington Nationals are now a two-time Eye on Baseball Heavyweight Champion. Or in true Booker T. fashion, two-time, TWO-TIME Heavyweight Champions.
[Obligatory aside: This isn't for everyone, but lots of people have told us they love it. We think it's fun, too, so we're not going to stop. If you hate it, kindly look elsewhere on our blog. There's stuff for baseball fans of all persuasions.]
Anyway ...
The Mets brought the belt into Washington for the weekend and struck first with an 11-0 drubbing of the Nats. But Washington went on to win the final three games of the series with a combined score of 20-3 -- thanks mostly to Sunday's 14-1 bloodbath.
And with that, the championship has changed hands again.
For those in the dark, here's what we're talking about:
Since the concept of championship belts is cool in boxing, MMA and sports entertainment (aka pro wrestling), the Eye on Baseball team has decided to create a Heavyweight Championship belt for the 2013 season.

As the defending World Series champions, the Giants entered the season with the strap. From there, here are our rules.

1. A team must win a series from the champion to take the belt. One game isn't going to cut it, considering it's a 162-game season and teams all view the season in terms of series.

2. If the belt-holder splits a series (two- or four-game series), it retains. Much like on a draw in boxing or a count-out situation in pro wrestling, you don't get the belt unless you actually beat the champion. A tie isn't good enough.

3. If, at the end of the regular season, the belt-holder does not make the playoffs -- and due to the dynamics of this thing, that scenario is entirely plausible -- said team will be stripped of the title for not qualifying for the postseason. Then the winner of the playoffs -- the World Series -- takes the belt and the title into the offseason.
And here's how we got here: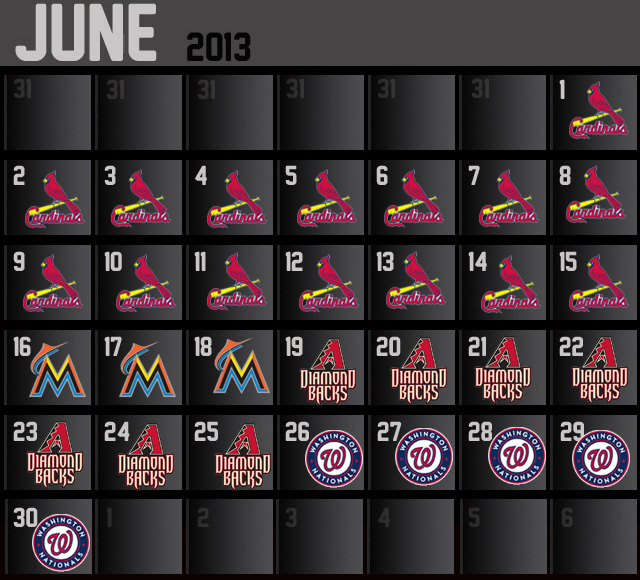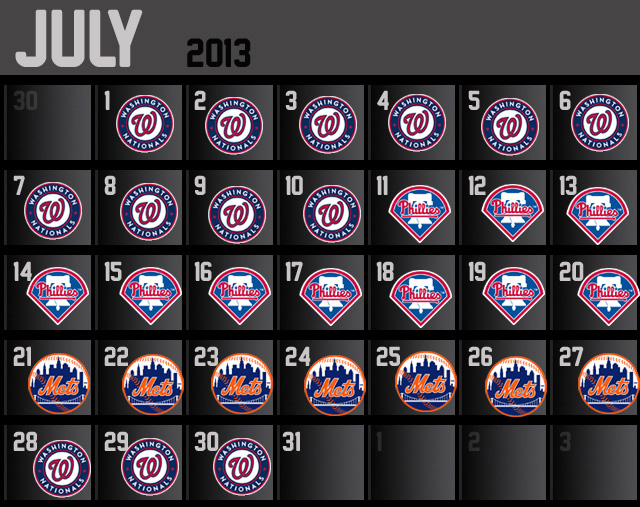 Unfortunately, the American League hasn't held the belt at all this season. With year-long interleague play, we figured there would be chances to switch leagues.
And there is one this week. The Nationals travel to Detroit to face the Tigers for a two-gamer Tuesday and Wednesday. With the rules we have in place, the Tigers must sweep the Nats in order to take the title, but it's only two games and entirely possible. We'll see.
We'll be back Wednesday night.