Nats' Frandsen says Rendon is 'the best young guy we have, by far'
Controversy in Washington? Kevin Frandsen said Anthony Rendon, not Bryce Harper, is the Nationals' best young player.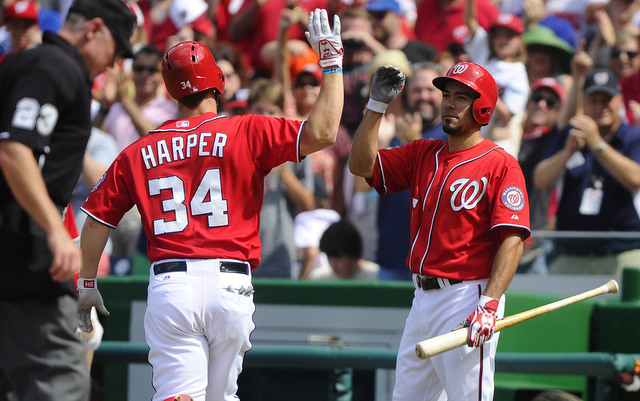 More MLB: Power Rankings | Expert Picks | Latest news & notes | Fantasy news
Thanks to all the high draft picks that came out of the lean years from 2005-10, the Nationals are blessed with several of the game's best and most exciting young players. They have Stephen Strasburg, Bryce Harper and Anthony Rendon, three players any team would love to build their franchise around.
During a radio interview with 106.7 The Fan on Wednesday, Nats utility man Kevin Frandsen was asked which one of his teammates impressed him the most. His response, courtesy of CBS DC:
"Rendon," Frandsen said. "Without a doubt."

"He is as impressive as any young player; in all honesty, he's the best young guy we have. By far," he said. "I don't think there's anyone in the same sentence as him, as far as young guys."
On just about any other team, that's the obvious answer. This isn't any other team though. What about Harper? Is he really "not in the same sentence" as Rendon? Frandsen made sure to say he would take Rendon over Harper when asked a follow-up:
"Absolutely," Frandsen said. "I would say that, because, this is a personal opinion, and watching it, and Tony, ah man, that is one of the coolest swings I've seen. And especially for, what is he, 23, 24-years-old?
Frandsen goes on to detail exactly what he likes about Rendon, specifically his power, the way he stays inside the ball, and his near-seamless transition from third base to second base (and back to third).
It's clear Frandsen was heaping praise on Rendon more than he was taking a shot at Harper, but this is the internet, and we need to get outraged about something. Rendon is two and a half years older than Harper, and he was still in college when he was Harper's age, not the owner of a 125 OPS+ with 43 career home runs in the show.
Rendon is awesome. Great young player. He's wowing everyone with a 133 OPS+ so far this year. And yet, there were more than a few people who considered Harper a disappointment when he had a 135 OPS+ last season. You can't even play the injury card either, Rendon has a history of major ankle problems. Both left and right.
Right now, on this very date, Rendon's the better player. Now imagine what Harper will do when he's Rendon's age.
The Twins need help in the rotation, and they may look to the trade market to find arms

Here are the bullet-points of what went down Tuesday regarding MLB and the Braves' punishm...

The owners need to ratify on the new system in place, but the takeaway here is Ohtani is coming...
A preliminary report National Transportation Safety Board has shined some light on details...

John Coppolella was placed on the permanently ineligible list by MLB on Tuesday

Among other sanctions, Atlanta lost the player who was deemed the No. 1 international signing...