Nats star SS Desmond turned down very long contract offer in winter
Ian Desmond is said to have been presented with a deal for at least six or seven years an upwards of $90 million.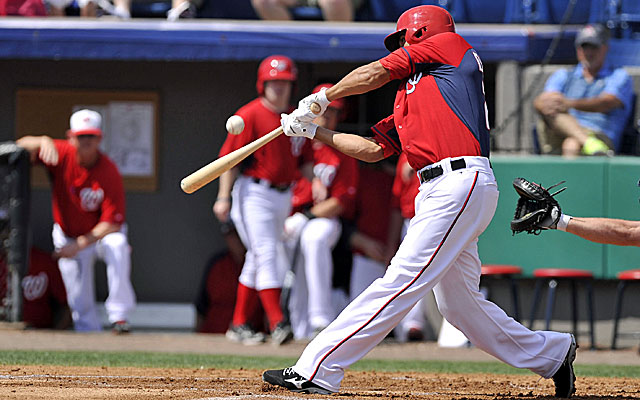 MORE: Spring Training | Scoreboard | Team previews | Jon Heyman
The Washington Nationals proposed a multiyear contract to star shortstop Ian Desmond, believed to be for about $90 million, that Desmond turned down sometime during the winter, sources say.
The offer was thought to be for up to seven years, which would have covered two arbitration years and five free-agent years, but was said to have been for at least six years. Two sources pegged the offer at $80 million to $90 million, at least.
Desmond's agent, Ryan Gleichowski, didn't return messages, nor did Nationals general manager Mike Rizzo.
The Nationals have done a terrific job in drafting and acquiring great young players, but they could have a logjam of contract issues they still need to address related to star young players, including also Jordan Zimmermann, then later Bryce Harper and Stephen Strasburg.
When Desmond opted not to sign the very long deal, he and the Nats reached agreement on a two-year, $17.5-milion deal that covered both arbitration years.
On the surface, the offer may not sound bad at all, and it isn't known why Desmond didn't sign the deal, but it's interesting to note that the Rangers' Elvis Andrus, who had similar service time at the time of his deal, received a $120-million, eight-year deal that included a player opt-out clause. Desmond has much more power and is a very good defender, though it's tough to top Andrus defensively.
Desmond hit .280 with 20 home runs and 80 RBI in 2012 in winning his second straight Silver Slugger award. Desmond, 28, also has been an All-Star.
The Yankees trailed by four going to the bottom of the seventh and still won

The Yankees rookie was caught stealing vs. the Astros in Game 4 of the ALCS, but he took the...
The Cubs are facing a right-handed starter for the first time in the NLCS

The Red Sox should probably just lay low on Twitter for a while

The Yankees have lacked production out of the DH spot so far in the postseason