Need a manager? As WBC shows, Meulens deserves a chance
The Netherlands' success in the World Baseball Classic has helped baseball in that country. It should also help Dutch manager Hensley Meulens, who hopes it will lead to an opportunity to manage in the big leagues. Meulens, the Giants' hitting coach, has led the Dutch into Monday night's semifinal against the Dominican Republic.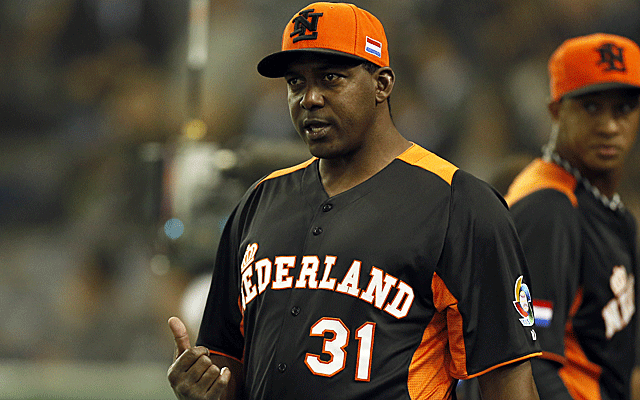 The success of the Dutch team should put Hensley Meulens on a few short lists for MLB managerial jobs.
(Getty Images)
SAN FRANCISCO -- They keep telling us what the World Baseball Classic can do for the game.
Here's my question: What will it do for Hensley Meulens?
It should help put the Giants' hitting coach on a few short lists, for the next few teams looking for a manager. It should get all of us thinking about the guy who has led the Netherlands into baseball's Final Four.
Meulens' Dutch team will play the Dominican Republic in Monday night's second WBC semifinal. He'll manage a big game in a big-league ballpark, the same park in which his work as a coach has helped the Giants win two of the last three World Series.
More on WBC
Related links
"Hopefully, I get to do it at the big-league level," the 45-year-old Meulens said.
For now, he's helping baseball develop in his country. Meulens is from Curacao, as are many of his players. And when they speak of their "country," they mean both the island in the Caribbean and the homeland back in Europe. Baseball is much bigger in the island, but the Dutch team's success in the WBC is leading to gains in Holland, too.
Monday night's game will be shown live on Nederland 1, the country's top over-the-air television channel (so, yes, it'll be easier to find the game on TV in Amsterdam than it will in New York or Los Angeles).
Robert Eenhoorn, the ex-big league player who heads the Dutch baseball federation, speaks with admiration about the work that Meulens has done. Meulens spent quite a bit of his winter helping put together the team, and Eenhoorn said Meulens' sterling reputation within the game and the Dutch baseball community helped attract players (and helped convince big-league organizations to let their players join the team).
"He deserves a lot of credit for the team we have," Eenhoorn said.
Meulens' team didn't have the easiest route to the WBC championship round. The Dutch team began training in Arizona in mid-February, then had to travel to Taiwan for the first round, to Japan for the second round and back to Arizona for exhibition games before arriving in San Francisco late Friday night.
As pitching coach Bert Blyleven tweeted Monday morning, the Dutch team flew more than 15,000 miles.
Now, in a way, they're home. Or at least Meulens is.
He has been the Giants' hitting coach for the last three years, showing up at AT&T Park and putting on an orange-and-black uniform, just as he'll do with the Netherlands. He has become popular with the Giants players, who are rooting for him this week and who believe he can someday become a successful big-league manager, too.
"Why not?" Marco Scutaro asked. "He's a very smart guy, a baseball guy. There's no reason he can't manage."
When the Dutch team was in Arizona last week, Meulens stopped by the Giants' spring training clubhouse in Scottsdale. He said he told Giants manager Bruce Bochy that he has new respect for Bochy's job.
"There's a lot of stuff involved," Meulens said. "It's not just standing in the dugout directing the game. You get called every five minutes for something."
Those who know Meulens believe he can handle it. They cite the relationships that he already develops with players and even the five languages that he can speak fluently.
"I think [managing] is in his future if that's the way he wants to go," Blyleven said. "He's done a great job here. He always tries to find a positive out of a negative."
Right now for the Dutch, there aren't many negatives. They've already outperformed others' expectations, although they'd need two more wins to accomplish their own goal of winning it all.
No matter what, this tournament has helped them, just as it was designed to do.
Now, will it help Meulens, too?
It should.
A beardless Wilson says that he tried to outrun the police on the second day he had his driver's...

The Diamondbacks outfielder was not impaired, he was just going way too fast

MLB can unilaterally implement rule changes, which will also include limits on mound visit...
If the MLBPA wants to fix MLB's economic system, it should push for more money for young p...

Fans aren't happy Gerrit Cole and Andrew McCutchen have been traded away

Acuna is arguably the best prospect in baseball