Need to track offseason workouts? The Astros have an app for that
The Astros have developed an app that both helps their players and allows the team to keep tabs on offseason workouts.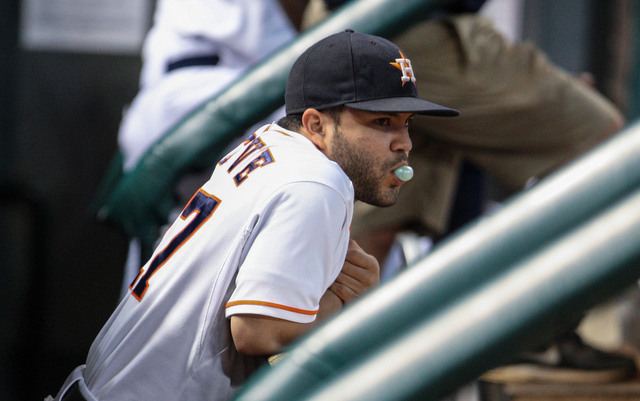 In big league clubhouses, iPads and tablets are as common as buckets of chewing gum. Players use them for everything from watching movies to reading books to looking at video of that night's starting pitcher to checking the day's schedule. They aren't so much a luxury as they are a necessity at this point.
The Astros have made these devices even more useful by developing an app that allows the club to monitor each player's offseason workout. It was developed by Ryan Hallahan, the team's senior technical architect, with input from organizational strength and conditioning coaches Jake Beiting, Brendan Verner and Alex Pounds. MLB.com's Brian McTaggart has more:
Each player is given his personal login formation for the app, which comes in English and Spanish. From there, the players can access a calendar that is color-coded based on what they are going to do that day. The team's offseason workout regimen began Monday and includes basic circuit training three days a week and cardio activities.

...

Players who train in other cities or even other countries can access the app and make sure they are keeping up with what is going on in Houston. The app features the names of the exercises and how many reps and sets players should do on a specific day.

If a player wants to see the proper way to do a workout, he can click on a link that will call up a video demonstrating the routine. The players can then log their information into the app so the strength and conditioning staff can keep tabs on them.

"When we get later in the offseason, there's more stuff that gets added in," Beiting said. "There will be days guys are going to have warm-ups, speed work, lifting. That will all be laid out for them."
The Astros are not the first team to use modern technology to monitor their players during the offseason, but their app is revolutionary because it's so easy to use and it allows the training staff to track progress directly.
It's only a matter of time before every team has a similar app to monitor their players. The next team will make theirs better, the next team after that will make theirs even better than that, so on and so on. Given all the technology available today, teams will continue to roll out new features to help their players train and prepare for the season.
Neither Josh Donaldson nor Brian Dozier have talked about a new contract extension

Francisco leads the Dominican Winter League with seven home runs

Thome deserves enshrinement and here's why the case against him does not hold up
The Twins have already fortified the bullpen with Addison Reed, and now they want to address...

The Orioles likely want pitching, and the Indians have plenty of it

Halladay died in a November plane crash off the coast of Florida