New Cubs manager Rick Renteria interviewed for jobs in sweatpants
Thanks to a recent hip surgery, clubs had to travel to interview ex-Padres bench coach Rick Renteria at his home about their managerial openings.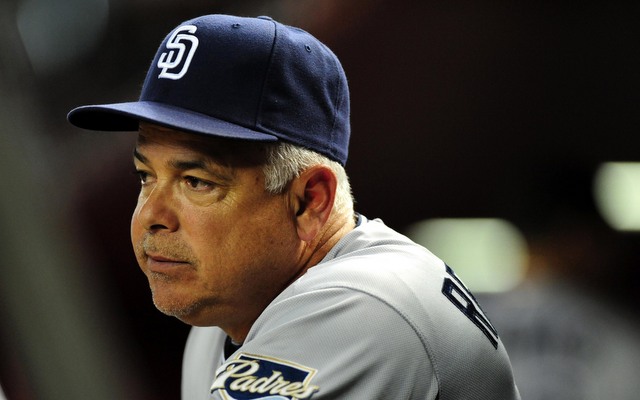 A little less than two weeks ago, the Cubs named Padres bench coach Rick Renteria their new manager. The club reportedly sought someone who could help their young players develop at the big league level, something that did not happen under previous skipper Dale Sveum. Renteria's impressive interview convinced Chicago's brass he was their guy.
The interview was so impressive, in fact, that the Cubs hired him even though he was wearing sweatpants.
Alas, Renteria did not wear sweatpants because he is a man dedicated to comfort and leisure. He had a legitimate reason for the informal attire: he had just undergone hip replacement surgery after years of putting it off. Corey Brock of MLB.com has the details:
Unable to travel for six weeks after the surgery, Renteria didn't have to pull his best suit from his closet, pack and bag and jump on a plane to interview with the Cubs, Mariners and Tigers.

Instead, all three teams came to him.

"The funny thing is, I didn't actually know," Renteria said. "I got a call the day I was going into surgery. I spoke with [Padres general manager Josh Byrnes] and he said the Cubs were interested in interviewing me for the position.

"I then talked to Jed and I told him I couldn't travel for six weeks. And he said maybe they could come out to see me."

That ignited a whirlwind month for Renteria, as the Cubs came for the first of three meetings. Then, it was the Tigers and Mariners. Team presidents, general managers and other front-office folks, all in his home while Renteria hobbled around with the use of his trusty walker.
Renteria interviewed for the jobs while his wife Ilene got everyone lunch. The Cubs visited him twice, the Mariners and Tigers once apiece. Cubbies GM Jed Hoyer and president of baseball operations Theo Epstein flew out to California a third time to formally offer Renteria the job.
"They started talking about the philosophy of the organization and the direction they want to go, then Jed said that before they went any further, they wanted to extend an offer to me," Renteria said.

Stunned, Renteria called upstairs where his wife Ilene was. The two have been married since 1983 but have been together for over 36 years. They have four children, including three boys.

Renteria wanted to share this moment with Ilene. Epstein and Hoyer politely left the room as they did so and Renteria and his wife embraced.

"It's been a long road," said Renteria, who has been in professional baseball since 1980. "The spouses of pro athletes go through a lot. She deserved to be there."
Pretty awesome. Congrats to Renteria for landing his first managerial gig and for finally getting that hip repaired. I can't imagine he could have asked for a better offseason.