Next player to 500 homers might be Adam Dunn
With 443 homers at age 34, Adam Dunn very well might be the next player to reach 500 homers. Sounds weird, doesn't it?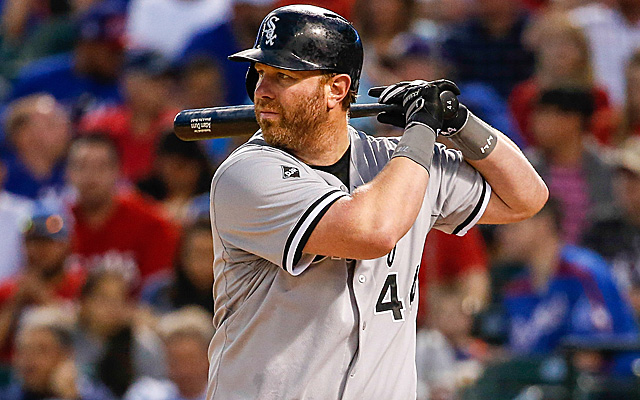 More: Pujols hits No. 500 | Pujols' ranks among 500 Club | Growth of 500 Club

Angels slugger Albert Pujols joined the 500 Home Run Club when he went yard twice Tuesday night. He's now the 26th man in baseball history to have hit at least 500 career homers in Major League Baseball. After a huge boom in the previous decade, Pujols was the first man to hit his 500th career jack in just over five years. Still, he won't be the last player to reach the illustrious plateau, so the natural question is who might be next?
It very well might be Adam Dunn.
Dunn trails only Alex Rodriguez (if we even count him) and Pujols on the active home run list. He's hit 443 in his career. He's getting up there in age, but at age 34, he could stave off a massive decline here for another few seasons. Can he hit 57 homers by the end of 2015? It's entirely possible. Dunn combined to hit 75 homers in 2012-13. [UPDATE: Dunn hit No. 444 in his career Tuesday night, seconds after I posted this]
Now, many will scoff when Dunn's name is mentioned with the 500 home-run level due to his reputation (low batting average and lots of strikeouts always seem to make people think a hitter sucks -- in many cases unfairly so). But he actually is one of the best home run hitters in baseball history.
I'm not kidding. Adam Dunn is one of the greatest home run hitters in baseball history.
Dunn has six seasons in which he hit at least 40 homers. Only 12 players in history have done that. Guess what? The other 11 all have at least 500 homers. If we move the goalposts back to 38-homer seasons, Dunn has accomplished that eight times. Only Hank Aaron (11), Babe Ruth (11), Rafael Palmeiro (nine) and Harmon Killebrew (nine) did it more times. A-Rod, Barry Bonds and Mark McGwire also did it eight times.
Also, heading into Tuesday night, Dunn has homered once every 14.70 at-bats in his career, which is good for ninth all-time -- behind McGwire, Ruth, Bonds, Jim Thome, Ryan Howard, Ralph Kiner, Killebrew and Sammy Sosa.
So, yeah, Dunn is 100 percent one of the greatest home run hitters in baseball history. Surely that sounds weird to some, but it's the truth.
Past Dunn, David Ortiz (434 homers, age 38) might make it. Miguel Cabrera (367, 31) seems a very good bet to get there, but he won't likely pass Dunn until Dunn is retired or totally washed up.
Basically, if Adam Dunn keeps hitting like he did last season, he'll probably be the 27th man in baseball history to join the 500 Home Run Club. It might sound weird, but start getting used to it.
Harrison has a thing for ending no-hit bids

Hill was close to perfect across regulation but it turned out to be all for nothing in the...

Plus Hank Aaron weighs in on Colin Kaepernick, Trevor Rosenthal hits the DL, and more
Davis should help fortify the Red Sox outfield

Whether or not Mike Matheny will adjust is to be seen

Hammerin' Hank wants to see Kaepernick get another shot in the NFL